New to little Indiana? Subscribe for free to my RSS feed. Thanks for stopping by!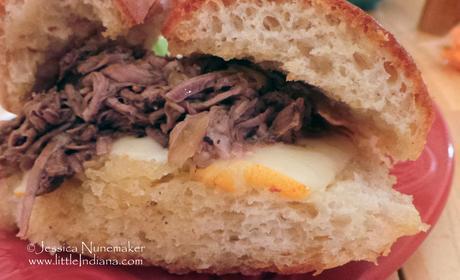 Slow Cooker Italian Beef Sandwiches Recipe
This slow cooker recipe for Italian Beef is so easy–you won't believe how amazingly tender and juicy it is! It is one of the best Italian beef sandwiches I have ever had!
I highly recommend taking the time to make the Zesty Italian Dressing Recipe and the French Bread Recipe. It makes the meal.
When you combine this beef with those things…well, this Italian Beef slow cooker recipe is  just out of this world! Another winning recipe from The Stay at Home Chef, a previously featured Indiana Blogger.
Slow Cooker Italian Beef Recipe
Print Slow Cooker Italian Beef Recipe
Rating: 51
Prep Time: 15 minutes
Cook Time: 8 hours
Total Time: 8 hours, 15 minutes
This is our favorite Italian Beef Sandwich Recipe--and it uses the slow cooker!
Pair it with the French Bread Recipe and the Zesty Italian Dressing Recipe and you have one amazing meal!
It's another amazing recipe from http://sahmchef.blogspot.com/2012/12/dear-bread-get-in-my-mouth.html, a Featured Indiana Blogger.
Ingredients
1 Beef Tip Sirloin Roast, Halved
1 Recipe Homemade Zesty Italian Salad Dressing (Find the link on this article on little Indiana.com)
12 ounces beer or 1/2 C Marsala Wine
3/4 C Beef Stock
1 Onion, Sliced
2 Garlic Cloves, Minced
1 teaspoon Basil
1 1/2 teaspoon Oregano
1 teaspoon Onion Powder
Sea Salt and Pepper
One Recipe Zesty Italian Dressing
Instructions
Add the ingredients in the slow cooker except for the meat.
Place meat on top.
Cook on low for 8 hours.
Shred meat with two forks and stir.
For the Sandwiches
Cut bread into 4 sandwich-style portions. Open a slit on one side of each sandwich for the filling.
Bake the un-filled bread 5 minutes open and 5 minutes closed at 400* to prevent a soggy sandwich.
Place on meat and cheese then broil for a few minutes or until the cheese is melty.
Schema/Recipe SEO Data Markup by ZipList Recipe Plugin2.0http://littleindiana.com/2013/01/best-slow-cooker-recipes-italian-beef-recipe/Photos are the Property of little Indiana. Do Not Use Without Permission.
pictures in Indiana
little Indiana Tumblr blog
Just don't forget to tell 'em that  little Indiana sent you!
Don't miss a moment. Subscribe to little Indiana and receive instant updates to stay on top of everything "little."
little Indiana: Where to Stay, Play, and Eat in Small Towns in Indiana. Discovering Indiana's best small towns! Now get little Indiana on your Kindle.
Targeted. Relevant. Affordable! little Indiana advertising.