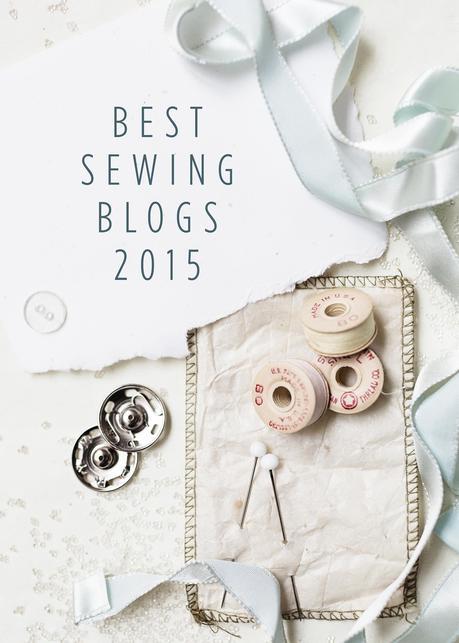 As the last day of Madalynne's Best Sewing Blogs 2015, I want to give a shout out to the runner ups because they are just as amazing, dedicated and hard working as the "winners."
I also want to apologize for the technical glitches in part one and part two. With the help of Heather and Carolina, the images are now clickable, meaning that if you click on Rochelle, you'll be directed to her blog, Lucky Lucille, and if you click on Marce, you'll be connected to her blog, Oonaballoona. The same goes for the rest of the winners.
Two On Two off
Sew Sweetness
Diary of a Sewing Fanatic
All Style and All Substance
corecouture
SewStylist
Top Notch
Diana's Sewing Lessons
The Sewing Rabbit
Cotton & Curls
ModernHandcraft
One Sheepish Girl
The Craft Sessions
My So-Called Handmade Life
Yarn Harlot
Jorth
Roobeedoo
Perfect Pattern Parcel
EvinOK
Tiny.Angry.Crafter
Scared Stitchless
Love Lola
Fifty Two Fancies
The Inspired Wren
Sew Me Love
The Crazy Tailor
Marilla Walker
Oh, She Dabbles
Needles and Fashion
Design By Lindsey
Ozzy BlackBeard
Skirt Fixation
Katy & Laney
pauline alice
Fruits,flowers&clouds
Elegance & Elephants
casey maura
zilredloh
Jet Set Sewing
Mode de Lis
My Oh Sew Vintage Life
The Sew Convert
A Stitching Odyssey
Sewing the 60s
Almond Rock
Stitched Together
Allspice Abounds
Atomic Redhead
Ruffles & Rain Boots
He Sows, She Sews
Dandelion Drift
My Minnie Mae
This is Moonlight
Quirky Momma
Five and Counting….
True Bias
Elsie Marley
Sweet Peas and Pumpkins
Kadiddlehopper
The Japanese Pattern Challenge
Thin Man Sewing
Seam Ripper Joe and His Sewing Machine
The Tattooed Quilter
Sew Man Sew
Make My Pattern
Fresh Stitches
Getting Stitched on the Farm
Cozy Memories
PennyDog Patchwork
SeamstressErin Designs
A Fool for Fabric
Stitched Up by Samantha
Oliver + S
Blank Slate Patterns
Republique du Chiffon
CarmencitaB
Oh, Mother Mine DIY!!
Two Little Aussie Birds
Compulsive Seamstress
Made by Melanie
Sam's Signature Seams
Avocado Halve
Skirt As Top
Our Family Four
Sew Chibi
SewsNBows
Craftstorming
Cation Designs
Myrna Giesbrecht
Diary of a Chain Stitcher
Probably Actually
Angela Kane
Nicole at Home
Fehr Trade
Nearest the Pin
SunnyGal Studio
Named
Papercut Patterns
Deer and Doe
Sewing Cake
Bluegingerdoll Patterns
Merckwaerdigh
Hawthorne Threads
SewVeraVenus
Willow & Co
The Sewing Affair
Crafting a Rainbow
Mrs. Hughes
Groovy Baby and Mama
Sewing Princess
Crab & Bee
Beaute' J'adore
Girl Like the Sea
A Challenging Sew
Miss Make
Peneloping
Mimi G Style
Closet Case Files
While She Naps
Sew McCool
Straight Grain
Completely Cauchy
Siestas and Sewing
Red Pepper Quilts
Lilacs & Lace
Petit Main Sauvage
Noodlehead
Lily Sage & Co.
Clothing Engineer
Ohhh Lulu
Sanae Ishida
Rhonda's Creative Life
Sew A Straight Line
Dixie DIY
Rosie Wednesday
Megan Nielsen
Cut Cut Sew
The Sewing Lawyer
The Wardrobe Project
Ginger Makes
Scruffy Badger Time
Max California
Pretty Grievances
Beau Baby
Sewing on the Edge
Miss Demeanor
Sew Dixie Lou
Paper Moon
Thornberry
The Renegade Seamstress
Sew Busy Lizzy
Sew Crafty Chemist
Sew Sweetness