Why bother using search engines for your internet marketing? Because search engines represent the single most important source of new website visitors.
You may have heard in the past that most website visits begin at a search engine. Well, this isn't quite true, though many people and SEO experts continue to use these outdated statistics because they sound good — "80 percent of all website visitors reach the site through a search engine," for instance. However, way back in 2003, that claim was finally put to history. The number of search-originated site visits dropped below the 50 percent mark. Most website visitors reach their web destinations by either typing a URL (a Web address) into their browsers and going there directly (direct traffic) or by clicking a link on another site that takes them there (referring traffic). Most visitors don't reach their web destinations by starting at the Google or some other search engine. And yes, that is fact.
However, search engines are still extremely important for a number of reasons:
The proportion of visits begin at search engines is still huge. Sure, it's not 80 percent, but with billions of searches each month, it's still a lot of organic traffic.
According to a report by comScore published early in 2015, Internet users in the United States were performing more than 21 billion searches at major search engines each month (with 29 percent of those searches coming from mobile devices).
Many billions more searches are carried out in other search sites, such as map sites (Terrafly, MapQuest), archive sites (WayBackMachine), video sites (Vimeo, YouTube), retail sites (eBay, Amazon, Craigslist), and so on. It's likely that more than 35 billion searches are performed in the United States each month.
Of the visits that don't start at a search engine, a large proportion are returning visitors — people who know exactly where they want to go. This isn't new business; it's repeat business. Most new visits come through the search engines, and because that they  are the single most important source of new visitors to your website.
It's also been well established for a number of years that most people researching a purchase begin their research at the search engines, especially when it comes to local shopping. (Many, perhaps most, product searches actually begin in sites such as Amazon, eBay, and Craigslist. But then, it's important to understand that these sites are also search engines, but different types of them; they are product-search engines.)
Search engines represent an inexpensive way to reach buyers/people for website owners. Generally, you get better ROI for your money going after free organic traffic than almost any other form of advertising or internet marketing.
Here's an example. One company from US, selling construction equipment to the tune of $10,000 a month, rebuilt its site and began a combined natural-search and paid-search campaign, boosting sales to around $500,000 a month in less than two years. It's hard to imagine how they could have grown their company, with relatively little investment, so quickly without the search engines!
What is the best search engine?
You can search for websites at many places. Literally thousands of different internet search providers, in fact, provide the ability to search the Web (Yandex, Baidu, Blekko, DuckDuckGo…)
However, most searches are carried out at a small number of search sites.  How do the world's most popular search sites rank? That depends on how you measure popularity:
Total number of visitors
Total number of hours visitors spend searching at the site
Percentage of site visitors (audience reach)
Total number of searches carried out at a site
Each measurement provides a slightly different ranking. Although all provide a similar picture with the same sites generally appearing on the list, some search sites are in slightly different positions.
The following list of search sites shows the United States' top general search sites early in 2015, according to comScore:
Google sites: 65.4 percent
Microsoft sites (Bing & MSN): 19.7 percent
Yahoo! sites: 11.8 percent
Ask Network: 2.0 percent
AOL, Inc.: 1.2 percent
Also, according to comScore worldwide results from 2012 were like the list below :
Google sites: 65.2 percent
Baidu: 8.2 percent
Yahoo: 4.9 percent
Yandex: 2.8 percent
Microsoft sites: 2.5 percent  (mostly Bing)
Remember that this is a list of search sites, not search engines. In fact, the previous lists shows groups of sites — the Microsoft entry, for instance, includes searches on Bing.com and MSN.com.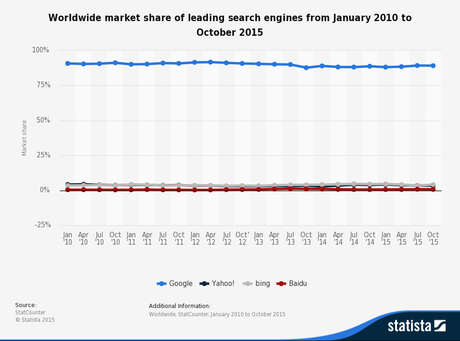 In some cases, the sites own their own engines. Google provides its own search results, for instance, but AOL doesn't (AOL gets its results from Google.). Yahoo! gets its results from Bing, thanks to a Yahoo!/Microsoft partnership — known as the Yahoo! and Microsoft Search Alliance — that was implemented in August 2010. ( It's been reported that Yahoo! wants out of the agreement—so it can go back to using Google search results —but can't figure out how to break the 10-year contract with Microsoft.)
The fact that some sites get results from other search engines means two things:
The numbers in the preceding list are somewhat misleading. They suggest that Google has 65.4 percent of all searches. But Google also feeds AOL its results — add AOL's searches to Google's, and you have 66.5 percent of all searches. Additionally, Google feeds search results to various other sites, increasing that number further. Microsoft feeds not just 19.7 percent of results but, when you add in the Yahoo! searches, powered by Microsoft, actually over 31.5 percent.
You can ignore some of these systems. At present, and for the foreseeable future, you don't need to worry about AOL.com. Even though it's one of the world's top search sites (though admittedly still far behind Google, Yahoo!, and Bing), as long as you remember that Google feeds AOL, you need to worry about Google only. You don't really need to worry about Yahoo!, either; as long as Bing feeds Yahoo!, you can think of the two as essentially the same index.
Now reexamine the preceding list of the U.S.'s most important search sites and see what you can remove to get closer to a list of sites you care about.

The Top Search Sites
      Site Keep It?                                                         Description

Google.com Yes The big kid on the block. Lots of people search the Google index on its own search site, and it feeds many sites. Obviously, Google has to stay on the list.

Bing Yes Bing creates its own index, gets many searches, and feeds data to Yahoo!. So Bing is critical.

Yahoo.com No Yahoo! is obviously a large, important site, but it gets its search results from Bing, so as long as you're in the Bing index, you're in Yahoo!.

Ask.com Yes It has its own search engine and feeds some other systems — MyWay, Lycos, and Excite. Keep it in mind, though it's small and relatively unimportant compared to Google and Bing.

AOL.com No AOL gets search results from Google.

Based on the information in Table above, you can whittle down your list of systems to top search engines: Google, Bing, and Ask. The top two search engines are very important, accounting for 95 percent or more of all search results, with a small follower, Ask, which provides results to many smaller search sites. On average, Google now processes over 40,000 search queries every second, which is over 3.5 billion searches per day.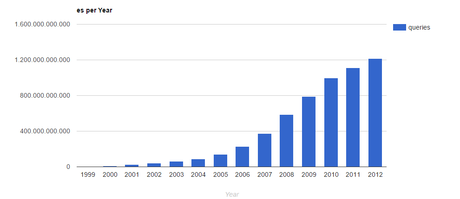 Number of searches per year throughout Google's history
That's not so bad, is it? You've just gone from thousands of sites to three, and only the top two are critical. (The only reason Ask.com gets included on such lists is that even though it has a tiny share of the search market, there's nothing below it on the list that comes close.)
Now, some of you may be thinking, "Aren't you missing some sites? What happened to HotBot, Mamma.com, WebCrawler, Lycos, and all the other systems that were so well known a few years ago?" A lot of them have disappeared or have turned over a new leaf and are pursuing other opportunities.
For example, Northern Light, a system well known in the late 1990s, now sells search software. And in the cases in which the search sites are still running, they're generally fed by other search systems. WebCrawler, for instance, gets search results from Google and Yahoo!, which means, in effect, from Google and Bing.
AltaVista, the Web's first big search index, has been owned by Yahoo! for years, but now the domain merely redirects to Yahoo.com. The same goes for AllTheWeb (for the geeks among you who remember it) — another domain redirect to Yahoo.com. If the search site you remember isn't mentioned here, it's either out of business, being fed by someone else, or simply not important in the big scheme of things.
When you find a new search engine, look carefully on the page near the search box, or on the search results page — perhaps at the bottom of the page in the copyright message — and you may find where the search results are coming from.
Google alone provides almost 70 percent of all search results. Get your site into both Google and Bing , and you're in front of probably around 99 percent of all searchers. Well, perhaps you're in front of them. You have a chance of being in front of them, anyway, if your site ranks highly.
So, if you trying to improve your organic rankings and get more traffic/sales from the search engines, these three (Google, Bing, and Ask) are the ones that everyone should pay attention. Is it worth your time trying to rank above the fold? Definitely YES! And what is the best and most popular search engine in the World? Definitely Google!
Post is based on one part of "SEO for Dummies" book (2016), author: Peter Kent. Published by: John Wiley & Sons, Inc., 111 River Street, Hoboken, NJ.
Back to Featured Articles on

About the author

Milanbgd 15 shares View profile
View Blog