4 Flares
4 Flares
×
New to little Indiana? Subscribe for free to my RSS feed. Thanks for stopping by!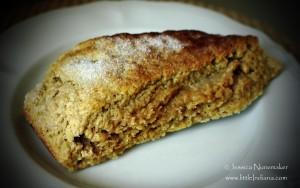 Ginger Pumpkin Scones Recipe
Continuing with my research on unearthing the best scones recipes, I found one for pumpkin scones! How seasonally appropriate.
These were very good. All of us enjoyed these and ate them up rather quickly.
I did substitute pumpkin pie spice for the cinnamon because I can't seem to remember that I've been out of cinnamon for a month now! We go through that rather fast. Enjoy!
Soft Ginger Pumpkin Scones Recipe
Print Best Scones Recipes: Pumpkin Ginger Scones
Rating: 51
Prep Time: 15 minutes
Cook Time: 15 minutes
Total Time: 30 minutes
Serving Size: 1 Scone
249
9 Grams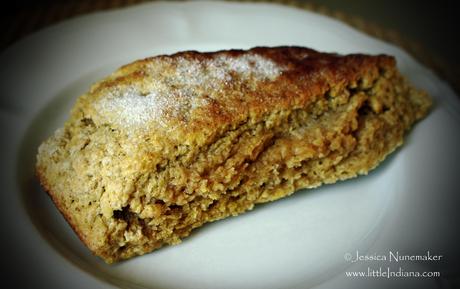 From Taste of Home.
Ingredients
2 Cups Flour
7 Tablespoons plus 1 teaspoon Sugar, Divided
2 teaspoons Baking Powder
1 teaspoon Cinnamon
1/2 teaspoon Salt
1/2 teaspoon Ginger
1/4 teaspoon Baking Soda
5 tablespoons Cold Butter, divided
1 Egg
1/4 Cup Canned Pumpkin
1/4 Cup Sour Cream
Instructions
Combine Dry Ingredients, using 7 Tablespoons of Sugar.
Cut in 4 Tablespoons Cold Butter until mixture has mostly small lumps but hasn't been crumbled entirely into pea sized lumps.
Combine Egg, Pumpkin, and Sour Cream in separate bowl.
Stir into Dry Ingredients just until moistened.
Knead 10 times on floured surface (I sometimes just knead it in the bowl).
Shape into 8" circle--I managed to shape this recipe into two circles for double the wedges, and the wedges were still enormous.
Cut into wedges. Separate wedges and place on greased cookie sheet.
Melt remaining Butter and brush tops of scones.
Sprinkle with remaining Sugar (coarse sugar would be great here!).
Bake 425* for 15 - 20 minutes or until light golden brown.
Notes
I subbed in Pumpkin Pie Spice for the Cinnamon.
Schema/Recipe SEO Data Markup by ZipList Recipe Plugin2.0
http://littleindiana.com/2012/10/best-scones-recipes-pumpkin-ginger-scones/
Photos are the Property of little Indiana. Do Not Use Without Permission.
Find pictures in Indiana on my Flickr photostream or on the new little Indiana Tumblr blog.
Just don't forget to tell 'em that  little Indiana sent you!
Don't miss a moment. Subscribe to little Indiana and receive instant updates to stay on top of everything "little."
little Indiana: Where to Stay, Play, and Eat in Small Towns in Indiana. Discovering Indiana's best small towns! Now get little Indiana on your Kindle.
Targeted. Relevant. Affordable! little Indiana advertising.