5 Flares
5 Flares
×
New to little Indiana? Subscribe for free to my RSS feed. Thanks for stopping by!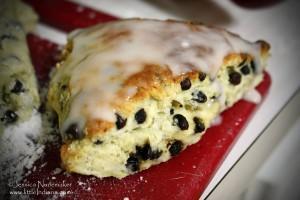 Best Chocolate Chip Scones Recipe
With so many great scone recipes begging to be baked, it was hard to figure out where to begin! Since I made this recipe for Chocolate Chip Scones, I have been asked by both kids repeatedly to make them again! I guess you could say they were a hit.
By this point, hubs and the kids are pro scone taste testers. So far, this one ranks up high on everyone's list of favorite scones!
I found this recipe on the King Arthur Flour website. They say you could use different flavors of extract in place of the Vanilla used here. Who's with me?
Best Scones Recipes: Chocolate Chip Scones
Print Best Scones Recipes: Chocolate Chip Scones
Rating: 51
Prep Time: 15 minutes
Cook Time: 20 minutes
Total Time: 35 minutes
Yield: 8 Scones
Serving Size: 1 Scone
These are one of our favorite scone recipes of all time! I used one cup of chocolate chips, Milk instead of Half and Half, and Vanilla in the Glaze.
Delicious!
From King Arthur Flour.
Ingredients
Scones
2 3/4 Cups All-Purpose Flour
1/3 Cup Sugar
3/4 teaspoon Salt
1 Tablespoon Baking Powder
1/2 Cup Cold Butter, Cubed
1 Cup to 2 Cups Mini Chocolate Chips, or Semisweet or Bittersweet Chocolate, Finely Chopped
2 Eggs
2 teaspoons Vanilla Extract
1/2 Cup to 2/3 cup Half and Half or Milk
Glaze
3 1/2 Cups Powdered Sugar
7 Tablespoons Water, enough to make a thin glaze
1 teaspoon Vanilla Extract (Optional)
Instructions
Combine Dry Ingredients.
Cut in Butter with a pastry blender.
Stir in the Chocolate Chips (or finely chopped Chocolate).
In a separate bowl, whisk together Eggs, Vanilla Extract, and 1/2 Cup Milk (or Half and Half).
Add Egg mixture to dry ingredients and stir until combined.
Stir in additional Milk if mixture is too dry.
On a floured surface, pat into squares.
Use a pizza cutter to slice into 8 scones.
Lay scones on greased or parchment-lined cookie sheet.
Bake 425* for 15-20 minutes or until light golden brown.
Combine glaze ingredients and pour over slightly cooled scones.
Notes
You can try using different extracts in place of the Vanilla Extract in the scones recipe to mix it up a little.
Schema/Recipe SEO Data Markup by ZipList Recipe Plugin2.0
http://littleindiana.com/2012/10/best-scones-recipes-chocolate-chip-scones/
Photos are the Property of little Indiana. Do Not Use Without Permission.
pictures in Indiana
little Indiana Tumblr blog
Just don't forget to tell 'em that  little Indiana sent you!
Don't miss a moment. Subscribe to little Indiana and receive instant updates to stay on top of everything "little."
little Indiana: Where to Stay, Play, and Eat in Small Towns in Indiana. Discovering Indiana's best small towns! Now get little Indiana on your Kindle.
Targeted. Relevant. Affordable! little Indiana advertising.