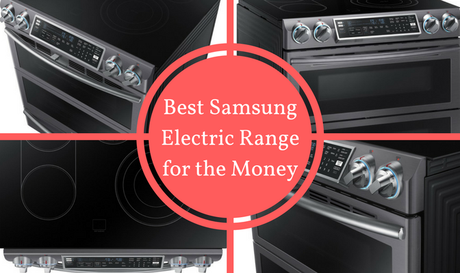 Not breaking the bank is an important concern when shopping for appliances. However, not sacrificing quality and features is important as well.
Fortunately, the Samsung NE58K9850WG Electric Range gives you all the features you need at a great price.
Samsung NE58K9850WG 30" Flex Duo Slide-In Electric Range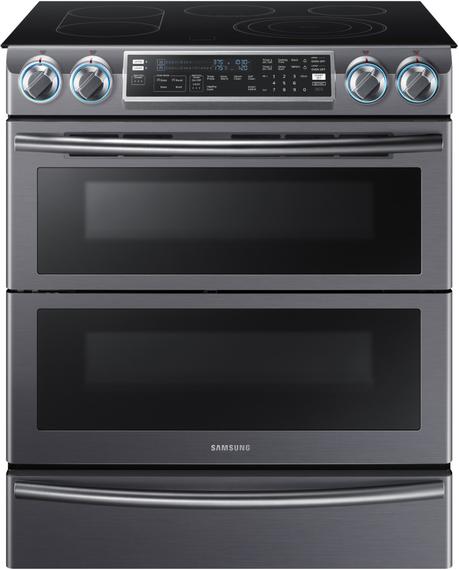 Double Oven
This amazing range sports a double oven with the total capacity of 5.8 cubic feet.
A double oven is a great feature on a range because you can cook two different dishes at two different temperatures.
You can prepare casserole dishes or bake a pie in the top oven, while you roast a turkey, or cook a ham in the bottom oven. The top oven is smaller than the bottom oven, of course.
Both ovens are convection ovens. This is outstanding as many double oven range models only offer convection cooking in the larger bottom oven.
The fan at the back of the oven will distribute the heat evenly throughout the entire oven. This gives you a fantastic, even cook on all dishes.
Warming Drawer
The range also comes with a warming drawer. While it will not fit larger dishes like a ham or a turkey, it will fit smaller dishes such as cakes, cookies, and casseroles.
The warming drawer is an excellent convenience when cooking for a group and a large meal is needed. You can always keep every dish nice and warm while finishing other dishes.

Cooktop
The cooktop on the NE58K9850WG is called a flexible cooktop, which means pans and pots of a variety of sizes can easily be accommodated.
The tri-ring burner gives the ability to go from a rapid boil to a true simmer.
There is also a bridge burner. This burner creates an extra-long cooking surface for griddles and larger pots and pans.
Wi-Fi Connectivity
This electric range also possesses Wi-Fi connectivity. Get ready to control the cooktop and oven with your smartphone.
Using app you can turn the oven on or off, and adjust the time and temperature and many other things that will save you time.
Wi-Fi capability is great for safety and convenience. If you leave your house and realize you forgot to turn the range off, you can easily get on your phone and turn it off.
Same goes for preheating the oven or turning on the cooktop. With your smartphone, you can do it from the comfort of your couch or in the car on the way home from work.
LED Lighted Knobs
Another safety feature on the NE58K9850WG is the blue LED illuminated knobs.
These lights can be seen from a distance and they indicate if the cooktop is on or off.
The LED lights also make it easy to see exactly what temperature the burner is set to, so you not mistakenly overcook.

Guiding Light Controls
Another interesting feature is the guiding light controls.
The guiding light controls offer convenience to the customer by providing simple, step by step instructions when choosing cooking options.
You can program your favorite recipes into the range, and it will control temperature and time settings with each recipe.
Best Electric Range for the Money
With so many outstanding features, it is easy to see why the Samsung NE58K9850WG is a great purchase.
It is always affordably priced, so you never have to give up features for the sake of budget.