Picture a situation where you hook your RV to the campsite pedestal power supply and all your appliances are running smoothly. And then, out of nowhere, an electric surge occurs and fries your RV electrical system alongside all your appliances.
This brings in huge losses that cost you thousands of bucks in repairs and replacements.
Luckily, you can prevent it by using the best RV surge protector. The device blocks the unsafe voltages from reaching your RV appliances—protecting them from damage and ensuring they operate effectively.
That being said, this post will introduce you to some of the most popular surge protectors on the market today and important info you need to know before buying a surge protector for your recreational vehicle.
Image
Name
Editor's Rating
Price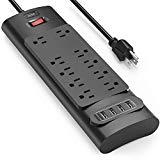 Progressive Industries HW30C RV Surge & Electrical Protector
Check Price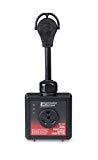 Progressive Industries SSP30X Smart Surge Protector
Check Price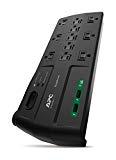 Progressive Industries SSP-50XL Surge Protector
Check Price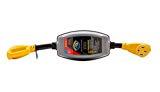 Camco 55313 Dogbone 50 Amp Circuit Analyzer
Check Price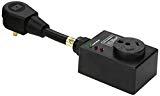 PROGRESSIVE INDUSTRIES SSP30 Smart Surge
Check Price
Do You Really Need a Surge Protector For Your RV?
If you have any plans of using outside power source for your RV, then it goes without saying that you'll need a surge protector for your RV. If at all you plan to use the shore or pedestal power at the campsite, then you'll need a surge protector.
In a nutshell, an RV surge protector:
Protects your valuable investment (i.e., your RV and all the electronic devices aboard it)

Ensures your own safety (prevents the possibility of fires, shocks, and other hazards), and

It gives you peace of mind.
It takes only one bad connection to the outside power source to damage all your RV electrical appliances. And once the damage occurs, you can hardly reverse it.
You see, all the electrical appliances in your RV perform effectively at certain consistent voltage levels. When power fluctuations occur in the form of dangerously low or high voltages, they affect the functionality of your electrical equipment, cause damages, and sometimes result in fires.
But a surge protector acts as the mediator between your RV electrical items and the outside power source. It detects errors in the power supply such as voltage spikes, incorrect wiring, reverse polarity, open neutral, open ground, etc. which can harm your RV circuitry.
The protector gives its life to save your devices; it takes in the dangerous voltages to ensure they don't reach your appliances. Your RV fully protected from any kind of power-related damages gives you peace of mind as you can enjoy your camping.
In our next section, we take a closer look at the top-rated RV surge protectors that have become popular for putting a good fight against electric surges and other power issues.
Our Best RV Surge Protector Reviews:
1. Progressive Industries HW30C RV Surge & Electrical Protector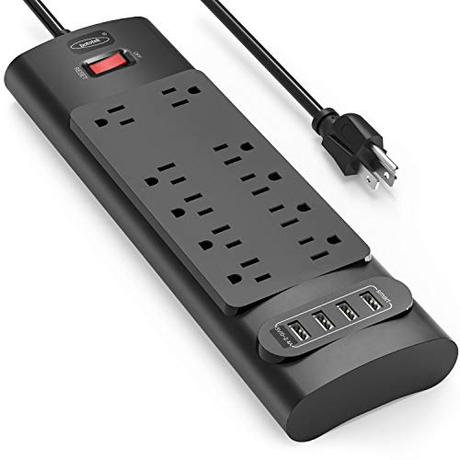 Progressive Industries is a reputable manufacturer of RV surge protectors with its popularity stretching across all the corners of the globe. They manufacture highly reliable products that give you peace of mind knowing that your RV appliances are protected against all adverse power conditions.
This particular HW30C model is a hardwired, electrical management system (EMS), which means it's designed for incorporating into your RV permanently. It not only protects your RV against power surges but all the other power related issues. To be precise, it helps protect your appliances against open ground, open neutral revere polarity, and dangerously high or low voltages.
The unit comes with a digital display that indicates any miswired pedestal, surge failures, and other critical power source info, making it easier and more convenient for you to use. Whether you need a 30 amp or 50 amp RV surge protector, this RV EMS comes in both versions to ensure every RVer enjoys its great protective capabilities.
Installation is quite easy for this unit as it features a plug and play design. The included instructions (with photos) will help you easily install it in your RV.
Highlighted Features:
Hard-wired electrical management system

Open ground, open neutral and reverse polarity protection

Digital display for user convenient

Easy, fast plug n play installation

Surge failure and miswired pedestal indicator

Available in 30 and 50 amp versions
Check Price On Amazon
2. Progressive Industries SSP30X Smart Surge Protector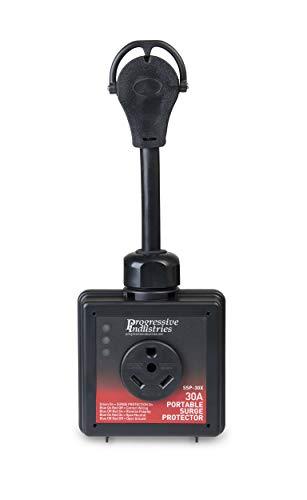 If you're on the hunt for the best surge protector for RV with a portable design, then this smart surge protector is a great choice. Like our previous unit, this is also a proud product of Progressive Industries, so it also packs quality and real performance.
The smart surge protector does more than most of the portable units out there. Apart from keeping your RV appliances safe from electrical surges, it also helps you detect any miswiring in the power supply you hook your RV to, thanks to its built-in polity tester. It features an incorporated 3-color LED light that alerts you in case of any problems with the power supply.
As you are already aware, portable surge protectors are designed for mounting outside the RV, on the pedestal power source. For this reason, the manufacturer designed this protector with an outdoor setting in mind. It boasts a weather-resistant housing plus it comes thermally protected to ensure it doesn't overheat during use.
Because of its sleek, compact design, this protector is incredibly easy to store and use. It has a wide range of features, delivers excellent protection and comes and comes covered by a lifetime warranty—all of this at an attractive price tag!
Highlighted Features:
Portable RV surge protector

Built-in polarity tester

Brighter 3-color LED indicator

Weather-resistant design

Thermally protected; prevents overeating

Sleep, compact design
Check Price On Amazon
3. Progressive Industries SSP-50XL Surge Protector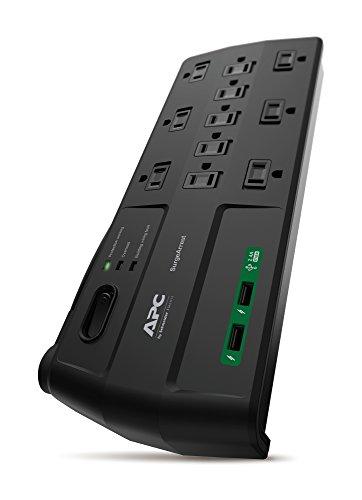 Still from Progressive Industries, we have another portable surge protector designed to keep your electric items safe from various power-related issues. It can detect open neutral, open ground, reverse polarity and surge failure, saving you from costly damages to your RV appliances.
Rated as one of the best 50 amp RV surge protector models you can find on the market today, this device offers you a whopping 1650 joules worth of energy protection. For starters, this is a higher joules rating which means the protector offers your RV greater protection and lasts a bit longer than most of its competition.
Since this protector is designed for hooking to the power pedestal, it comes with an all-weather shield assembly that makes it weather resistant. Not to forget, it's thermally protected for overheat protection.
With its rugged pull handle, plugging it to any shore power becomes easy as a breeze. The locking bracket offers some level of security against thieves. And the 3- color brighter LED indicator offers you visual alerts in case of any issues with the power.
Highlighted Features:
Portable RV surge protector

Detects open ground, open neutral, and reverse polarity

Sturdy pull handle for easy plugging to shore power

Designed for outdoor use; all-weather shielding

Bright 3-color indicator light for visual alerts

UL-certified, Canadian approved
Check Price On Amazon
4. Camco 55313 Dogbone 50 Amp Circuit Analyzer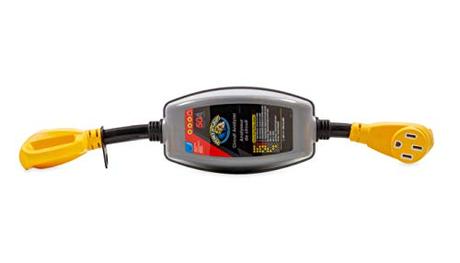 If you're still looking for a 50 amp RV surge protector at a moderate cost, this Camco 55313 Circuit Analyzer is a great option. Camco is a US-based company and another big name in the RV surge protector industry.
The circuit analyzer doesn't disappoint when it comes to guarding your electrical equipment against power surges. It comes armed with built-in surge protection plus indicator lights for highly visible alerts.
As a portable protector, it connects directly to the campsite power pedestal. And once connected, it instantly examines the power supply for reverse polarity, open ground, open neutral and other wiring issues and sends you instant alerts in case of any faults.
The surge protector offers you some even greater surge protection capabilities than our previous model—going as high as 4200 joules! With such a tremendous joule rating, this protector will withstand a higher number of surges before requiring a replacement.
Like the other top-rated portable protectors, this unit also features a weatherproof design. This means it can withstand adverse weather conditions provided you install it in an upright position. Its durable Power Grip handle facilitates easier plugging and unplugging to any pedestal power.
Highlighted Features:
Detects improperly wired electrical boxes

Diagnostic LED lights offer visual alerts

Up to 4200 joules surge protection energy

Power grip handles make plugging/unplugging easier

Weather-resistant design
Check Price On Amazon
5. PROGRESSIVE INDUSTRIES SSP30 Smart Surge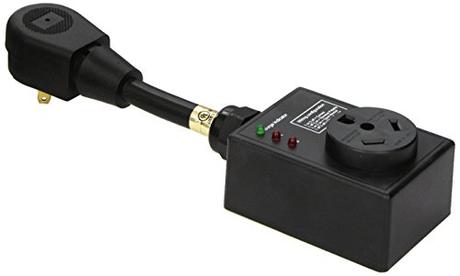 The SSP30 Smart Surge is doubtlessly the best 30 amp RV surge protector for you if you want a model that strikes a good balance between reliability and affordability. The unit boasts of 825 joules and up to 2,500 amp surge current rating at a pocket-friendly cost.
Designed for hooking to 30 amp electrical service RVs, this protector comes with a built-in surge status indicator that lets you know when it's functioning properly or when it breaks down and needs replacement. This gives you peace of mind knowing that all your expensive RV equipment will not be damaged by those unsafe voltages.
It also comes with a built-in circuit tester for other power problems ranging from reverse polarity, open ground, and open neutral, all of which pose threat to your equipment safety of they go undetected.
With its sleek and compact design, this protector will not be a hassle to use or store. Like all the other portable units, this protector comes designed with a weatherproof design for outdoor use, so you don't have to worry about it malfunctioning in severe weather conditions.
Highlighted Features:
Portable 120V/30A protector

825 Joules surge protection rating

Built-in surge status indicator

Detects reverse polarity, open ground, and open neutral

Comes in a sleek and compact design

Designed for outdoor use

Backed by a 1-year warranty
Check Price On Amazon
6. Surge Guard 44280 Portable Surge Protector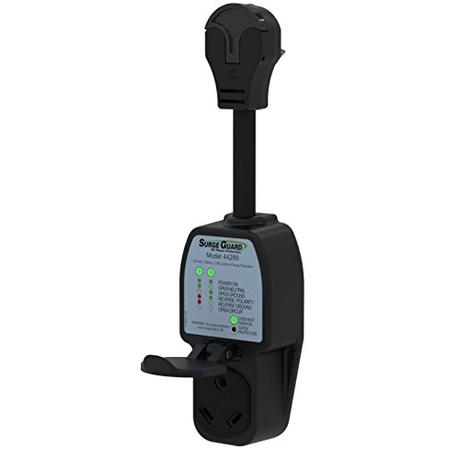 Want value for money? If yes, consider thing Surge Guard portable surge protector. Suitable for 30 Amp RV plus, this UL-listed surge protector comes designed to handle high power consumption demands of RVers.
The cost-effective device works by analyzing circuits to determine the power supply status. It checks for open ground, correct polarity, neutral ground, and even reversed lines/ground. It comes with an integrated power surge protection indicator and thermal detector that helps indicate overheating issues with the plug/receptacle.
Designed for use outside your RVM this protector has a weather-resistant housing that ensures it can withstand adverse weather elements such as rain, wind, snow. Keep in mind that this device is designed to be "sacrificial", where it protects your RV electronics against power surges by absorbing the unsafe voltages, hence the need to be replaced after a power surge occurs.
Highlighted Features:
30 amp RV surge protector

Weather resistant housing

Detects open ground, open neutral, reverse polarity

Integrated thermal sensor for overheating plug issues

UL listed surge protector
Check Price On Amazon
7. Progressive Industries Portable RV Surge Protector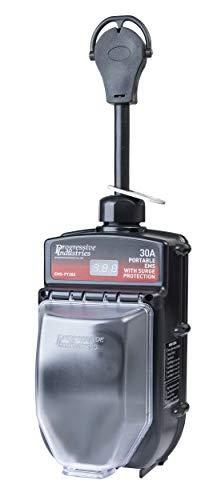 If you want a more advanced protector, this is probably the best RV surge protector 30 amp or 50 amp you can get. Proudly designed by Progressive Industries, the unit utilizes state-of-the-art microprocessors that instantly detect any power issues that could damage your RV electrical items.
It boasts of an easy to read digital display that lets you see any electrical issues as soon as you plug it into the shore power. It stages a tough fight against fluctuation voltages, incorrect wiring, and power surges, keeping your appliances out of harm's way.
The surge protector has as high as 1,790 Joule rating, meaning it'll offer great protection to your electronic devices.
Another thing that makes it unique revolves around its durable housing. This enables it to remain highly functional over a wide range of temperature, running from -40C to +105C. On top of this, it features a waterproof design that enables it to work in inclement weather conditions.
As portable surge protectors are high-theft items, you'll appreciate the security locking bracket that gives unwanted hands a hard time trying to take it away. The rugged Lexan plastic shell protects its inner components from impacts.
Also, this unit also has a sturdy pull handle that makes it easy to plug or unplug from the pedestal power.
Highlighted Features:
Can work at virtually any temperature conditions

Easy to read digital display

Sturdy pull handle for easy plugging/unplugging

Armed with a security locking bracket

Detects faulty wiring, ground, power surges

Available for 30 amp and 50 amp RVs
Check Price On Amazon
8. TRC Southwire 44750 Guard Portable Surge Protection
Working on a tight budget but want to keep all the appliances on board your pop-up, camper, motorhome, or travel trailer running effectively and protected from power issues? If that's you, then you need this budget-friendly priced TRC portable surge protection.
The device automatically shuts off in case it detects ground faults. And you'll need to manually reset it after a ground fault, giving you total control over how it protects your appliances. It comes armed with a highly functional shock shield that grants you maximum shock protection in all the appliances in your RV.
The protector comes engineered to deliver up to 510 Joules worth of surge protection. Though a bit on the lower side, this is totally worth it keeping in mind the value is usually lower in competitor RV surge protector 30 amp reviews within its price range.
You don't have to worry about leaving this protector outside in bad weather. This is because it comes with a weatherproof that effectively shields its inner components from harmful weather elements.
Highlighted Features:
Budget-friendly portable surge protector

Compact and lightweight design

Features a shock shield

Automatically shuts off in case of ground faults

Provides shock protection

Suitable for RVs rated 30 amp electrical service
Check Price On Amazon
9. Hughes Performance RV22050 Autoformer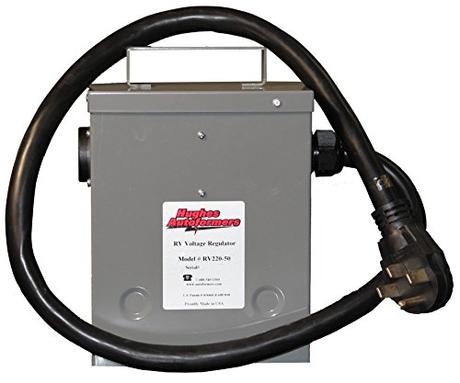 This is not your usual RV surge protector. Rather, it's an all-in-one power solution for your RV whose one of the many functions involves protecting your costly RV electrical equipment against power surges.
The little box carries with it a voltage booster plus a surge protector. No matter how many RV surge protector 50 amp reviews you come across, you'll never come across a unit that sounds similar to this Autoformer. This is because it's one of a kind…and the ONLY unit in its class.
The all-in-one power solution for your RV ensures that your appliances will never stop running no matter what. It can regulate the voltage coming from the power source to your RV to ensure your appliances receive the standard voltage levels even in the event of spikes. It also offers the ultimate petition against power surges.
If a power surge occurs and this protector jumps right in to protect your items, you won't need to replace the entire unit as it's the case with other devices. Instead, you'll just need to replace the surge protector inside it and your Autoformer is back in business!
When you purchase this premium RV surge protector, you'll receive a FREE cable lock to help you safeguard this high-end investment against theft when camping.
Highlighted Features:
100% made in the USA

Ideal for 50 amp RV plugs

Protects against power surges

Regulates voltage from outside power supply

Prevents your appliances against unsafe low voltages

Backed by Hughes 2-year warranty
Check Price On Amazon
10. Southwire Black 34950 Surge Guard

Brining our list of the best surge protector for RV units to a close is the Southwire Black 34950 Surge Guard. This is also a high-end portable surge guard specially designed to works with RVs with 50-amp electrical service. We highly recommend this model to full-time, devoted RVers.
What sets it apart from the other portable unit is its ability to offer your RV electrical appliances and circuity system FULL protection against all known power issues. It safeguards against power surges, open neutral, open ground, low voltage, reverse polarity, overheating plug/receptacle, elevated ground, high neutral current, and misfired pedestals.
It also automatically turns off when power supply becomes unsafe…and automatically turns itself on when the power gets back to normal.
What's more, this protector continuously monitors and displays the voltage and amp draw from the power source to your RV, ensuring maximum protection against any unsafe voltage and current levels. Note that it displays all this helpful information on an easy to read LCD screen situated on its front part.
Don't forget that this device comes with an integrated anti-theft lock ring on the cord that helps protect your investment against thieves and give you peace of mind when you leave it outside. It has quality construction characterized by commercial-grade brass receptacle to enable it to hold up to all sorts of abuse.
Highlighted Features:
Continuously monitors voltage and amp draw

Protects against power surges, open neutral, open ground

Detects overheating of the plug, reverse polarity and misfired pedestals

Anti-theft lock ring

Commercial-grade brass receptacle

Automatic reset once power gets restored

Convenient LCD display

Compatible with 50 amp RVs
Check Price On Amazon
What To Look For Before Buying?
What happens when you have hundreds of RV surge protectors before you and you need to pick only one for your RV?
You get quickly overwhelmed, confused, and might end up making a bad choice.
To prevent all that, here are the MOST important things to look for in surge protectors to help you easily pick the perfect model for your RV:
Type of surge protector
Many expert RVers agree that the starting point when looking for a RV surge protector is deciding on what type of device to buy.
If you're a starter, you might be in the dark on the different types of protectors available. But this ends today…you need to know here and now that these devices come in two MAIN categories:
Power surge protector: these are the basic surge protectors that protect your RV against low or high spikes in electricity, thus ensuring no damage comes to your circuity as a result of unstable surges at the campsite or RV park or due to lightning strike. These units usually come with a straightforward, user-friendly design and are ideal for beginners RVers.
Electric management system (EMS): are the secondary surge protectors that come designed to offer your RV circuitry full protection against a wide range of power related problems. They offer protection to your appliances against high and low voltages, high and low-line frequencies, open neutral, open ground, faulty wiring, and overheating plug/receptacle.
Due to their higher level of protection, the EMS units usually come at a higher cost. We recommend these type of protectors to full-time campers who want to enjoy the ultimate peace of mind at all times.
Compatibility
Another important factor to consider when shopping for your RV surge protector is whether the unit you get will actually work with your RV electrical supply service.
The two most common electrical services for RV include 30 amp and 50 amp.
The perfect surge protector for you should match your RV electric service. That is, a 30 amp RV surge protector goes with a 30 amp RV electrical supply service and a 50 amp unit goes with a 50 amp RV electrical service.
That's going to be easy to choose, right?
But keep in mind that you might get confused about your RV's electrical service.
To avoid this, we recommend you to inspect the type of plug that comes with your RV... if it features 3 pins, then it's 30 amp. If it has 4 pins, that's a 50 amp electric service.
Also, keep in mind that smaller RVs, with less electrical appliances, usually feature a 30 amp service.
Still at it, the modern RVs usually come with 50 amp service, unlike the older models that come with 30 amp service.
Energy absorption/dissipation (Joules rating)
You're probably aware that surge protectors don't last forever.
However, how the longevity varies from model to model.
If you want to know how long your device remains functional, then you need to check its joule rating (which simply indicates the unit's energy absorption/dissipation capabilities)
Theoretically, a higher the number of joules means greater protection and longer lifespan. Additionally, a higher joule rating means the device can easily dissipate heat and preventing overheating.
With that said, a device rated 200- 400 Joules will deliver decent protection.
If you want a surge protector that offers greater protection to your RV rig, and minimize overheating, look for one that has the higher Joule rating—anything from 600 Joules and above.
LED Display
Though most RVers tend to overlook this feature, it's a great one to have in your surge protector.
A protector that comes with LED display helps relay information to you about the stats and metrics of the power source your RV is connected to. This helps further ensure safety and efficiency of your electric items.
Moreover, these indicators help you easily evaluate the working status of your protector. Most units feature a 3 color indicator system. Green means the unit is working well. Red issues an alert that the system is broken down and requires replacement.
When looking for a surge protector, make sure it comes with a bright indicator to ensure you don't miss a single alert or warning.
Still at it, some units come with an easy to read digital LED display that shows you the status of the power supply you're using.
Portable or hardwired protector?
You'll also need to decide whether to go with a portable or hardwire surge protector.
The portable model is the most common among RVers and involves connecting it to the pedestal power at the campsite and then connecting your RV cable to it.
The good:
It's incredibly easy to install (plug and play type)

Easy to replaced

Can be used with different RVs

Comes at an affordable cost
The bad:
It can be easily stolen

When using a power outlet that's too low, you might need to leave you protector on the ground. This might not be a wise idea if the ground is wet
The permanent or hardwired model on the other hand is designed to be installed- wired- inside your RV. You integrated into your recreational vehicle wiring system to make it part of your RV.
The good:
Cannot be stolen; it's wired to your RV

No need to worry about leaving it on wet ground

Stays on each time you get connected to a power supply
The bad:
Come at a higher cost

More challenging to shift from one RV to another

Some installation required
Which one to buy?
In our opinion, the ideal model to buy will heavily depend on your preferences. But make sure you understand the highlights and downlights of each model before making a final decision.
Cost
One last thing you should keep in mind when shopping for a surge protector is your budget.
You don't expect all these units to feature the same pricetag; some are pretty cheap while others come at higher costs.
Portable models usually cost less than the permanent models. Units that offer basic protection cost you less than those that offer you a higher level of protection.
If you're on a tight budget, you can get an entry-level protector for less than $100 bucks.
Most of the top-rated portable and hardwired RV surge protectors usually fall in the $100 to $200 price category.
Spend anything above $200 and you'll take home an advanced protector characterized by greater quality and a higher level of protection.
Other considerations:
Warranty: a protector that's backed by a warranty can assure you of the product quality. Some manufacturers even extend the warranty to all the appliances attached to the protector should a charge go through.
Brand: if you don't want to get disappointed by a surge protector, consider getting a unit from reputable brands whose products rise above the rest in terms of performance, reliability, and quality. Some of the top brands you might consider include Progressive Industries, Camco, and TRC.
Weatherproof construction: if you go for a portable protector, make sure it has a weatherproof design to shield it from various weather elements that might affect its functionality.
Automatic shutoff/restart: units that automatically shut off in case of any threat to your appliances give you peace of mind as you can always rest assured that no harm will come to your RV. Likewise, a unit that automatically restarts itself when power is restored is easier to operate.
How Do RV Surge Protectors Work?
We all know that a surge protector helps protect your RV electronic devices from power surge and other electricity problems.
But how exactly does it do so?
To understand its operation path, you first need to understand what a power surge is all about.
A power surge happens when the voltage flow significantly rises high above the normal level of 120 V (for United States). Your RV appliances are designed to run at 120V. And a rise in this voltage, i.e. a surge, can have damaging effects on them.
This is where the surge protector comes to your rescue!
The device acts as the mediator between the power outlet and all the appliances plugged into it. When a voltage spike occurs, the protector diverts the excess electricity into the grounding wire of the outlet.
A typical RV surge protector comes fitted with a metal oxide varistor (MOV) that's tasked with diverting the extra voltage. And in so doing, the protector ensures these excess voltage doesn't reach your appliances and damage them.
The MOV features three main parts—a piece of metal oxide surrounded by 2 semiconductors.
The semiconductors have variable resistance that's dependent on the voltage coming from the power source. When the voltage is too high, above the expected level, the electrons in the semiconductors flow in a manner that creates lower resistance. The opposite happens when the voltage becomes too low; the semiconductor electrons flow in a way that helps create higher resistance.
When the voltage is at the correct levels, the MOV does not do anything. When the voltage gets too high, the MOV conducts a lot of current as a way of taking (and eliminating) the excess voltage.
On diverting the extra voltage into the MOV and to the ground, the voltage flow gets back to normal level, making the MOV resistance shoot up again. In other words, the surge protector diverts the extra current while allowing normal current levels to flow through.
NOTE: The MOV is sacrificial in that it burns with repeated power surges. That's why RV surge protectors have limited lifespan and stop functioning after taking in several surges (determined by a given unit's Joule rating).
As you might have noted in our RV surge protector reviews above, these devices come with an indicator to alert you when they stop functioning to let you when to replace them with a new model for the continued protection of your appliances.
Where To Buy a Surge Protector?
At this point, you have already decided that you need a surge protector to safeguard your RV electronic devices against damages. But one more thing is bothering you…where can you buy the best RV surge protector?
Consider these options:
RV supply store near you: one place where you can get a good surge protector is checking if there are any RV supply stores in your locality. When you find one, use our buying guide above to help you pick the perfect one for your RV. The dealer might also offer a helping hand when choosing the right protector.
Online stores: another place where you'll get a good surge protector is the online stores. This can be an online-based RV supply store or general store like Amazon, Walmart, etc. Unlike the physical stores, these online stores usually have a review section where RVers who have previously used the protector you plan to buy give their experience using it. This can be helpful firsthand info to help you gauge the performance of a unit and whether it's worth your money.
Which of these options do you think will be convenient for you when purchasing a surge protector for your RV?
Frequently Asked Questions
1. What is the best surge protector for my RV?
It's not easy to single out a specific surge protector for your RV. This is because there are multiple of these units on the market today. Plus, the right one for you will depend on a number of factors as we discussed in our buying guide.
The right protector for your RV should be compatible with your camper electrical service. It should also offer an excellent level of protection, be easy to install, and come with convenient features like indicators or LED display.
Above all, it should match your budget needs.
2. Do I need RV surge protector when using a generator?
Yes, it's absolutely possible to use a surge protector with your RV generator. However, it's not always necessary as you might experience some challenges with this kind of setup.
For instance, if you hook a protector to a portable generator, it will keep displaying open ground and will not allow power to pass through.
The way we see it, generators generally produce quite low voltages. As such, you don't have to worry about surges occurring, which renders a surge protector unnecessary.
3. Can I use a 50 amp surge protector on a 30 amp RV?
While you might come across some Rvers recommending you to use a 50 amp surge protector on 30 amp RV, we don't encourage you to do it.
After all, the main reason you're using that protector is to act as a mediator between your RV electric system and the power supply should a voltage spike occur. And for this reason, your protector will only work when you match it to your RV electrical service.
For you to enjoy the full benefits of a surge protector, just use a unit that's compatible with your RV electrical supply service. Check our RV surge protector 50 amp reviews and 30 amp reviews in our reviews guide.
4. What's the average lifespan of a surge protector?
How long a surge protector lasts depends on how much extra voltage it can absorb, which is expressed in terms of Joules.
The higher the Joule rating of a given unit, the more electrical surges it can hold up, and the longer it can last. The longevity can also depend on the brand quality.
With that said, you should make a point of replacing your surge protector every 3-5 years. If you use your unit more often, then you might have to replace it even earlier.
But it doesn't always have to be after 3-5 years. If your unit's indicator system shows that your protector is no longer functional, then a replacement is necessary.
5. Are the surge protectors waterproof?
Yes, surge protectors are waterproof…BUT not all of them.
Nearly all the portable protectors usually come with a weatherproof design to help shield them from weather elements. This is mainly because they're meant to be plugged on the pedestal power outlet and left outside your RV, where they can get exposed to all sorts of adverse weather conditions.
If you plan to go for a portable surge protector, make sure it comes with a weatherproof shield or housing to enable you to use it in all weather conditions.
For permanent units, weatherproofing is a non-issue since they're always inside your RV.
Final Verdict
Blindly connecting your RV to a campsite pedestal power source without testing for mis-wiring or reverse polarity, electric surges, open ground, open neural, and other power supply issues can cause damage to your RV electric equipment and force you to spend lots of money in replacement and repairs.
But using the best RV surge protector helps ensure that only safe voltage reaches your appliances, enabling them to run effectively and safely.
Whether you're a full-time RVer or plan to go RVing for a few days, we highly suggest that you get a surge protector for your RV today. The device costs you a few hundred bucks but saves you thousands and thousands of bucks.
Back to Featured Articles on

About the author

Palmgear 725 shares View profile
View Blog