If you're in the market for a ring, your options can be overwhelming. Whether you're getting engaged, looking for the perfect present for a significant other, or simply want to treat yourself to a fine piece of jewelry, narrowing down your search is no easy task. There are so many different types of precious stone rings that narrowing down your search can be difficult. However, if you're looking for a gemstone that truly shines and catches the eye, selecting a ruby ring can be a perfect choice. Ruby jewelry is some of the most luxurious and beautiful in the world and rubies stand out against the usual diamonds and gold. From their deep red color to their stunning shine, rubies make gorgeous rings. But what style should you go for once you've decided to go with rubies? Thankfully, you have many options.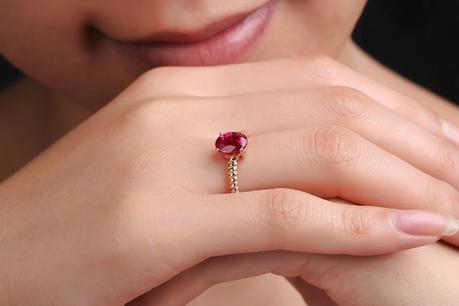 Engagement Rings
If you want a truly show-stopping ring, incorporating rubies into your engagement ring can really up to the wow factor. First, you have to decide whether you want a silver, gold, or rose gold band. Silver really makes the blood-red ruby pop, but gold adds an element of sophistication and royalty. Whichever metal you decide to go with for the band, just make sure that it matches your personality and style; it is your ring, after all! Next comes choosing the cut. The halo cut is popular for engagement rings and for good reason; a ruby encircled in diamonds is sure to elicit gasps. A crisscross ring is another great option for engagement rings because it is simple, yet elegant with two thin, overlapping bands.
Gifting a Ruby ring
One way to ensure that the recipient of the gift adores their ring is to invest in loose ruby gemstones and let them design the ring! That way, you know that they're certain to love the design, but you still had the honor of buying them a ruby. If they're not interested in designing the ring, another great option is going with a Celtic knot ring, because you can customize it based on your relationship with the person. Different Celtic knots represent different symbols. For example, if you are buying the ring for a close friend, you could purchase a Celtic knot that represents friendship. In the same way, if you're getting it for a boyfriend or girlfriend, there are plenty that represents romantic love. There are dozens of ways to use ruby rings to convey meaning, so explore around to find the ring that best fits your needs.
Buying for Yourself
This comes as a given: when buying a ruby ring for yourself, you ought to get one that speaks to your personal, unique style. For this reason, browsing around online can give you a good idea of what kind of ruby ring you want. Do you want a gold or silver ring? Or maybe one with intricate curls and swirls, or one that involves symbolism. The possibilities are endless!
Overall, finding the right ruby ring doesn't have to be difficult. There are so many options out there, but once you narrow down your focus on style, you'll be sure to find the perfect ring that will leave everyone ooh-ing and ah-ing.
**