New to little Indiana? Subscribe for free to my RSS feed. Thanks for stopping by!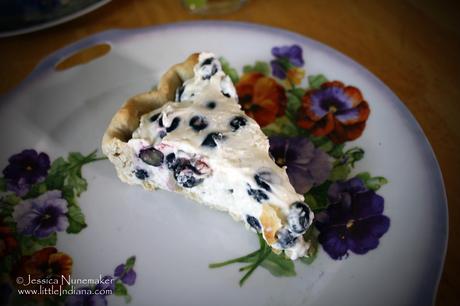 Blueberry Cream Pie Recipe
little Indiana has been buying Indiana blueberries left and right in order to create cool concoctions like this Blueberry Cream Pie.
It's a very different blueberry cream pie recipe from the last one I published. So cool and creamy!
The original recipe was created by A Cozy Kitchen in response to something served at a place she worked. It calls for one hour of chilling–but I would ignore that and chill at least 6-8 hours before serving for best flavor. It makes a difference!
Blueberry Cream Pie
Print Blueberry Cream Pie
Rating: 51
Prep Time: 10 minutes
Total Time: 10 minutes
Yield: 1 Pie
Serving Size: 1 Slice
While the recipe created by blog: A Cozy Kitchen says to chill at least one hour, I would urge you to wait until it is completely chilled--between 6-8 hours for best flavor.
It makes a world of difference!
Ingredients
1 Pie Shell, Baked
1/2 Cup Heavy Whipping Cream
3 Tablespoons Sugar, Divided
8 Oz. Cream Cheese, Softened
1 teaspoon Vanilla Extract
2 Cups Blueberries
Instructions
In a chilled bowl, beat Whipping Cream and 1 Tablespoon Sugar until stiff peaks form. Do not over-beat.
In another bowl, cream Sugar, Cream Cheese, and Vanilla Extract.
Fold in Whipped Cream.
Fold in Blueberries.
Pour into Pie Shell. Chill at least 8 hours.
Notes
Very unique--and a great end to a hot Summer day!
Schema/Recipe SEO Data Markup by ZipList Recipe Plugin2.0
http://littleindiana.com/2012/08/best-pie-recipes-another-blueberry-cream-pie/
Photos are the Property of little Indiana. Do Not Use Without Permission.
This recipe was made using my Verizon Wireless Galaxy Tablet, courtesy of Verizon Wireless. What a nifty thing to have in the kitchen! Opinions remain mine and mine alone as always. 
Find pictures in Indiana on my Flickr photostream or on the new little Indiana Tumblr blog.
Just don't forget to tell 'em that  little Indiana sent you!
Don't miss a moment. Subscribe to little Indiana and receive instant updates to stay on top of everything "little."
little Indiana: Where to Stay, Play, and Eat in Small Towns in Indiana. Discovering Indiana's best small towns! Now get little Indiana on your Kindle.
Targeted. Relevant. Affordable! little Indiana advertising.