The next nominee is Directed by David O. Russell, and adapted from the book of the same name, screenplay also written by Russell.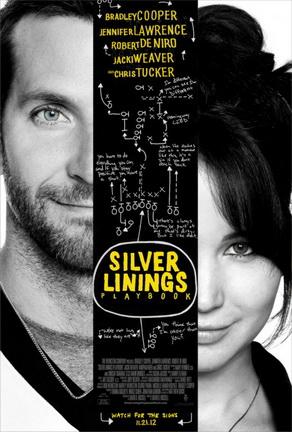 it is a romantic comedy-drama, it follows Pat Solitano (Bradley Cooper), released from a mental hospital to live with his parents, following 8 months of treatment for bi-polar disorder. He discovers his cheating wife has moved away, his father (Robert De Niro) is out of work and struggles to readjust to his new life. One night at a dinner party he meets his friends sister-in-law Tiffany (Jennifer Lawrence), a recovering sex addict who's husband passed away. They form a turbulent friendship and Tiffany invite's Pat to be her dance partner for a local competition, the whole time he is still adamant that he will back his wife. In the end he realizes Tiffany has been feeding him false hope, and confesses to loving her.
Bradley Cooper is very good as unpredictable, yet lovable Pat, some of the more emotional scenes are excellently done, and the confusion felt by the character really comes across well. Robert De Niro delivers the performance we expect from him, a great actor, really excelling in these father roles, and a great source of comedy. For me it has to be Jennifer Lawrence that steals the show, after a huge hit like The Hunger Games it is sometimes hard to get into a totally different character (just look at Kristen Stewart), but Lawrence is brilliant as crazy Tiffany Maxwell, she seems to have an effortless style of acting you really only expect of Meryl Streep, but she has that quality, and you could really see her doing anything.
Although it may seem that this is yet another trite rom-com, it really isn't, its tender, genuine and deals with mental health in a respectful manor. Its basically a more extreme version of what we all feel when we get dumped, but in a real way, we take time to move on, we hold out hope of reconciliation and we do feel alone and out of place in our lives, and this movie shows that.
The cast is outstanding, great script and it has this independent movie feel to it. It deals with issues you wont find in the usual quality of movie in this genre, and it succeeds in being what the vast majority of rom-coms fail to be, and that's realistic and genuine. Yes it maybe predictable at the end, but if you choose to watch this type of film you pretty much know what the end will be, that's why you watch, but the journey we are taken on, it really different.