Whether it comes to Royal Palaces or it goes to exploring wildlife, Rajasthan is always favorite of travellers come from outside the country. Well-known for its Thar Desert, Rajasthan has all the adventures and interesting places to explore in its boundary line. Largest in the area in India, Rajasthan is rolled-up in all the colours of culture and ethnicity. Colourful attire of Men, Hundreds of bangles on the hands of women, and playing kids in the golden sand of Rajasthan all unites together to prove the statement "Colourful Rajasthan".
Judge and decide yourself which one is your favorite Rajasthan Honeymoon Attractions:
Jaipur: Stroll hand-in-hand to explore the royal forts & palaces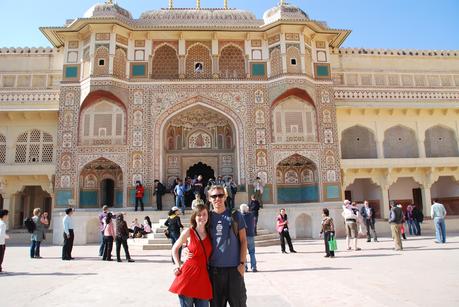 Bustled in the rule of Maharaja Sawai Jai Singh in 1727, Jaipur comes in one of the most visited places in Rajasthan for old Royal Places & Forts. Rajasthan is the place where the Old Royal architecture can be explored in every street of it. This was the only city which was planned perfectly in the former time.What to do in Jaipur?

Enrol for desert Safari and don't forget to buy some souvenirs from Rajasthani crafts, textiles, and gems


What are the major attractions of Jaipur?

Amber Fort & Palace, Royal City Palace, Jantar Mantar Observatory, and Birla Mandir


What is the best time to visit Jaipur?

Try to avoid summer as the day starts teasing you with its scorching heat


Jaisalmer: Land of golden sand dunes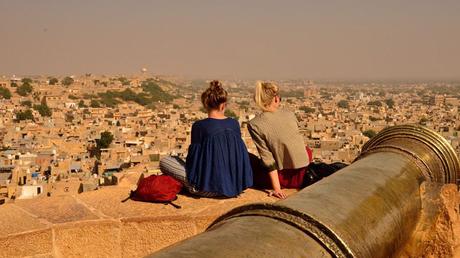 Founded by Maharaja Jaisal Singh, Jaisalmer is known for its glowing sand dunes, regal palaces and forts. The aerial view reminds you of the Egyptian bustling structure, even more, beautiful than that. Couples of Museums and temples are the pride of Jaisalmer which attracts an enormous number of tourists every year.
What is the best time to Visit Jaisalmer?
Try to avoid April – August as summers won't allow exploring this place comfortably.
What are the major attractions of Jaisalmer?
Golden Sand Dunes, Gadisagar Lake, Jaisalmer Fort, and Mata Temple
What are the things to do in Jaisalmer?
It is highly recommended to attend the desert festival in January – February, Enjoy Camel Safari, and visit Longewala Border which reminds you the war held in 1971 between India & Pakistan
MUST READ - Things to do in Rajasthan you must try 
Jodhpur: Its Palaces & Gardens awaits you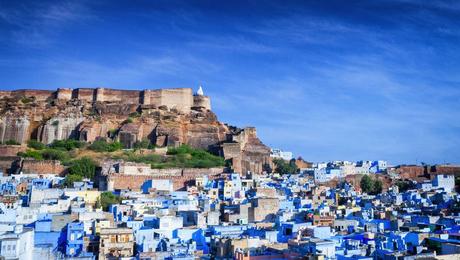 A perfect expanse of royalty, Rajasthan is a perfect abode of forts, palaces and temples which are popular amongst tourist come from all over the world.
What are the major attractions of Jodhpur?
Mehrangarh Fort, the Mandore Gardens, Umaid Bhawan Palace, Jaswant Thada, Kalyan Lake & Garden, Ghanta Ghar, Sardar Samand Lake, and Masuria Hills
What are the things to do in Jodhpur?
Visit all the palaces, forts, and lakes mentioned above
What is the best time to visit Jodhpur?
All through the year except summers (April to August)
Pushkar: Allows strolling in its colourful bustling streets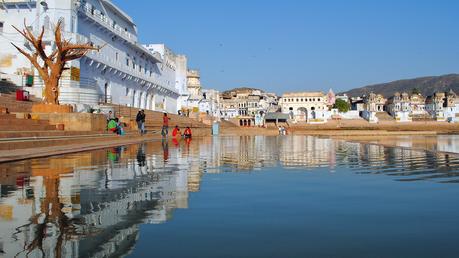 Known as the holy place, Pushkar is famous as one and only Brahma temple is residing in this city. Here the people can attend evening aartis and may offer sincere prayers to the several ghats. If you are in love with Photography, then this is the perfect place to click some stunning and beautiful pictures.
What are the major attractions of Pushkar?
Camel Fair is the most famous, the refreshing Pushkar lake, and the Meerabai Temple
What are the things to do in Pushkar?
Photography and boating in the lake
What is the best time to visit?
October to November as the cattle fair is organized by locals and government.
Forts & Palaces, golden sand dunes, exotic wildlife, adventures, and vibrant culture; Rajasthan has everything you expect for a complete holiday trip. So, when you are planning to explore Rajasthan?
Choose Honeymoon Bug to book Rajasthan Honeymoon Packages from Delhi as the portal is continuously working to provide most affordable honeymoon packages on limited margins.