THERE ARE THE TOP 5 DESTINATIONS TO VISIT IN UTTARAKHAND IN DECEMBER
Sweltering climate and merciless drought and dust makes the city life boring and full of pollution and this same thing also happens in winters. The city pollution and the fast-track lifestyle in the cities have made us more vulnerable. As winters are arriving, you can head to several places in India as it boasts so many destinations from mountains to beaches to deserts. But if you are a mountain person and wants to experience what winters feels like in there so Uttarakhand is one of the best places.
Also known as 'Devbhoomi', Uttarakhand has enormous options for you and it is fondly called, boasts of serene, quaint and brimming with energy places. There are so many Destinations to visit in Uttarakhand in December and today we would be discussing the top 5 among all.
TOP 5 DESTINATIONS TO VISIT IN UTTARAKHAND IN WINTERS
From Mussoorie to Auli, and from Chopta to Chamoli, there are several places to visit in Uttarakhand that will just light up your moments with your loved ones be it a family vacation or a romantic one. You can also opt for Uttarakhand Tour Packages that will make your vacations even more happening than ever! So, let's have a look at the top 5 Tourist places to visit in Uttarakhand in winters.
AULI – SNOWY HAVEN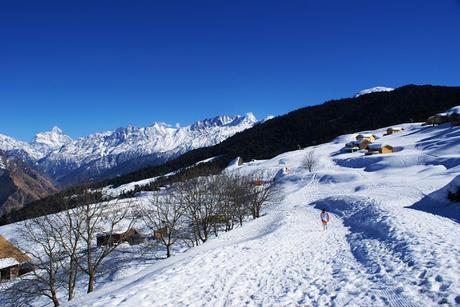 One of the first and foremost
destinations to visit in Uttarakhand in winters
would be Auli. If you love watching snow and love skiing then this might be your stop. The location is considered as one of the favorite skiing destinations for the adventure seekers. A lot of people around the country come here at the time of winters to witness the snow and to try their hands in skiing. It is also one of the best
Things to do in Auli
. The ski slopes of Auli rise from 2,500 to 3,050 meters above the sea level that means that both experienced as well as the amateur can try this. Auli can surely be one of the rejuvenating experiences for your life-time. You can also see some breath-taking views from the Himalayan peaks like
Nanda Devi, Kamet, Mana Parvat, and Dunagiri and this is what makes Auli an ideal place for visiting in winters.
Best Time To Visit: March – June and November – February
Places To Visit: Dwarika, Barahbeesh Villa, Kanasar Ecolodge, Apple Farm Stay
JIM CORBETT – GET INTO THE WILDERNESS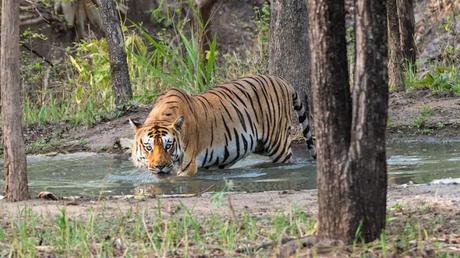 Changing with seasons, terrains and the time of the day, Jim Corbett National Park is one of the finest places that you can head to in winters in Uttarakhand. There are several travel companies from where you can opt for Uttarakhand Tour Packages and include Jim Corbett in it to witness the wilderness in the jungle. The reserve has been divided into zones and tourist can decide from which zone they want to enter the national park. You will see a lot of animals and different species of birds and se their activities. The place is also said to be a paradise for birdwatchers and nature lovers. At the same time, it also attracts photographers.
Best Time To Visit: November – June
Places To Visit: Lebua Corbett, Vanghat Jungle Lodge, The Riverview Retreat, The Den Corbett Resort
RISHIKESH – A PEACEFUL ABODE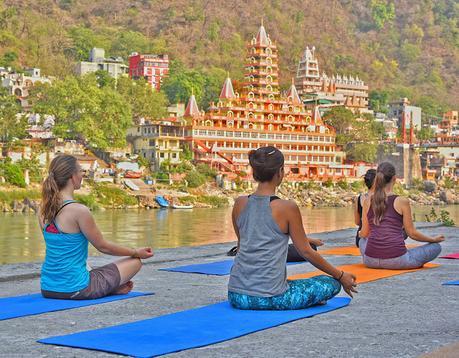 If you do not wish to travel so far from your place then you can head to Rishikesh for vacations and this location is considered one of the major top 5 destinations to visit in Uttarakhand in winters. If you do not like snow much then it is an ideal place to visit nearby. Purify your soul, mind and body residing beside holy river Ganga and listen to the chanting mantras inside the temples. Rishikesh will fill your inner soul with purity and offer you peace. The ringing bell in the temples will surely delight your senses. You can explore temples, spend time at the yoga centers and also try some adventure activities. A trip to Rishikesh will refresh your mind to the fullest.
Best Time To Visit: September to mid-November
Places To Visit: Laxman Jhula, Ram Jhula, Beatles Cafe, Parmarth Niketan Ashram, Triveni Ghat.
NAINITAL – DREAMY LAND OF PARADISE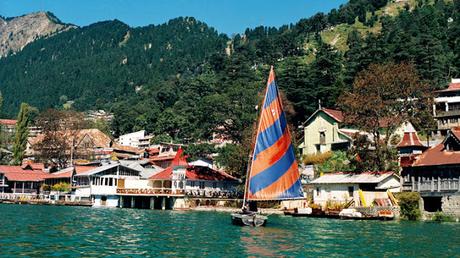 What comes to your mind when you think of Nainital? The pristine lakes and greenery right! This is what it looks like in winters. But at times, there is also a heavy snowfall in the region so if you do not want to travel much, you can head to Nainital for vacations. At the time of December, it is the perfect time to enjoy the snowfall and unwind yourself amidst the snow-clad mountains. You will fall in love with the destination when you will see snow all over and the serenity will make your heart skip a beat. Nainital is amongst the top 5 destinations to visit in Uttarakhand in winters.
Best Time To Visit: March to June
Places To Visit: Nainital Lake, Tiffin Top and Show view.
HARIDWAR – A POPULAR HINDU PILGRIMAGE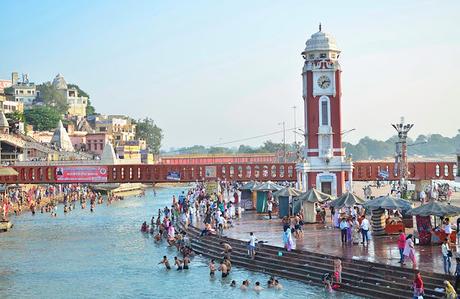 One of the popular pilgrimage places in India – Haridwar is well-known for its sacredness and one of the best places to visit in December in Uttarakhand. At this time, you can comfortably roam around the city and explore the major tourist spots and visit the different temples. It is also an ideal destination for those who are looking for yoga ashrams and centers. In winters, you can also visit here if you are not that much of winter lovers. The holy place in Uttarakhand is dotted with temples and different Ghats that makes the destination even more enchanting.
Best Time To Visit: October to February
Places To Visit: Chandi Devi Temple, Mansa Devi Temple, Swami Vivekanand Park
So, what are you waiting for? Make your vacations blissful by visiting the top 5 places to visit in Uttarakhand in December and also you can also opt for the Uttarakhand honeymoon package and do not forget to pack the warm clothes but do not stuff your bags with cloths only.