HOLLYWOOD—5..4...3...2...1..Happy New Year 2012, everyone! We have reached that time again that we ask ourselves "What will 2012 bring?" It's that time of year when we make the same old resolutions once again: lose weight, join the gym, quit smoking, find a job, travel, get organized, drink less, save money and most importantly, spend more time with the people we love, family and friends. Well, these are some of our resolutions for 2012. In the spirit of the New Year, these resolutions are made in good faith; however, only a handful of us will actually succeed. Yes, all those promises we made to ourselves on the stroke of midnight will soon be a fleeting memory in a few weeks.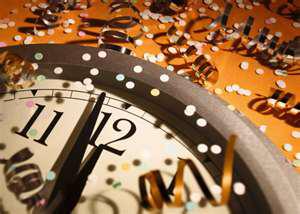 As we reflect on the past year, we look back on one of the most talked about albums, "Watch the Throne." Two incredible hip-hop figures, Jay-Z and Kanye West came together to surprise fans of rap music. Rap as you know it began as a kind of rhythmically accented poetic recitation accompanied by a DJ who manipulated recordings on two turntables to create a collage of percussive and musical effects. Decades later, rap moved into the mainstream and dominated the recording charts. The articulation of these two powerful artists coming together, the heart-stopping beats, gleam like a Lotus fresh from the dealership.
The two hip-hop superstars had a great Christmas after reportedly banking a whopping $6 million dollars (1.9 million pounds each) for performing at a private concert in the United Arab Emirates. They performed in Dubai for the niece of billionaire Manchester City Football Club owner Sheikh Mansour, in celebration of her sweet 16 birthday bash, according to Britain's The Sun newspaper. The rappers played a series of tracks from their album "Watch The Throne" and completed the set with a number of solo hits, according to the newspaper. I'm quite sure they did the incredible cut, "Murder to Excellence."
Jay-Z's wife Beyonce also dropped her album in 2011 titled "4," which has inspiration from several artists including early Whitney Houston, Anita Baker and Mary J. Blige. Somehow Beyonce thrills us with her celebration of her impending motherhood, her fidelity and in the interim manages to make it pure and wholesome. As usual, some of her tracks are sensational and energetic with incredible passion, such as those that you'll hear in "Start Over." You have to be not only a great singer, but also a sensational storyteller as well.
The year 2011 has really gotten completely out of control when it comes to MTV, which reminds us of a Ringling Brothers channel (no offense). Granted, we all know that MTV gave a needed boost to the music industry and contributed to the popularity of many performers. We still remember the true innovator in the use of rock video, Michael Jackson, whose documentary on the production of "Thriller" become one of the most widely sold prerecorded videocassettes ever made. Even though he died back in 2009, he is still mourned by millions around the world. Today we see MTV bringing us reality shows like "Teen Mom 2."
Rose's Scoop: This column marks my tenth anniversary with Canyon News. Thanks for your continued support and readership. Wishing everyone a happy, healthy, peaceful, prosperous and safe New Year!