New to little Indiana? Subscribe for free to my RSS feed. Thanks for stopping by!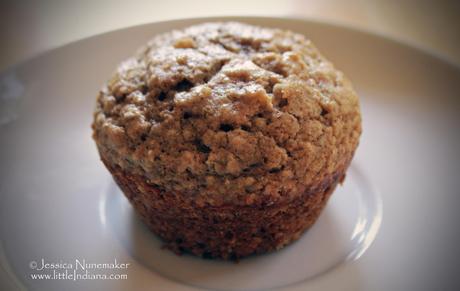 Best Muffin Recipes: Wheat Germ Oat Muffins
little Indiana and family love to try new muffin recipes–and the kids in particularly were wild over these Wheat Germ Oat Muffins!
What can I say? We are not a cereal eating family. There's just nothing better than hot, homemade food in the morning (okay, except maybe cold pizza!).
Kid #1 has added these Wheat Germ Oat Muffins to his list of all time faves, the recipes he asks for again and again. With all this  healthiness, they are a fave of mine, too. From 250 Best Muffin Recipes by Esther Brody, 1999. Love!
Best Muffin Recipes: Wheat Germ Oat Muffins
Print Best Muffin Recipes: Wheat Germ Oat Muffins
Rating: 51
Prep Time: 10 minutes
Cook Time: 15 minutes
Total Time: 25 minutes
Yield: 12 Muffins (more or less)
Serving Size: 2 Muffins
Very good muffins. Our boys loved them!
Ingredients
1/2 Cup Wheat Germ
1/2 Cup Oats
1 Cup All-Purpose Flour
3 teaspoons Baking Powder
1/2 teaspoon Salt
3/4 teaspoon Cinnamon
Pinch Nutmeg
1/2 Cup Brown Sugar
1/3 Cup Shortening
1 Egg
1 Cup Milk
1 teaspoon Vanilla
Instructions
425* Oven. Grease or paper-line muffin tin. Set aside.
Combine Wheat Germ through Brown Sugar.
Cut in Shortening. Mix until crumbly.
Add in the Egg, Milk, and the Vanilla Extract. Stir only until moistened. Do not overmix!
Spoon batter into tin, filling about 3/4 full.
Bake 15 -- 20 minutes.
Notes
If you haven't, you must pick up 250 Best Muffin Recipes by Esther Brody, 1999. Very good cookbook!
I know a few small Indiana town bookstores where you can find it.
Schema/Recipe SEO Data Markup by ZipList Recipe Plugin2.0
http://littleindiana.com/2012/08/best-muffin-recipes-wheat-germ-oat-muffins/
Photos are the Property of little Indiana. Do Not Use Without Permission.
Find pictures in Indiana on my Flickr photostream or on the new little Indiana Tumblr blog.
Just don't forget to tell 'em that  little Indiana sent you!
Don't miss a moment. Subscribe to little Indiana and receive instant updates to stay on top of everything "little."
little Indiana: Where to Stay, Play, and Eat in Small Towns in Indiana. Discovering Indiana's best small towns! Now get little Indiana on your Kindle.
Targeted. Relevant. Affordable! little Indiana advertising.