New to little Indiana? Subscribe for free to my RSS feed. Thanks for stopping by!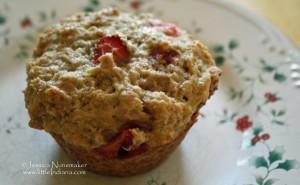 Best Strawberry Banana Muffins Recipe
I've posted a slew of the best muffin recipes lately–and had to add Strawberry Banana Muffins to the mix!
These are our favorite family recipes. This one is a new one I tried out on my family after a visit to our Indiana town farmer's market. When you bring back a bucket of berries, you need a plan.
These are incredible. While the original recipe is found on Food.com, it doesn't quite look like this. I like a more dense muffin and I've really got a thing for wheat germ. Enjoy!
Strawberry Banana Muffin Recipe
Print Best Muffin Recipes: Strawberry Banana Muffins
Rating: 51
Prep Time: 15 minutes
Cook Time: 20 minutes
Total Time: 35 minutes
Yield: 1 Dozen Muffins
From Food.com.
Ingredients
1/2 Cup Butter, Melted
3/4 cup Brown Sugar
2 Eggs
1 teaspoon Vanilla Extract
2-3 Bananas
1 Cup Sliced Strawberries
1 1/4 Cups All-Purpose Flour
1 Cup Wheat Flour
1/4 Cup Wheat Germ
1 1/2 teaspoons Baking Powder
1/4 teaspoon Baking Soda
1 teaspoon Cinnamon
1/2 teaspoon Salt
Instructions
Preheat oven 350*.
Melt Butter. Set aside.
Combine Brown Sugar, Eggs, Vanilla, and Bananas.
Add cooled Melted Butter.
In a separate bowl, combine Dry Ingredients.
Fold in Strawberries.
Add Wet Ingredients to Dry.
Fill muffin cups 2/3 full.
Bake 20 -- 25 minutes or until toothpick comes out clean.
Notes
Delicious! I threw in the Wheat Germ and the Wheat Flour because I love it. It makes a very nice muffin.
Schema/Recipe SEO Data Markup by ZipList Recipe Plugin2.0http://littleindiana.com/2012/09/best-muffin-recipes-strawberry-banana-muffins/Photos are the Property of little Indiana. Do Not Use Without Permission.
Find pictures in Indiana on my Flickr photostream or on the new little Indiana Tumblr blog.
Just don't forget to tell 'em that  little Indiana sent you!
Don't miss a moment. Subscribe to little Indiana and receive instant updates to stay on top of everything "little."
little Indiana: Where to Stay, Play, and Eat in Small Towns in Indiana. Discovering Indiana's best small towns! Now get little Indiana on your Kindle.
Targeted. Relevant. Affordable! little Indiana advertising.