It's been long time 🙂 Well welcome back on my tech blog. I am quite busy to making a new marketing strategy for online business. So today i am writing about marketing tools that will increase your profit and productivity. Oh that's great if you are still looking for the same thing.
Who doesn't want profit, right?
So today, I thought I would come up with a bunch of tools that will help you make profits and increase your productivity.
As we all know, not everything is free on the web. You need to pay some money for getting access to some of the excellent tools. That's why I have included some freemium and paid tools here in this list. But don't worry! You can get some free tools as well.
So, are you ready to dive into the list of best marketing tools? Here we go!
Read More :- 2016 Link Building Tools
Best Tools for Internet Marketers
If you search for internet marketing tools, you will get tons of them. But I don't think it makes sense to give you a hundred of tools because you are not going to use them all together. Hence, this list features the best tools that never let you down.
I know this is a tool that every ' tools for bloggers ' post contains. But I couldn't help myself from sharing this one with you because Keyword Planner is the first tool I used for researching keywords.
Being a Google kid, Keyword Planner gives you the exact search volume for a particular keyword. You can quickly add keywords from an excel document or text file if you want search volumes in bulk.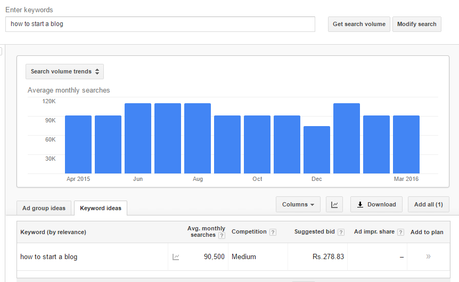 Keyword Planner also allows you an option to download the keyword details. I highly recommend avoiding paid keyword research tools in case you are a beginner. Just start with this one and you will thank me later. You can find best keyword research tool here.
I think HubSpot has chosen the wrong name for this tool. It is more of a headline suggesting utility because you need to insert details of what you like to write about.
I hope you know the importance of titles in CTR (Click Through Rate). The web articles with compelling title get the most number of clicks in search results than those without.
Read More :- How to increase CTR in Adsense
On the homepage of this tool, you will be provided with three fields to insert nouns. You should fill those fields and hit that Give Me Blog Topics button right away to get captivating blog titles.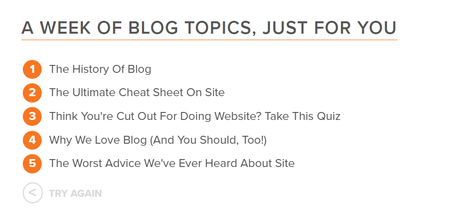 See what I got for the nouns, site, blog and website.
The nouns you insert should be synonyms (Or else, you may get some senseless titles).
Google has got yet another awesome tool on board to monitor the popularity of a certain topic and notifies you in case any noteworthy event happens over the same.
Are you thinking about the price? Don't worry! You don't have to pay even a single penny.
Go to google.com/trends. You will see a field on the top of the screen. Just insert any keyword there to see the interest in it.
If you click the '+' button on the top-right portion of the screen, you will get notified about the important event over the keyword via email.
As a digital marketer, you can't ignore social media. It is a gold mine of traffic and profit opportunities. But you should be aware of social media marketing to pull out the best.
You may have profiles in a number of social media websites. I personally find it a tedious task to keep all my social media pages and profiles updated. The thought of having a one-stop place for all my social networks brought me to Buffer.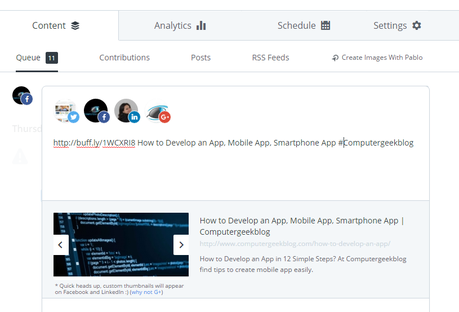 Buffer is a web app using which you can update all your social media accounts, schedule posts and observe the analytics.
It's been years paid traffic became one of the best marketing methods in internet marketing. Even though I have only one encounter with advertisements, it was one I always wanted to cherish because the profit was about ten times the investment.
Read more :- How Do I Change Facebook Page Name After 1000+ Likes
If you are a person who wants to create a lot of FaceBook ads and monitor all of them without any hassle, you should definitely try out this free tool once. I know you will never leave this behind when you think about ads then.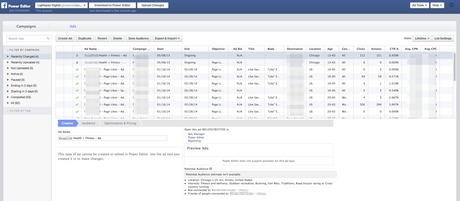 FaceBook doesn't recommend Power Editor for smaller advertisers.
Keyword Revealer may be a new tool for you. But it has been in this field for long. It was overshadowed by some other similar tools, which are dominating with rich promotional methods.
I was stunned to see Keyword Revealer's features because no other free tool allows us to calculate keyword difficulty with this much accuracy.
Check what I got for blogging tips.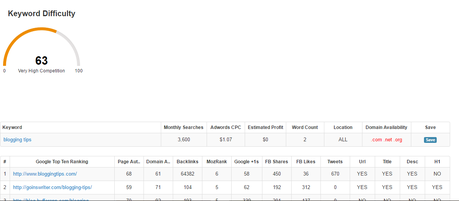 In the free version, you are limited to three keyword difficulty calculations and a few keyword research processes. But if you are willing to spend about $9 per month, you will get the basic paid version with comparatively fewer limits.
Do you want to know which article in a particular niche got the most number of shares?
Then, you are going to be a Buzzsumo user as they offer the same function. Knowing the most shared articles will help you steal their strategy to create engaging content.
Apart from searching for a keyword, you can search for a domain (check image) to find the most shared article on a website.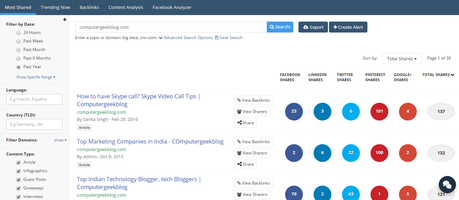 Google has taken social signal as a serious metric to measure content authority. So, you should definitely sign up for Buzzsumo.
You don't need a lecture on the importance of backlinks in SEO, do you?
Read More:- What are your favorite SEO tips for 2016?
Successful niche bloggers steal their competitors' backlinks to beat them in search results. So, you should know what sites are linking to your competitor's blog to make the same kind of links.
I couldn't find an excellent tool other than Ahrefs to reveal website backlinks. It is a paid tool fo which you need to pay $99 per month (more for higher plans).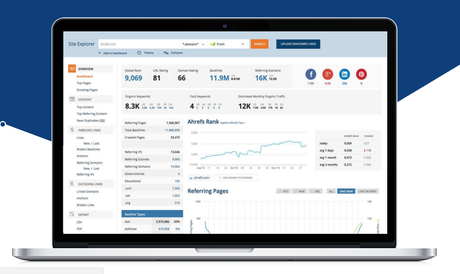 Don't think the tool is expensive! Comparing with the money you are going to make with it, it is the cheapest.
Read More:- How I Find Blog ideas that Creates Backlinks
For a non-native English user, the Grammar mistakes and punctuation errors are common. But in a visitor's perspective, it will severely affect their reading experience. Plus, there is a chance for Google to flag your content as low-quality one.
You can minimize your English language errors with this fantastic proofreading app called Grammarly. It has both free and premium version. If you choose to give it a try, I am pretty sure that you will become their paid customer in a few months.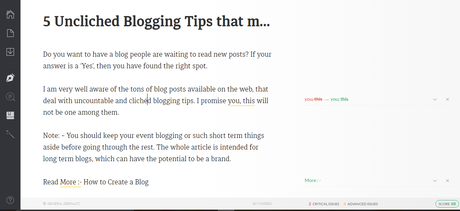 Premium version includes some extraordinary features like vocabulary enhancement and plagiarism checker.
Also you can find more best marketing tools for small business
FissionAds - This is an automated online advertising tool.
Lucky Orange - Through Lucky Orange you can see exactly how people are interacting with your site.
Sprout Social - It's a superb social media management CRM tool that allows to find platform to engage social followers together.
SumoMe - It will help you to increase your website's traffic.
JustReachOut - Can't tell you more, just go through on their website and get more info about this tool.
Notify - You can select all social media platform that you want to track together.
SEO by Yoast - If you have wordpress blog than you know about it very well. One of favorite plugin.
HootSuite - Manage all media accounts together.
CoSchedule - This is superb tool for wordpress bloggers and digital marketer. Just make a plan and schedule you posts.
Colibri.IO - Now you can view your brand visibility across the web. Did you check?
Boomerang for Gmail - Oh this gmail extension, You can set reminder for all important mails.
NextScripts: Social Auto-Poster - It allows you to auto-post all your WordPress posts to your social networks.
Salesforce - Salesforce is a superb CRM platform.
Facebook Power Editor - Create facebook ads and all things together.
Quantcast - Put the small piece of js code on your site and you will know your visitors like never before.
TweetDeck - If you have bunch of twitter account then you must register here.
Klout - It allows you to create content and track the sharability of it.
Google Webmaster Tools - Check your website's health, indexing, crawling, sitemap and robots.
KewordTool - Find similar keywords for your next campaign. It will help you in CPC marketer.
SimilarWeb - Enter a URL and you can see ranks in search, social, display and more. This is one of my favorite tool. You can see my rank in Similarweb.
Pingdom Speed Test - Enter you url and see the load time of particular webpage.
Dasheroo - Dasheroo is a dashboard tool that can integrate all your data from social media and advertising accounts.
WooRank - WooRank is another tool that allows you to see stats about your website.
Open Site Explorer - It's a free tool provided by Moz. you can find the number of backlinks. Did you ever check your backlinks?
SharedCount - Check it out how many shares you have on your social shared posts.
PikToChart - Create an awesome infographic easily.
HemingWay App - This is another app that tests the readability of text.
Canva - Make an amazing design for marketing material.
Compete - Compete allows you to monitor competition.
Blog Topic Generator - This tool is great for finding blog topics to write about.
Bottom Line
I hope you have found this article useful. The tools shared here are best in their fields; that's why some tools seem to be clichés to you.
If you think my list would have included some other tools, you are invited to have a small discussion through the comment box down below.
I know I missed some of your favorite tools but it is because this list contains some impeccable alternatives.
Have a second to hit that social sharing button sitting on the left side of your computer screen. Your blogging friends will offer you a party for that. 😉
Keep visiting my blog to grab and share knowledge.
Did you like this article?
1. Please share it with your network, we'd really appreciate it!
2. Would you like to write for Computer Geek Blog?
3. Keep subscribe us and follow us on Facebook and twitter for more tips & ideas about new technology.

Savita Singh is the author of computergeekblog, She has a superlative knowledge of Graphic and Web designing. She is a part time and award winning tech blogger who loves to write about latest technology, social media and web design. Her blog focuses on creative things of designing and tech, providing professional opinions on designing products, performances and a variety of business.