If you are traveling through Pulaski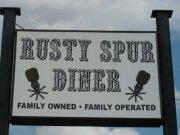 Tennessee, a must stop eatery called "The Rusty Spur Dinner" located on highway 31 is
the perfect place to fill your belly. Owners Cathy and James Vandiver partnered
with parents Dennis and Gloria Hebir are country culinary geniuses; serving up
the tastiest chicken, pork, steaks, and burgers in the South. This dinner is
famous for the hottest chicken wings in the country; so hot that a pair of
gloves and goggles is required to even pick them up. Pictures pinned on the
wall depict the few who have succeeded and the many who have failed to eat
these fiery spiced wings. Additionally, James Vandiver cooks 
one mean, tender, tasty, steak; a
person could not find a high-dollar steak house to fix one better, or a cozier
place to eat it.
   One local man Joseph Boshers, "still hurting the next morning"
(according to a post on the dinner's Facebook page) had this to say about the
wings…"They were hotter
than hell!" 
To
the owners, this is a great compliment that puts a smile on their face. You can
read more comments by dinners' (local and visitors') on their Facebook page, http://www.facebook.com/#!/pages/The-Rusty-Spur-Diner/110396472310710
and see more pictures of the Gunslinger Challenge winners and gave-it-a-try failures.
No matter where in the U.S you reside, a visit to The Rusty Spur Dinner is
worth the trip! I drive from Nashville just to get a taste of the wonderful
food served up by this family owned/run dinner; it is worth the trip as well as
the price. I give The Rusty Spur an A+ in service, culinary expertise, and the
comfortable country setting!