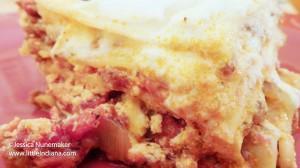 Best Lasagna Recipe
Where has
the best lasagna recipe
been hiding all my life? Using two kinds of meat, plenty of cheese, and simmering the meaty, tomato sauce on the stove, this is not your mama's lasagna!
I chose to use the Ricotta Cheese instead of Cottage Cheese. It made a very nice cheesy filling–and I'd definitely stick with the Ricotta in the future.
There are a few steps to this one, so make sure and plan ahead for a day when you have the extra time to make the best lasagna recipe ever! I know your family will love it as much as ours! From Food.com.
Best Lasagna Recipe
Print Best Ever Lasagna Recipe
Rating: 51
Prep Time: 20 minutes
Cook Time: 40 minutes
Total Time: 2 hours
Yield: 1 13 x 9 Pan
I used Ricotta Cheese in this one as well as real Shredded Parmesan Cheese! Don't use that canned Parmesan for this--real cheese makes a difference!
From Food.com
Ingredients
1 1/2 lbs. Lean Ground Beef
1/2 lb. Italian Sausage
1 Onion, Chopped
2 Garlic Cloves, Minced
1 teaspoon Salt
1 Tablespoon Dried Parsley Flakes
1 Tablespoon Dried Oregano
1 tablespoon dried basil
2 (14 1/2 Ounce) Cans Whole Tomatoes, Undrained and Chopped
2 (6 Ounce) Cans Tomato Paste
24 Ounces Cottage Cheese or 24 Ounces Ricotta Cheese
2 Eggs, Beaten
1/2 teaspoon Pepper
2 Tablespoons Parsley
1/2 Cup Grated Parmesan Cheese
1 lb Mozzarella Cheese, Divided
12 -15 Lasagna Noodles
Instructions
Brown Ground Beef and Italian Sausage. Add in Onion and Garlic.
Mix in Salt and next 5 ingredients.
Simmer 1 hour.
Cook Lasagna Noodles according to package directions, then drain and set aside.
Grease a 13 x 9" baking pan and set aside.
Combine Cottage Cheese (or Ricotta), Eggs, Pepper, 2 Tablespoons Parsley, Parmesan Cheese, and 1/2 of Mozzarella Cheese.
In prepared pan, layer Noodles, Meat Sauce, and Cheese. Repeat.
Top off with layer of noodles and sprinkle with remaining Mozzarella Cheese.
Bake at 375* for 30 -- 40 minutes or until Cheese mixture is thoroughly melted.
Schema/Recipe SEO Data Markup by ZipList Recipe Plugin2.2
http://littleindiana.com/2014/02/best-lasagna-recipe/
Photos are the Property of little Indiana. Do Not Use Without Permission.
Small Towns: Destinations, not Drive-Thrus! I'm Jessica Nunemaker and THIS is little Indiana!
Find pictures in Indiana on my Flickr photostream or on the new little Indiana Tumblr blog.
Just don't forget to tell 'em that  little Indiana sent you!
Don't miss a moment. Subscribe to little Indiana and receive instant updates to stay on top of everything "little."
little Indiana: Where to Stay, Play, and Eat in Small Towns in Indiana. Discovering Indiana's best small towns! Now get little Indiana on your Kindle.
Targeted. Relevant. Affordable! little Indiana advertising.