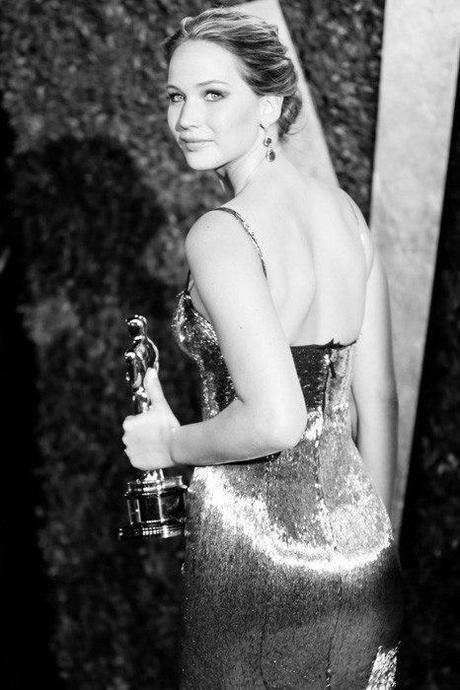 Best Actress winner Jennifer Lawrence at the Vanity Fair Oscar party wearing Calvin Klein Collection.
I first started watching the Academy Awards when I was about 14 years old. Back then the awards were aired quite late and I was allowed to stay up an hour past my bedtime so I could watch the first few awards. The red carpet wasn't such a big deal then and so the awards would begin straight away. They would run for over four hours and I would have to record the rest of the show and watch it the next day. It's a long-standing joke that the awards go on for too long and over the years producers have tried many ways to shorten them, fabulous movie montages and musical numbers were cut so it kind of made the show boring. It's all about the host of course, and for me, Billy Crystal will always be the best. Hugh Jackman, Alec Baldwin and Steve Martin, Ellen and Whoopi weren't bad either and of course there's been some shockers too. I think that any host has a lot to live up to and the pressure must be unbelievable, I really liked Seth McFarlane though. I thought he did a great job. I didn't know he could sing and dance, I liked his tongue-in-cheek attitude to the job of hosting and his critics.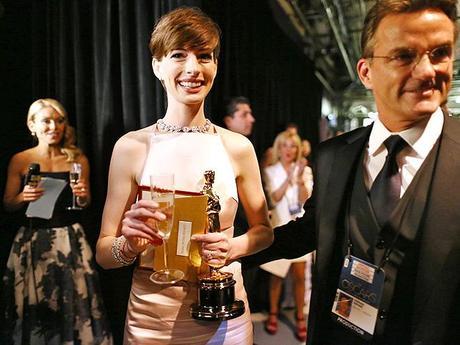 A beaming Best Supporting Actress winner Anne Hathaway backstage after winning her award.
Every year I usually go out of my way to avoid finding out who won what award – I like to play a little game with myself and try to guess the winner. This used to be a pretty easy to do because my family and friends under strict instructions, would keep their mouths shut and I would simply avoid any news. But these days it was a minefield with all the social media and constant barrage of news breaks! I basically had to keep myself in a bubble till 9:30 last night before I could finally relax and watch the show!
In the end, I didn't make it to the very end of the show. I made it just after midnight before I caved and googled the best actors, picture and director winners. I felt that my dedication had stretched far enough and my pillow needed me more.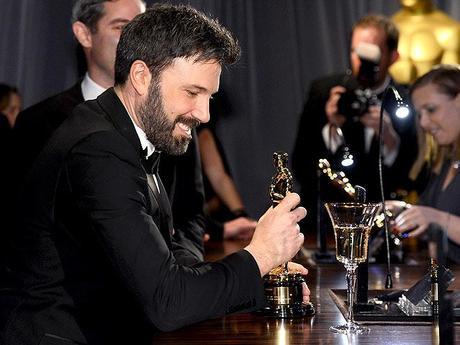 Best Picture winner Ben Affleck backstage getting his Oscar engraved.
I loved that Ben Affleck's movie Argo won best film, but I always wonder how the Academy can be so divided in opinion between a film and it's director, shouldn't they go hand in hand? Glad Anne's campaign won her the award, now we can all relax, and Jennifer Lawrence, so fabulous and self-deprecating after tripping up the stairs on the way to collect her award. I mean, we're all human, right? Daniel Day-Lewis, oh Daniel. So well-deserved. So humble. Love him!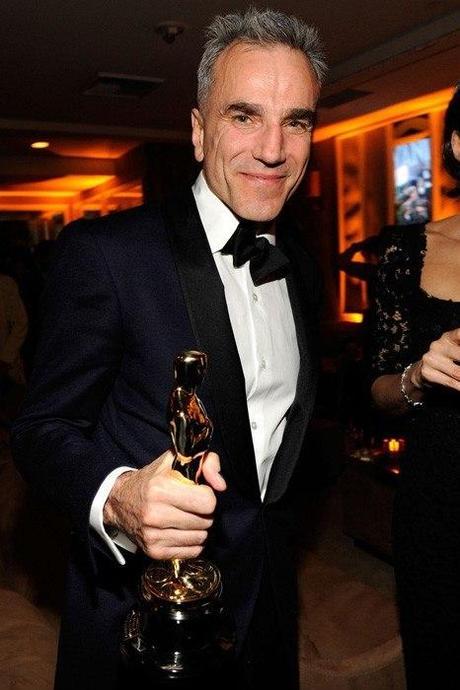 Best Actor (for the 3rd time!) Daniel Day-Lewis.
I'm beginning to think that the gowns at the parties are far better choices than those worn to the actual awards. The actors seem particularly more themselves compared to on the red carpet. Of course this make sense as all the statues now have owners, the pressure is off and they can let their hair down and relax. This surely must have something to do with their party frock choice, yes? What do you think?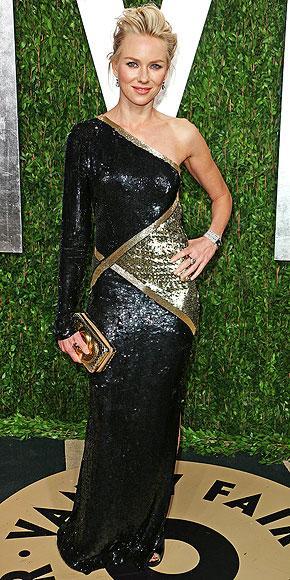 Naomi Watts in Emilio Pucci party frock at the Vanity Fair party.
Hope your having a wonderful week!
love & light xx
Leave a reply!