Practically every second person is cord-cutting today. This means doing away with your satellite or cable TV provider. You can keep watching shows online and get free HDTV channels for free just by attaching an HD antenna to your TV - the price can be as low as tens of dollars. Read this review to find out which the best HD TV antennas for urban and rural areas are!
You should look for the total number of channels you can get, visual and audio quality and the number of major channels available.
Let's start with Mohu. Mohu offers non-amplified and amplified antennas. One example of the first is the Mohu ReLeaf, and the second - Mohu Curve 50. They both offer a very high number of channels and boast an elegant, sleek appearance. In general, amplified antennas offer improved reception, but you would be OK with a passive, non-amplified one depending on where you are. You would be fine with a passive one if there is a station broadcasting within a 25-mile radius of your house. If there is no station within 50 miles, then you should go for an amplified model. You can check the location of broadcasters in your area on the Internet.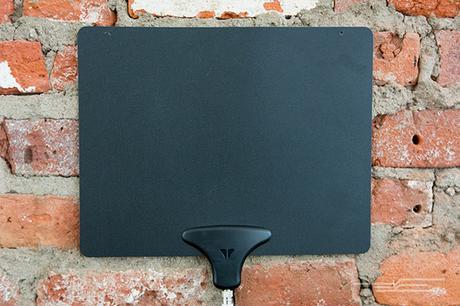 If you want to try various diverse options, like amplified or not, we advise buying antennas from companies that are accommodating in terms of their return policies. If the company doesn't take the antenna back, you'll be stuck with it forever, and this wouldn't benefit you the slightest if it's not working for you for some reason.
Another factor is the price. The Mohu Airwave is one of the most expensive antennas out there at $150, but it offers the advantage of an antenna and streaming services together. If you are more price-conscious, the Holisouse 50-Mile HD Antenna costs less than $30 but picks up tens of channels.
If you want to do away with your monthly cable bill, but are not willing to give up local channels and stations, we recommend the Releaf. This device is made of recycled paper and packaging and costs less than $50 as well. It's the most eco-friendly, green non-amplified attachment for streaming media. It looks great - you don't have to worry about what people will think when they see it - and offers access to an impressive number of channels.
Finally, if you are looking for something in the medium-price range, the 1byOne amplified antenna offers one of the best price to quality ratios. Its cable is 10 feet long and has a 50-mile range, and comes with a 12-month warranty to boot. You can get 46 stations, and the audio and visual quality is pretty good. The device itself is 13.3 x 9.3 inches. It is attached to a window or wall with an adhesive, which is part of the package.
I hope I have been helpful with this review - click on the link above to learn more!

Savita Singh is the author of computergeekblog, She has a superlative knowledge of Graphic and Web designing. She is a part time and award winning tech blogger who loves to write about latest technology, social media and web design. Her blog focuses on creative things of designing and tech, providing professional opinions on designing products, performances and a variety of business.