If you are a player or parent/coach of a player, you are probably hoping the holidays are good to you in the way of baseball.  I've always felt that if a player wants to go far in the game, a lot of it will have to do with his work away from the field.  If a player waits for his coach to call for a practice and never goes out and works on his own, his chances of going far are pretty much zero.
Working out on your own does not require a lot of space or equipment if you use your imagination.  However, if you are looking for one practice item that can go the farthest in terms of player development, a wall or pitchback screen is it.  Below are three variations of the pitchback screen from a lower cost, little league version to the Cadillac version a college or pro team would use.  Under that is a link to a video a friend of mine (Coach John Cohen – Mississippi State) made called "Wall Ball" which teaches players and coaches how to utilize a rebounder during team or individual workouts.
(Full disclosure:  I am an affiliate of Amazon products.  Clicking on the Amazon links below and purchasing earn me a small commission.  Just thought you should know.)
Little League quality:  usually under $50.00.  Good for the beginner but will not hold up very well once the player gets to about 10 years old.
Middle School – High School quality:  usually under $100.00.  Very good net that should last many years of strong use by older kids up to high school.
College – Pro quality:  The one pictured below from Burbank Nets is $500+.  The price is a bit ridiculous but it currently is the best available.  This rebounder is featured in John Cohen's Wall Ball DVD linked below.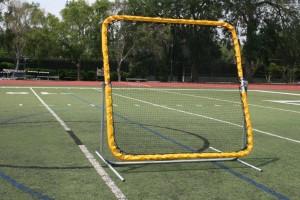 Burbank Sports Net Rebounder
Coach John Cohen's Wall Ball DVD can be found HERE.