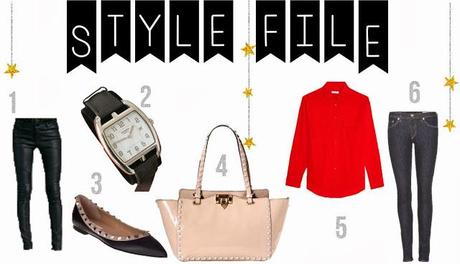 1. Theres Zip-Leg Leather Pants - ALC
2. Hermès Cape Cod Watch
3. Valentino Rockstud Ballet Flat Black Leather
4. Valentino Rockstud Tote Bag, Tan
5. Equipment Blouse 
6. Rag & Bone Skinny Jean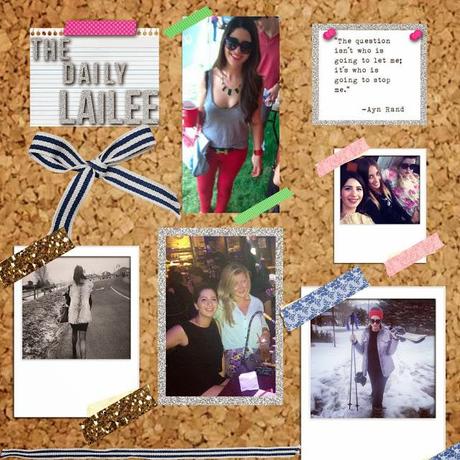 The Beach Boys may have said it best "wish they all could be California girls." I never fully fell in love with the west until I met my favorite partner in crime, LA-ilee.
The day we met, I was sprawled across my twin sized bed, shuffling through the pages of in style magazine and ignoring video chat requests from a boyfriend; all the while sporting possibly the most obnoxious combination of juicy couture terry cloth shorts, Ugg boots, and a matching juicy tank top that read "buy me stuff." Contrasted with Lailee who waltzed in with an Hermes bag and Loubs. Despite our living arrangement difficulties (our dorm room usually looked like an explosion in Neiman Marcus thanks to me) through it all I can call her both a style guru and best friend. 
 How would you describe your style?
  Lady-like with a bit of an edge. I like classic shapes and silhouettes, in fun colors with crazy embellishments.
 You have an epic collection of investment pieces. You are constantly advising me on how to be a wise shopper because I love to impulse buy. What's your #1 tip in shopping smart?
   I only buy things I love. To avoid impulse buying, I try to
want
things. By this I mean that I like to fall in love with an item over and over in the store before I buy it.  I really try not to shop trends, and if I do I shop them on sale. I love shopping crazy sales and outlets for these trendy pieces, because you find amazing deals! I also love J. Crew and Zara for cheap thrills and more trendy pieces. 
Your favorite denim?
   Current Elliott, Rag and Bone, Gap, and J. Brand.
You've been known to creatively recycle and re-invent classic pieces from your parents' collection of 80's and 90's fashion. What are your favorite vintage pieces? 
I am so lucky to have super stylish parents with amazing taste -- It is so fun to fi I fell in love with The Hermes Cape Cod Double Tour watch a few years ago. I admired the stainless steel version in the display case at Barney's every time I passed through the store, but it was way out of my budget. I remembered that my dad wearing the men's version of the watch in gold when I was a kid. Turns out, he still had it and was more than happy to pass it down. So I just took the watch to Hermes and had the strap changed to a red double-tour for a fraction of the cost of a new watch. The results were amazing and I feel so special wearing one of my dad's accessories every day.
What are your favorite designers for accessories or handbags, or shoes?
   I love Chanel, because it lasts forever. I have a growing collection of their Jackets, handbags, ballet flats and boots. Some pieces are classics I've adopted from my mom's collection, along with colorful styles I've bought on my own.   I am also in love with the Valentino Rock Stud collection -- all of it! This is exactly what I mean when I say that I like classic silhouettes with fun embellishments. I bought the tote in taupe a few years ago and still wear it almost every day! I've got my eye on a trench coat for fall!
Go to outfit for the office?
   I'm lucky to work in a really casual office. I usually wear a silk blouse from Equipment, with skinny jeans and ballet flats.
And for the weekend?
   Right now, my favorite thing to wear are my black ALC leather pants. Last weekend, I wore them with a sweater from LF and Alia booties.
How the f$%k do you manage to keep your closet so organized?!
      I make you help me clean it -- but really-- while buying classics helps you build an amazing wardrobe, it also turns you into quite the hoarder. I try to color- coordinate and keep the items I wear on a day-to-day basis in front so I don't make a mess.