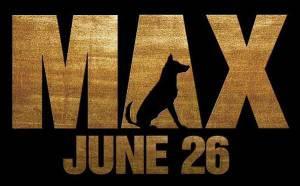 From Warner Bros. Pictures and Metro-Goldwyn-Mayer Pictures comes "Max," a family action adventure from writer/director Boaz Yakin ("Remember the Titans," "Fresh").
A precision-trained military dog, Max serves on the frontlines in Afghanistan alongside his handler, U.S. Marine Kyle Wincott. But when things go terribly wrong on maneuvers, Kyle is mortally wounded and Max, traumatized by the loss of his best friend, is unable to remain in service. Sent stateside, the only human he seems willing to connect with is Kyle's teenage brother, Justin, so Max is saved when he is adopted by Kyle's family. But Justin has issues of his own, including living up to his father's expectations, and he isn't interested in taking responsibility for his brother's troubled dog.  However, Max may be Justin's only chance to discover what really happened to his brother that day on the front, and with the help of Carmen, a tough-talking young teen who has a way with dogs, Justin begins to appreciate his canine companion.
Today, I attended a junket for Cinemovie, and had the opportunity to talk to Cesar Millan about dogs and how we may better communicate with them. I also got to meet Carlos, one of the dogs in the film. I will be sharing the interview next week, but in the meantime here is the trailer, and some photos from the event!
Max

 
opens in theaters tomorrow, Friday, June 26.