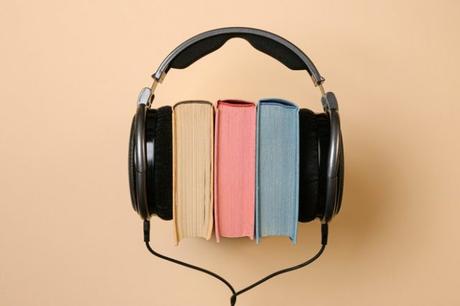 You might've come across audible, this is now under the amazon branches as is the top app for audiobook. Audible is an audiobook publisher owned by Amazon and is known for its compatibility with Amazon devices such as the newer Kindles. Audible is one of the most popular audiobook apps, with over 200,000 English and Hindi audiobooks and original titles, including 400 titles that are by Indian writers.
A 30-day free trial of Audible India is available. It allows you to listen to Audible Original episodes for free indefinitely. Most significantly, you may access all of your downloaded audiobooks in your Audible collection even if you quit your membership (after the 30-day trial period).
Another feature is, Amazon's Whispersync for Voice function ensures that books purchased through the Amazon Kindle Store are synchronized with their audio version, giving you a terrific way to listen to what you're reading while on the road. So hop on the train by purchasing a digital audiobook to listen to your Kindle reading app, Kindle devices, Fire tablet, and other devices.
Hoopla Digital is a digital media service that lets you borrow audiobooks, movies, eBooks, music, and more to view on your mobile devices, desktop PCs, tablets, and televisions. It contains a massive selection of hundreds of thousands of titles from which you can choose.
It allows you to stream digital stuff or download it and watch it later when you have more time. It's worth mentioning that to use the app, you must be a member of your local public library, as you'll need your membership number to join up. If you want a single app to accomplish everything and don't mind renting content, this is a good option; not to mention, all rentals are free.
It contains a massive selection of hundreds of thousands of titles from which you may pick. It allows you to stream digital stuff or download it and watch it later when you have more time. Undoubtedly, an app that has everything at one place, Hoopla is limited to people across Canada and the United States. If you happen to be from one of these regions, you've found your pick!
This app is available on iOS and Android and is a great place for audiobooks, comics, and ebooks. The downside here is that few of the audiobooks have just the preview, while the whole thing has to be bought individually. Interestingly, all downloaded audiobooks are instantly synced across all of your Google-connected devices, allowing you to pick up just where you left off. It enables you to transfer audiobooks between cellphones, e-readers, computers, and tablets with ease.
If you happen to have an iPhone, Nook audiobooks can be your resort for their compatibility with both apple and android systems. The app pledges to a massive selection a la carte. You name a book, and Nook will surf its database to find all you need. Encompassing choices from all genres and languages, this app is apt for those who wish to access good industry-quality audio reads at zero cost. A quick trivia that could blow an avid reader's mind- it is run by the Barnes and Nobles publication house. Could it get any more ideal?
Hope our suggestions have helped you make use of the best audiobooks available online.

Ava Smith can usually be found reading a book, and that book will more likely than not be a romantic fantasy. Writing a novel was always on her bucket list, and soon, it will become a reality. When not absorbed in the latest heartwarming page-turner, Ava loves cooking, knits very badly, enjoys riding her Vespa around town, and otherwise spends far too much time at the computer, especially on sites like IP Router Login. She lives in the States, with her sister and a cute little kitten named Zazzles.