Did you know it's the National Blog Awards this week? Did you know that I'm a FINALIST?! Have I mentioned it before..?

Going to an event of this magnitude – the 'Oscars of the blogging world' – has got me excited and worried in equal measure and now that my ticket has arrived I've started to agonise over every detail of what I will wear and how I will look. But with good reason, I think, because I know there will be cameras at this event and I know that a snap of me looking like a right gremlin will no doubt be immortalised forever on the internet, or at least that's my fear. You may have noticed that I don't often make a personal appearance on the blog, which makes it even more of a momentous occasion that I might been seen in public and photographed! So I'm trying to do everything I can to present a lovely version of me; with a nice dress, classy jacket, perfect hair and flawless face; whether it works or not is another matter ;) At least I'm try to make the most of what I've got and hopefully I won't be too disappointed with the resulting photos!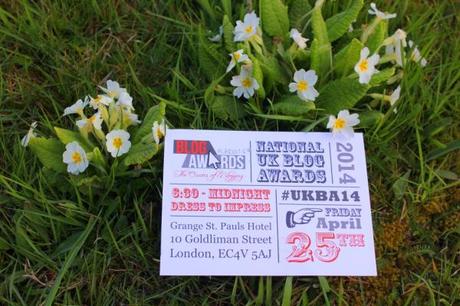 So I've turned my attention to hair and make up today and am having a practice run to make sure things turn out alright on the night. Brides have practice sessions for their wedding hair and make up, and this is my version of a wedding! So I've been to the hairdressers for a trim, had my fringe cut back to where it should be (seriously over-due, it wasn't even getting in my eyes anymore; that's how long it was) and the summer highlights have returned. I just need to decide whether to have curly or straight hair and I'm all set to go. The face, on the other hand, needs a lot more attention and my make-up bag needed an over-haul. You know it's time to buy new products when the hinges of your eye-shadow have broken off, it takes a couple of swipes to get any mascara out and you need to shake your foundation before it will squeeze..!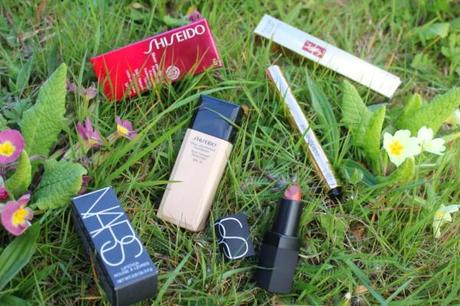 So I've got some of my favorite ever products to make sure my face looks good for this big event; Yves Saint Laurent Touche Éclat – my absolute fail-safe for getting rid of dark circles around my eyes – and Shiseido Sheer & Perfect foundation. It's the lightest foundation I've found (you can't feel it on your skin at all) but it gives excellent coverage, even for my pale ivory skin tone, and has SPF 15 too. It's usually quite a spendy product but the cheapest place I've found to buy it is online at Click Fragrance and at least I know my skin won't let me down for the big event. In terms of eye make-up I'm using a felt-tip liner pen from George and my top mascara "They're Real" by Benefit (I wish someone would ask me to review this mascara because I already love it!!). I don't really bother with my lips in everyday life, other than a little lip balm, so I've gone for a new Nars lipstick in Beautiful Liar to finish off my Blog Awards look.
Now all that's left to do is apply it perfectly and look classically serene all night long - wish me luck with that! I make sure that I get lots of photos of my finished make-up and hair at the blog awards and will share some snaps during my round-up post after the event. Eeek I've just realised that its tomorrow… gulp!
Related
Categories: Beauty, Special Occasions, Tutus, Wings & Pretty Things News | Tags: Beauty, benefit mascara, blog awards, Cosmetics, nars lipstick, review, shiseido foundation, yves saint laurent touche eclat | Permalink.

Author: Cassie Fairy
Cassiefairy blogs about everything she does & anything that inspires her; popular culture, film, art, fashion, recipes, craft and design.