In this article, I am sharing a list of the best electric kettle under 1500.
This list is completely unbiased, I compiled this list on the basis of user feedback, Amazon rating and brand value in the market.
To buy a new product is a responsible task. But you don,t worry I know the value of time and hard-earned money. That's why I select the top best electric kettle brands to prepare this list.
Without wasting further time, let's jump into the list.
Top 7 Best Electric kettle under 1500 in India – Review
1. Havells Aqua Plus 1.2 litre Kettle
Havells Aqua Plus got first place in the list of best electric kettles under 1500. It has a 4.5/5 Amazon rating.
This beautiful black color kettle comes with 1.2 liters storage capacity. It is a multipurpose kettle, you can use it for boiling milk, water, tea and coffee.
Look-wise it is quite good, you can also use it as a simple kettle for serving purposes.
The interior body of the kettle is made with 304 stainless steel. It has an auto shut-off feature.
The outer body and handle always remain cool hence completely safe for regular home use.
Kettle mouth is wide enough, you can pour water and other things easily. Also, it allows easy cleaning.
Overall kettle quality and performance are good. The two things that I don't like about this Havells kettle- its short power cable and second, there is no power on/off indicator.
One more important, it is not dishwasher compatible.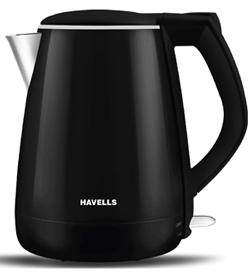 2. Orpat OEK-8147 1-Litre Cordless Kettle
In the second place, here we have an Orpat OEK-8147 1-liter electric kettle. It also has a 4.5/5 Amazon rating.
On purchase, you will get 1-year warranty on the product.
It is made with a brush finish stainless steel body that keeps it new for a long time period, also good for cleaning. Another plus point is its circular wide mouth. So no need for a brush to clean it, you can clean it as other daily usage utensils.
It has an auto cut-off feature that prevents the kettle from overheat and dry boil protection. Also, helpful in saving energy.
The concealed heating element and stainless steel body with aluminium die cast are two major features that make it a reliable and long-lasting kettle.
It has a power on/off indicator. The kettle base is detachable and also has a cable winder to wrap the cable. Don't confuse with cordless, here the word cordless is used because of separated base and kettle unit and cable is attached to the base unit, not to the kettle, this way kettle is cordless.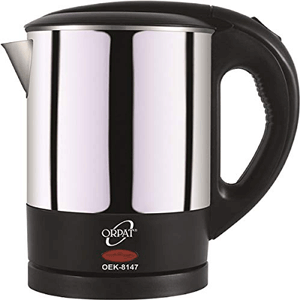 3. AGARO Esteem Multi Kettle 600-Watt, 1.2 Liter
This AGARO Esteem 1.2 liters multipurpose electric kettle comes with a 1-year warranty from the date of purchase.
The kettle comes with 3 heating modes– keep warm, boiling and heating. There is a rotating knob, by using the knob you can select the heating mode as per your needs.
By using this multipurpose kettle, you can prepare maggie, noodles, tea, coffee, soup and similar food like this. Another big advantage to buying this kettle, it serves the purpose of an egg boiler too.
To add to the convenience, AGARO provides some useful accessories – 1 stainless steel grill, 1 egg boiler tray and 1 plastic serving bowl.
This kettle has a transparent glass lid, so you easily check the status of food without open the lid. Another plus point, the lid is not joint with the kettle, completely separable, so there is no problem in cleaning. You can clean the kettle and lid separately.
This is a good option for hostlers or coaching going students.
The only thing for that you have to be very careful- the kettle lid material is glass, so it needs proper handling. There is no chance for a mistake. And one other thing this kettle does not have a spout to serve the tea, soup and coffee. So, again you have to careful to serve the tea and coffee.
Apart from that, this is the best multipurpose kettle to buy in India.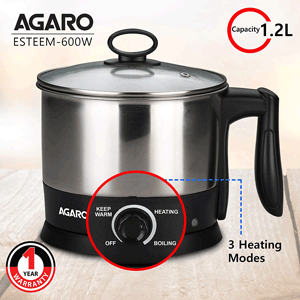 4. Cello Electric Kettle 1 Ltr 900, 1200W
This Cello electric kettle has a storage capacity of 1 liter. Cello gives you 1 year warranty on the purchase of a kettle.
The kettle body is made with superior quality stainless steel and lid and handle is made with good quality of plastic material. This is good kettle for boiling water, not recommended for milk and tea. The reason is milk and tea take little more time than water and just because lid is made with plastic when it operates for a longer time, its not good for health.
For reliability and good life, it has an auto shut-off feature that works as a safeguard for kettle. It keeps a eye on the temperature and automatically enables or disables as per needs.
It has a wide mouth so you can easily pour water and also easy to clean. Power on/off indicator is located just below the handle.
The 360 degree swivel base allows you to adjust the kettle's position to suit your convenience. It is also removable, you can easily separate the kettle from base that is good for cleaning and serving purpose.
There is a facility to wrap the cable inside the base body.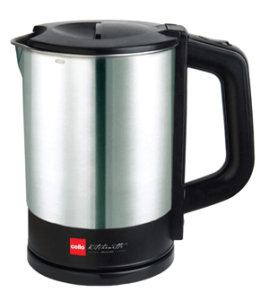 5. La'Forte Electric Kettle (EKLF001R) 1.8 Ltr
This La'Forte electric kettle has a storage capacity of 1.8 liters. The kettle is made with a double-layered design that acts as an insulator for heat and keeps the outer surface cool. It also keeps the water warm for a longer period.
Look-wise and design-wise, it is a great kettle. Its bright red color complement the kettle design.
To provide maximum safety or avoid accidents, the kettle base is built with an anti-slip grip that ensures when you put the kettle on the base unit, it is tightly locked.
The kettle interior body and other parts that come in contact with water are made with food-grade stainless steel material that ensures it is completely safe to boil drinking water.
This electric kettle comes with an auto-shut off, dry heating protection and overheating protection. All these features make it a reliable and trustworthy product. Dry heating protection keeps the kettle in the off position when no water inside the kettle.
The base is detachable and the power cable is also equipped with the base part hence you can clean the kettle easily and also use it as a serving kettle.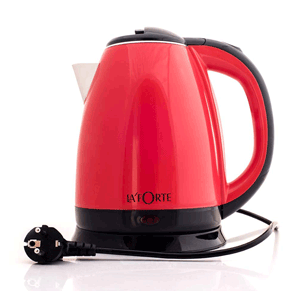 6. Inalsa Cute 0.5-Litre Electric Travel Kettle With 2 Cups 
This Inalsa cute 0.5 liters electric kettle comes with 2 years warranty.
The tough stainless-steel body makes it very sturdy & scratch resistant.
Its small size and compact design is great for traveling. On the purchase, you will also get 2 serving plastic cup. The kettle base is detachable and also has a cable winder to wrap up the cable.
With 1000W of power, it reduces heating time and boils water rapidly. It hardly takes 1 minute to boil water.
Equipped with auto shut off, steam sensor and boil dry protection technology, this electric kettle has a multi-safety system. The handle has a non-slip and a heat-resistant design.
With its wide mouth, you can pour water easily and also good for cleaning point of view.
If you are looking for a kettle only for boiling water, then you can go for it. It is the best electric kettle under 1000 rupees for boiling water. For any queries, contact_us on: [9773982065 ]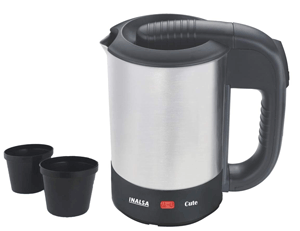 7. Pigeon by Stovekraft Kessel 1.2-Litre Multi-Purpose Kettle (Silver) 600W
This multipurpose electric kettle comes with a storage capacity of 1.2 liter. So, you can easily prepare food for 2 people.
Its multifunction feature allows you to boil water, tea, milk, eggs, noodles and pasta. It also provides the facility of reheat the food.
Like AGARO Esteem, it also comes with 3 heating modes– keep warm, boiling and heating. A power on/off indicator is provided right side of the functional knob.
This 1.2 L electric kettle comes with a hygienic concealed heating element which helps prevent calcification while its stainless steel and aluminium die-cast body ensures durability.
 The kettle lid is made with transparent glass– it is good as it allows you to check the food status without open the lid, but same time it requires proper handling, unluckily if it slips from your hand, it will break, so be careful.
The base is detachable and 360° rotable.
This multipurpose kettle price is quite low if we see other kettles price. Apart from that, like other manufacturers' Pigeon also provide 1 year warranty.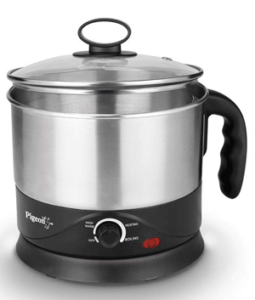 These are some of the best electric kettles below 1500. I tried my best to provide you every little information that helps you to decide which one is the best kettle for you? Although in the above list all are best kettles, but still which one suits you still confusing. I am saying this because it depends on your needs (either you want a kettle for boiling water or a multipurpose kettle) and another important factor is your budget. (how much you can spend on a kettle?)
For your convenience, I tried to summarize the above information in a table. Have a quick look at the table.
Electric KettlesCapacity Power WattageWarrantyElectric kettle price

Havells Aqua Electric Kettle1.2 Liters1500 W2 yearsPrice on Amazon

Orpat Electric Kettle1 liter850 W1 yearPrice on Amazon

Agaro Esteem Electric Kettle1.2 liters600 W1 yearPrice on Amazon

Cello Electric Kettle1 liter1200 W1 yearPrice on Amazon

La'Forte Electric Kettle1.8 liters1500 W1 yearPrice on Amazon

Inalsa Electric Kettle0.5 liters1000 W2 yearsPrice on Amazon

Pigeon By Stovekraft Electric Kettle1.2 liters600 W1 yearPrice on Amazon




Back to Featured Articles on

THE %(site_name)s COMMUNITY