1 Flares
1 Flares
×
New to little Indiana? Subscribe for free to my RSS feed. Thanks for stopping by!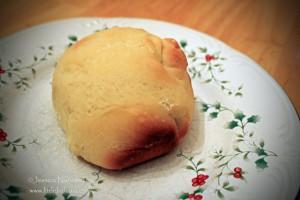 Best Dinner Rolls Recipe: No Bread Machine Required
Since the loss of my bread machine a few months ago (it danced itself off the counter), I was thrilled to discover this recipe for the best dinner rolls!
Using your stand mixer, it's not hard to create these buttery, soft, and irresistible rolls.  It will take plenty of rising time, so plan ahead.
In the meantime, I suppose it's time I start researching bread machines–my last one was as old as our first born! Seven years! If there's a brand you love, I'd love to hear about it!
Best Dinner Rolls Recipe
Print Dinner Rolls: No Bread Machine Required
Rating: 51
Prep Time: 25 minutes
Cook Time: 15 minutes
Total Time: 1 hour, 55 minutes
Yield: 16 Rolls
Serving Size: 2 Rolls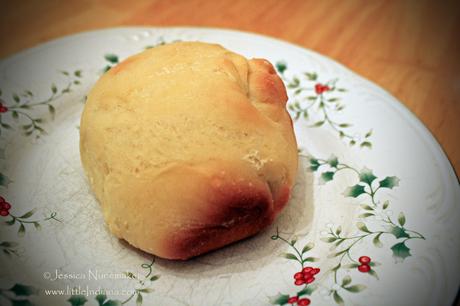 Delicious!
I subbed in warm water and powdered milk so I wouldn't have to heat up the milk, too. It worked well!
Ingredients
1 1/4 Cups Warm Milk
2 teaspoons Yeast
1/4 Cup Sugar
1/4 Cup Butter, Softened
1 teaspoon Salt
1 Egg
3 1/2 Cups Flour
1/8-1/4 Cup Butter (Reserved)
Instructions
Sprinkle the Yeast over Warm Milk and let sit for 5 minutes.
Add Sugar, 1/2 Cup Melted Butter, Salt, and the Eggs. Mix well.
Add Flour. Mix well.
Blend on medium-low speed with your stand mixer 5-10 minutes.
Cover bowl and let rise in warm place until doubled in size, about 1 hour.
Punch down the dough.
Let rise a second time, if desired.
Divide into 18 rolls and place in greased 9 x 13 pan. The gaps will vanish as it rises!
Cover and let rise for 20-30 minutes.
Melt the reserved Butter and drizzle over the tops.
Bake 400* for 10-15 minutes or until light golden brown.
Notes
From Food.com
Schema/Recipe SEO Data Markup by ZipList Recipe Plugin2.0
http://littleindiana.com/2012/10/best-dinner-rolls-no-bread-machine-required/
Photos are the Property of little Indiana. Do Not Use Without Permission.
Find pictures in Indiana on my Flickr photostream or on the new little Indiana Tumblr blog.
Just don't forget to tell 'em that  little Indiana sent you!
Don't miss a moment. Subscribe to little Indiana and receive instant updates to stay on top of everything "little."
little Indiana: Where to Stay, Play, and Eat in Small Towns in Indiana. Discovering Indiana's best small towns! Now get little Indiana on your Kindle.
Targeted. Relevant. Affordable! little Indiana advertising.