New to little Indiana? Subscribe for free to my RSS feed. Thanks for stopping by!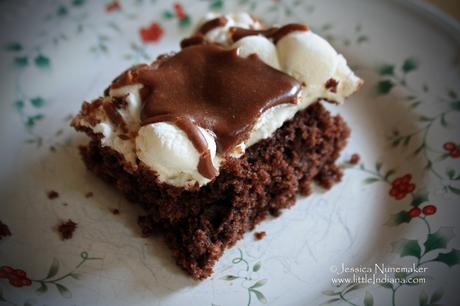 Chocolate Marshmallow Cake Bars Recipe
Chocolate Marshmallow
It's another show stopper. While it may look like a brownie base, it resembles a cake in the fact that this recipe is hard to eat without a knife and fork. Not impossible (I am a trooper), just a bit messy, with all that marshmallow yum sticking to everything.
The trick here is to remember that you aren't browning the marshmallows, you are only softening them. In other words? Give it two minutes then take them out! You want them puffy, not dark brown and crunchy. This is a cut-out from Taste of Home: February/March 1999. I guess it's been on my "must make" list for a bit then, eh?
Chocolate S'Mores Cake Bars
Print Best Dessert Recipes: Chocolate S'mores Cake Bars
Ingredients
1/2 Cup Butter (No Substitutes)
2 Squares (1 Oz. Each) Unsweetened Chocolate
1 Cup Flour
1/2 teaspoon Baking Powder
1/4 teaspoon Baking Soda
1/4 teaspoon Salt
2 Eggs
1 Cup Sugar
1/2 Cup Unsweetened Applesauce
1 teaspoon Vanilla Extract
1 10 1/2 Oz. Package Mini Marshmallows, Divided
Glaze!
1/2 Cup Sugar
2 Tablespoons Milk
2 Tablespoons Butter
1/4 Cup Semi-Sweet Chocolate Chips
Instructions
350* Oven. Grease 13 x 9 Pan. Set aside.
Melt Butter and Chocolate in Double Boiler.
Cool for 10 minutes.
Schema/Recipe SEO Data Markup by ZipList Recipe Plugin2.0
http://littleindiana.com/2012/06/best-dessert-recipes-chocolate-marshmallow-cake-bars/
Photos are the Property of little Indiana. Do Not Use Without Permission.
Find pictures in Indiana on my Flickr photostream or on the new little Indiana Tumblr blog.
Just don't forget to tell 'em that  little Indiana sent you! Don't miss a moment. Subscribe to little Indiana and receive instant updates to stay on top of everything "little."
little Indiana: Where to Stay, Play, and Eat in Small Towns in Indiana. Discovering Indiana's best small towns!
Now get little Indiana on your Kindle. Targeted. Relevant. Affordable! little Indiana advertising.