New to little Indiana? Subscribe for free to my RSS feed. Thanks for stopping by!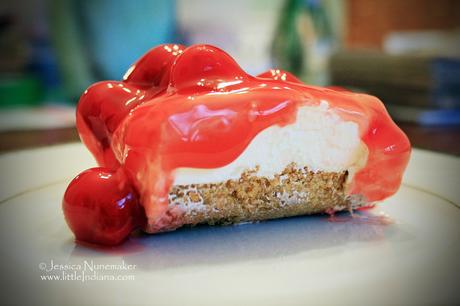 Best Dessert Recipes: Cherries in the Snow
best dessert recipes
Just in time for the 4th of July, Cherries in the Snow is simple so you can spend less time cooking and more time enjoying all the great Indiana festivals!
Cold and creamy right from the fridge makes it a great ending to a hot summer day! Cherries in the Snow can also be made with a Blueberry Pie Filling–but I love the dramatic look of red and white. This is from a beloved church cookbook: Mary and Martha's Kitchen. Delish!
Best Dessert Recipes: Cherries in the Snow
Print Best Dessert Recipes: Cherries in the Snow
Rating: 51
Prep Time: 10 minutes
Total Time: 10 minutes
Yield: 1 8" Baking Dish
Serving Size: 1 Slice
I pat a graham cracker crust into an 8" square baking dish.
You may pre-bake the crust if you desire, 350* for 8 minutes. Let cool before topping.
Ingredients
1 Graham Cracker Crust or Pretzel Crust
8 oz Cream Cheese, Softened
1/2 teaspoon Vanilla Extract
8 oz. Cool Whip, Thawed
1 Can Cherry Pie Filling
Instructions
Combine Cream Cheese, Vanilla, Sugar, and Cool Whip.
Spread onto Crust.
Top with Cherry Pie Filling.
Freeze up to 2 Weeks if desired.
Notes
May substitute Cherry Pie Filling with Blueberry Pie Filling.
Schema/Recipe SEO Data Markup by ZipList Recipe Plugin2.0http://littleindiana.com/2012/06/best-dessert-recipes-cherries-in-the-snow/Photos are the Property of little Indiana. Do Not Use Without Permission.
Find pictures in Indiana on my Flickr photostream or on the new little Indiana Tumblr blog.
Just don't forget to tell 'em that  little Indiana sent you!
Don't miss a moment. Subscribe to little Indiana and receive instant updates to stay on top of everything "little."
little Indiana: Where to Stay, Play, and Eat in Small Towns in Indiana. Discovering Indiana's best small towns! Now get little Indiana on your Kindle.
Targeted. Relevant. Affordable! little Indiana advertising.