The copper preserving pan is one of the keys to successful jam making. When not in use, it's great eye candy in the kitchen.
Copper pans make all the difference in creating the best jams, jellies and fruit-based preservatives. If you're planning to make any or all of the above mentioned, then this is the perfect kitchen tool that you're looking for.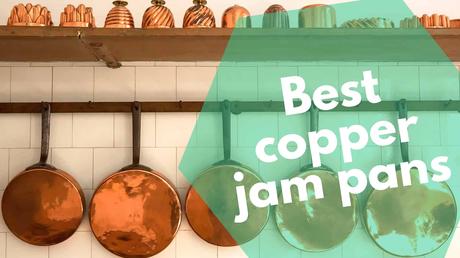 The gelling phase for the jam, jelly and other fruit preservatives largely depends upon the size, shape, and material that the pan is made of (copper pans make it so much more than smoother).
Even though copper pans are expensive, they are well worth the price to own one or more of these, plus you can also pass them along to your children as well as the skills of making jams and fermenting of foods too!
Some experts in food preservation claim that the old French practice of making jams, jellies and other preservatives using unlined copper pans make the finest preserves (this practice is over a century old now and is sworn by many chefs and experts alike to be very reliable).
Others, however, are not too keen on using such tools and say that it's not safe as heat, copper, and food do not mix well and may end up poisoning people.
This is how you make a delicious Sugar Plum Jam:
The best Copper Jam Pans that You Want to Own
Mauviel M'Passion Hammered Copper Jam Pan
Prized in French kitchens, this classic copper pan helps transform fruits into delicious jams, jellies, and preserves.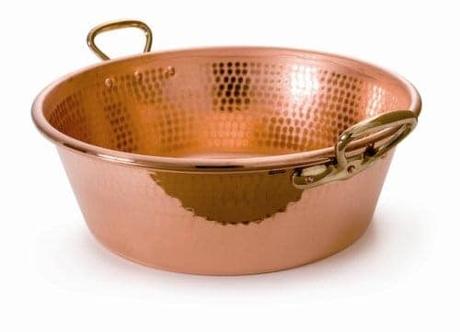 (
view more images)
Made from copper which is a very good heat conductor, it's also great for creating caramel and other foods that are loaded with sugar.
The Mauviel copper cookware is made by the Mauviel family in France and they've been making copper pans since 1830.
Key features:
The wide and shallow design of the bowl, as well as the 1.2mm-gauge unlined high heat conductive copper, will rapidly boil the fruit and sugar mix, which develops the fruits' natural pectins.
Doesn't contaminate foods that are high in sugar as unlined copper interior design for copper jam pans are made for that purpose.
Riveted brass handles for better grip when cooking.
Check prices and availability here on Amazon
DEMMEX 1.2mm Thick Hammered Copper Sugar Sauce Zabaglione Pan with Helper Handle
This copper pan is made in Turkey (handmade) by copper pan smithers at the advice of food experts who also process jams, jellies, and other preserves.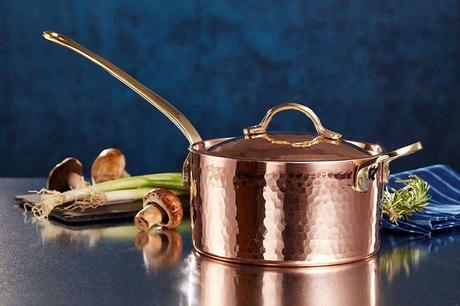 (view more images)
Since 2018 Demmex has made their coppen pan lids also unlined to promote greater heat distribution and rapid boiling of the ingredients.
It has a 1.7 quarts volume capacity, 1.2mm thick unlined hammered copper body, and lid and it is not layered with lacquer (it's all 100% copper).
Pastry chefs and confectioners rely on this traditional copper pot to heat sugar or sugar syrups for making jams, candies and desserts.
The handle and handle helper are all made of brass as obviously these parts do not need to be made out of the more expensive copper material.
You should check out my review on the best copper skillets as well
Key features:
Vertical sides which can be considered an inefficient feature as it will draw moisture back into the mix and will probably make the boiling a few minutes longer than the Mauviel copper pan.
Very long handle means that you will be working away from the heat at an acceptable distance and not close to it.
The handle helper is also useful for lifting the pan out of the stove.
Check out the latest prices here
The de Buyer Copper Jam Pan
Another French-made copper jam pan, de Buyer is a world-class brand that most chefs know and use in their kitchens.
This traditional jam pan in copper with riveted cast-iron handles has a large flat bottom which is very stable even when you place it on a gas burner.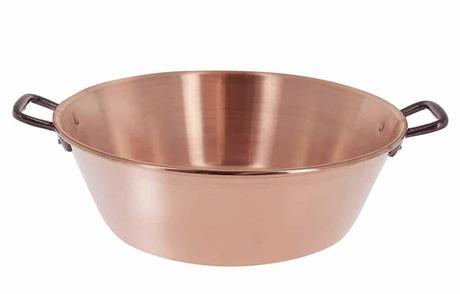 (view more images)
The de Buyer copper jam pan is suitable for all cooktops, except for induction hubs.
The rounded angles between the skirt and bottom of the copper pan allows for simplified mixture management when preparing the preserves.
Key features:
Copper construction gives uniform heat distribution that's 3 times faster than other materials.
Gives you better control of your overall cooking environment.
Preserves the natural color of the fruit in the jam mixture and the fruit doesn't turn brown after being exposed to the heat.
Open rolled edge design and no protruding edge means it's hygienic, easy to wash and maintain.
Has a 2-year limited manufacturer's warranty.
It's available here on Amazon
Matfer Bourgeat 303036 Bourgeat Copper Jam Pan
Matfer Bourgeat is a French manufacturer of quality kitchen utensils & equipment since 1814.
Their 200 years worth of experience in the food processing industry has made them the go-to company when chefs are looking for the best copper jam pans.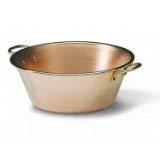 (view more images)
But they didn't really gone international until 28 years ago when Matfer Bourgeat International (EX-EuroChef) was founded in Hong Kong in 1991.
Still the transition from a regional business to international corporate entity became easy thanks to their rich history.
So, why is Matfer Bourgeat copper jam pans are the best in the business? Well, let's look at the features.
Key features:
Made from 100% solid copper (no tin lining)
Has rolled and reinforced edge
With riveted brass handles
Has a depth/height of 5 inches and weighs only 3 pounds – this means that the wide slanted bowl design feature of this copper jam pan makes mixing and managing the ingredients relatively easy.
It's wide and deep design allows the liquid from the fruits evaporate better
Unlined copper means it's a great heat distributor
Compatible with all types of cooktops, except induction heating (copper is also a good electrical conductor, so the electricity supplied in induction hubs might electrocute the user).
You can buy it here for the best price
What is a Copper Jam Pan?
A copper jam pan is a type of cookware specifically used for making a jam (a food made by boiling fruit and sugar to a thick consistency).
Copper has the highest thermal conductivity among non-noble metals and is, therefore, fast-heating with unparalleled heat distribution. This also makes it the perfect material to produce the highest quality jams known to man.
The properties of copper when it reacts to high temperature is essential to making excellent fruit jams that we all know and love.
Also check out these tin-lined copper pans for extra durability
Why Use a Copper Jam Pan?
Copper is sold for $4-$6 per kilogram in the market today and it probably cost more if it is hammered into a cookware, so it's almost considered a luxury to own one of these things; however, it beats all other materials in making the best jams.
Instead of looking at these copper jam pans as pricey items or financial liabilities you should look at their value as longterm investment opportunities, because they bring you so many benefits that are worth more than the amount you've paid for them.
It is a known fact that French chefs considers copper cookware sacred items to almost like a dedication to some deity or something, and their reverence for it can be traced back for centuries!
The things they like about copper cookware are their superior heating and cooling properties.
But why is that important in making jams? To make a jam properly is to rapidly evaporate the water from the copper pan and dry out the fruit leaving only the sugars to set consistency.
Well, that's exactly what copper pans do – heat whatever is in them rapidly and achieve setting– which sears the water, sugars and fruits appropriately without running the risk of caramelizing the sugars in it.
Too long on the heat can often result in a dark, sticky jam with an overly sugary taste and which can crystallize on storage.
Copper is used in induction hubs, electrical wiring, and cooking pans to make food preservatives for one reason – it is a good heat conductor (although this is a setback in electrical distribution, but a very good thing for cooking jams).
The electrons in the copper atoms get excited (or agitated) quickly when electricity or heat is applied to it.
This is why they needed to shield copper wires with rubber insulators because it keeps heat dissipation at a minimum, therefore, reducing power losses on the electrical lines (besides keeping people safe from electrocution), but the point is when electrons are at an excited state they generate a lot of heat.
You could say that copper amplifies the heat it gets from the stove and more heat means shorter cooking time.
When less time is spent in boiling the ingredients of the jam, you also reduce evaporating a lot of the flavor, color, and texture of your fruit.
But these properties of copper are not the only things that make copper pans great for making jams because its shallow and slightly flared sides design plays a significant role in cooking the jam too!
The slanted sides of the pan helps the water evaporate quickly and evenly as they don't run back down into the mix, unlike pans that have 90-degrees vertical sides.
Also read: cookware that's suitable for induction cooking. These are the must-haves
Why Copper Jam Pan is the Game Changer?
Owner, expert jam maker and founder of Blue Chair Fruit in San Francisco has stated in her Blue Chair Cookbook series that copper jam pans are definitely a game-changer in creating jams.
This coming from someone who has made a successful business out of jam-making, so it begs the question; is the copper jam pan overrated? Or is it really that good that it gets so many praises and recommendations from chefs and experts all over the world?
Honestly speaking, you would appreciate copperware more as eye candy items at first glance. Only after you understand that their conductivity level is very useful in making jams will you see past that point.
Another thing that copper pans have that other metal pans don't is that they quickly respond to temperature changes, and when you put them on the stove they get hot pretty quickly. When you remove them from the fire, then the heat dissipates quickly also.
They do not store heat for a long time compared to other materials.
Using copper pans can avoid a long time over boiling, which will definitely harm the quality and taste of the jam. Another useful feature of copper pans is its ability to evenly distribute heat.
Also read: red copper pan vs gotham steel, which is best?