New to little Indiana? Subscribe for free to my RSS feed. Thanks for stopping by!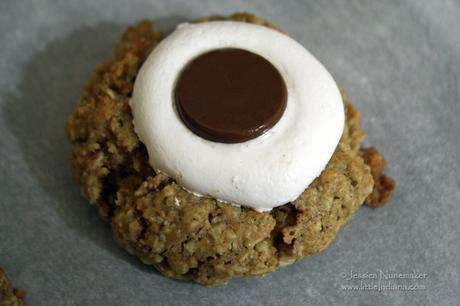 Best Cookie Recipes: S'mores Cookies
There is nothing easier to make than a S'more–but these S'mores Cookies Recipe, though only slightly more work, don't require a campfire!
Soft and chewy, they are incredible warm from the oven. It is impossible to only eat one (or two or four, whatev).
What could be more fun to bring to carry-ins or the annual neighborhood block party than these tasty little bites of childhood baked right in? Nothing!
S'Mores Cookies Recipe
Print Best Cookie Recipes: S
Rating: 51
Prep Time: 30 minutes
Cook Time: 10 minutes
Total Time: 2 hours
Yield: At Least 3 Dozen Cookies
Serving Size: 1
165
7 g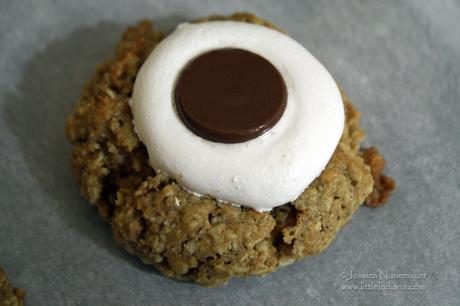 No campfire needed for this unique twist on a classic! Delicious!
Recipe is from Midwest Living/June 2012.
Ingredients
4 Cups Regular Rolled Oats
1 1/2 Cups Flour
1 Cup Graham Crackers, Finely Crushed
1 teaspoon Baking Soda
1 teaspoon Baking Powder
1 teaspoon Ground Cinnamon
1/2 teaspoon Salt
1 Cup Butter, Softened
1 Cup Brown Sugar, Packed
1/2 Cup Sugar
2 Eggs
1/4 Cup Milk
1 Tablespoon Vanilla Extract
1 7-ounce Jar Marshmallow Creme
42 Milk Chocolate Kisses, Unwrapped and Ready to Go!
Instructions
Combine Oats, Flour, Graham Crackers Crumbs, Baking Soda, Baking Powder, Cinnamon, and Salt. Set aside.
In large bowl of electric mixer, beat Butter for 30 seconds.
Add in Brown and Regular Sugars.
Beat in Eggs, Milk, and Vanilla Extract.
Beat in Flour, as much as you can, stirring in remaining flour with wooden spoon.
Chill, covered, for 1 to 4 hours.
Drop dough by rounded Tablespoonfuls 2" apart on lightly greased (or parchment lined) cookie sheets.
Bake Cookies in 375* oven for 8 minutes.
Using back of a teaspoon measuring spoon, make an indention in each cookie top as soon as you take them out of the oven!
Dab on 1 teaspoon Marshmallow Creme onto the center of each cookie.
Top with a Chocolate Candy Kiss, pointed side DOWN.
Return cookies to the oven and bake 2 or 3 minutes more or until edges are light brown.
Cool on the cookie sheet for a minute before moving to wire racks to finish cooling.
Notes
Yes, this uses 1 Tablespoon of Vanilla Extract. That is not a typo.
Schema/Recipe SEO Data Markup by ZipList Recipe Plugin2.0http://littleindiana.com/2012/05/best-cookie-recipes-smores-cookies-2/Photos are the Property of little Indiana. Do Not Use Without Permission.
Find pictures in Indiana on my Flickr photostream or on the new little Indiana Tumblr blog.
Just don't forget to tell 'em that  little Indiana sent you!
Don't miss a moment. Subscribe to little Indiana and receive instant updates to stay on top of everything "little."
little Indiana: Where to Stay, Play, and Eat in Small Towns in Indiana. Discovering Indiana's best small towns! Now get little Indiana on your Kindle.
Targeted. Relevant. Affordable! little Indiana advertising.