New to little Indiana? Subscribe for free to my RSS feed. Thanks for stopping by!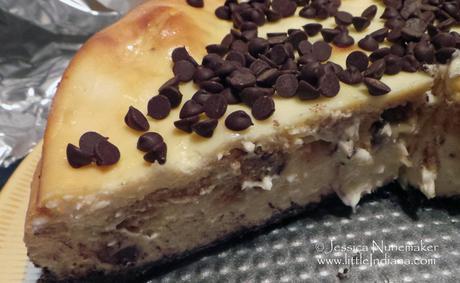 Chocolate Chip Cookie Dough Cheesecake Recipe
Ready for a homemade cheesecake recipe sure to "wow?" Then please meet this Chocolate Chip Cookie Dough Cheesecake Recipe!
As with any cheesecake worth making, you will need to plan ahead to give it plenty of time for the flavors to meld. Ideally, at least 24 hours.
It's delicious! Smooth and creamy, you won't believe how good it is and how many people it can feed. I snagged this off of Food.com years ago.
Chocolate Chip Cookie Dough Recipe
Print Chocolate Chip Cookie Dough Cheesecake Recipe
Rating: 51
Prep Time: 20 minutes
Cook Time: 55 minutes
Total Time: 1 hour
Yield: 1 Cheesecake
I've been making this chocolate chip cookie dough cheesecake recipe since our oldest was a baby!
Originally from Food.com.
Ingredients
Crust
1 3/4 Cups Chocolate Sandwich Cookie Crumbs
1/4 Cup Sugar
1/3 Cup Butter, Melted
Filling
3 (8 ounce) packages cream cheese, softened
1 Cup Sugar
3 Eggs
1 cup Sour Cream
1/2 teaspoon Vanilla Extract
1 Package Refrigerated Chocolate Chip Cookie Dough
Topping
Mini Chocolate Chips
Instructions
In a small bowl, combine Chocolate Sandwich Cookie Crumbs and butter.
Press into the bottom and up part of the sides of a greased 9" Springform pan. Set aside.
In bowl of mixer, mix Cream Cheese and Sugar until smooth.
Add Eggs.
Add in Sour Cream and Vanilla Extract. Beat until well blended.
Pour over Crust and set aside.
Pour over crust, set aside.
Next, remove wrapper from cookie dough and cut into teaspoon-sized cubes.
Drop cubes over filling, pushing below the surface. Dough will be COMPLETELY covered!
Bake at 350* for 45-55 minutes or until the center is almost set.
Cool on a wire rack for 10 minutes.
Run a knife around the edge of the pan to loosen and cool for one hour longer.
Refrigerate.
Before serving, remove sides of pan and sprinkle with Mini Chocolate Chips, only slightly pressing down to make them "stick."
Store in the refrigerator.
Schema/Recipe SEO Data Markup by ZipList Recipe Plugin2.0
http://littleindiana.com/2013/01/chocolate-chip-cookie-dough-cheesecake-recipe/
Photos are the Property of little Indiana. Do Not Use Without Permission.
Find pictures in Indiana on my Flickr photostream or on the new little Indiana Tumblr blog.
Just don't forget to tell 'em that  little Indiana sent you!
Don't miss a moment. Subscribe to little Indiana and receive instant updates to stay on top of everything "little."
little Indiana: Where to Stay, Play, and Eat in Small Towns in Indiana. Discovering Indiana's best small towns! Now get little Indiana on your Kindle.
Targeted. Relevant. Affordable! little Indiana advertising.