Need to upgrade your old, worn-out stock CB mic with a more comfortable and ergonomic model? Or simply want one with better features and sound quality? Or even a more stylish mic? If this sounds like you, you have come to the right place.
We have prepared this guide to take you through the basics of getting the best CB microphone to replace your old one, the key considerations to help you make a wiser decision, and the top mics you can get on the market today for your CB radio.
10 Best CB Microphone Reviews:
1. Astatic 302-636LB1 Noise Cancelling 4 Pin CB Microphone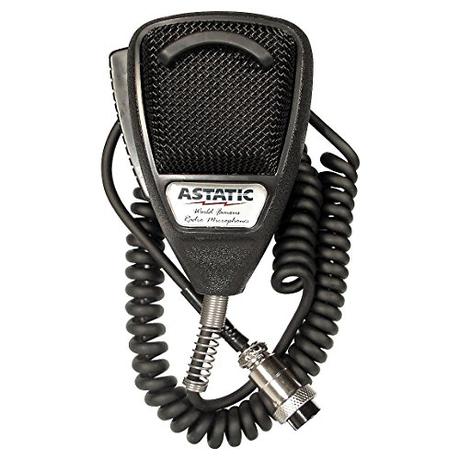 If you're looking for the best noise canceling CB microphone at a fair price, this is it. The mic from Astatic comes designed by experts to ensure it surpasses your CB stock mic in all ways. It boasts a noise-canceling feature that eliminates background noise for superior sound clarity.
The mic comes equipped with a low impedance dynamic cartridge that combines with the polyurethane-coated steel grille to create the ultimate sonic clarity.
Apart from CB radio, you can also use this mic with amateur and single sideband (SSB) communications. This makes it great for radio hobbyists or any users with these types of communications.
Many CB users also love this mic due to its rugged housing design. This assures you that the mic will hold up to the various abuses that might come its way for many, many years. And the loudspeaker steel grille makes it even more durable!
Highlighted Features:
2. Ranger SRA-198 Ranger CB Noise Canceling Mic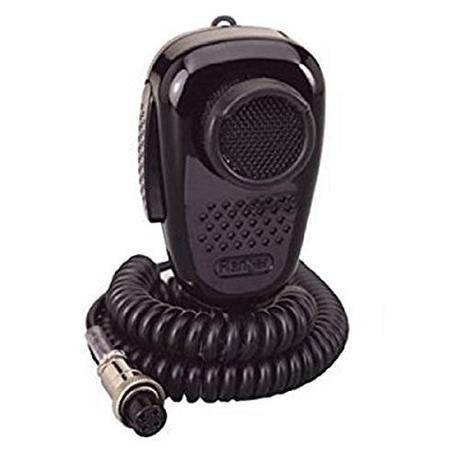 So your stock CB mic has frustrated you enough times with poor sound quality? If this is your case, consider upgrading to this Ranger SRA-198 mic for crisp-clear sound quality. It has a noise canceling capabilities that completely kills background noise so that you can get your buddies loud and clear.
This mic comes with a 4-pin connector, which means it will work with a wide variety of CB radios form popular brands such as Cobra, RCI, Uniden, Galaxy, Stryker, Connex, Magnum, and others.
Regarding the build quality, this mic also has a rock-solid design. It has a sturdy and durable feel and will last for years to come while holding up to various forms of abuse and regular use.
Despite the toughness, this mic will fit nicely in your hands and feel quite comfortable. Not to forget it has a classic, nice looking design. Just in case you think you have the ugliest stock CB mic, replacing it with this Ranger will give your unit a complete transformation.
Highlighted Features:
3. Uniden BC645 4-Pin Microphone Replacement for CB Radios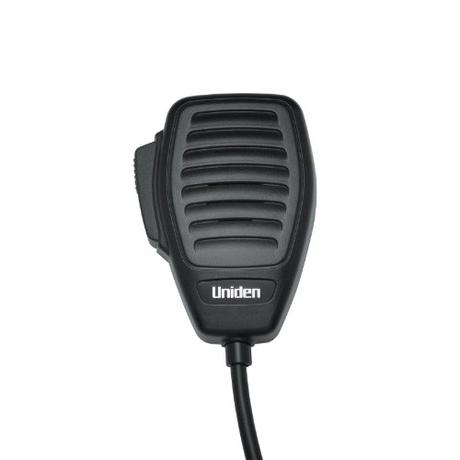 Are you working on a tight budget but still hope to get a decent replacement mic for your CB radio? If yes, this Uniden model will match your needs. The mic is proudly designed by Uniden, the brand that has been in the frontline in producing an extensive line of top-rated CB radios for different users.
Probably the KEY aspect of this mic that makes it a darling among CB radio users is the fact that it has a wireless option it offers you. This makes it an incredibly versatile mic that lets you move around your house or away from you at a pretty significant distance and still use your radio without any problems.
When it comes to performance, this mic is the real deal. This mic is built with a comfortable, more ergonomic design to ensure it feels good in your hands no matter how long or how many times you talk in a day. It also has a clear speaker that translates to crisp-clear audio quality. And you can always increase the volume (like way up!) when you need to eliminate the background noise.
Like the previously discussed models, this mic is also a 4-pin type. And that means it can not only work with most CB radios from Uniden but also from other popular manufacturers.
Highlighted Features:
4. Workman Microphone for 4 pin CB Radio
5. Astatic 636LSE 4-Pin Noise Canceling CB Microphone
At the center spot on our CB microphone reviews, we have another great noise-cancelling microphone from Astatic. Just like the other Astatic with reviewed earlier, this one too works with all 4-pin CB radios, amateur, and SSB communication types.
The great-looking mic offers you superior sound quality, thanks to the incorporated noise-cancelling function that works tirelessly to block the background noise as you speak with your fellow drivers.
And since this is a dynamic mic, you'll need to hold it right up to your mouth and place the rubber guard against your lip for the ultimate clarity in your speech.
The chrome-covered cord contributes to the overall pleasant look of this mic, and it'll truly transform your CB radio looks.
As with all the other CB mics from Astatic, this model also features a sturdy and robust housing plus a sturdy polyurethane steel grille. The result is a durable and long-lasting CB mic that you can use countless times a day without worrying about it quickly wearing out.
Highlighted Features:
6. Cobra HG M73 Premium Dynamic Replacement CB Microphone
7. RoadKing RK564P 4-Pin Dynamic Noise Canceling CB Microphone
8. Aries 50043 Premium Series 4-Pin Power Microphone
Are you looking for a good CB power mic? If yes, we found this Aries 5004 power microphone for you.
Being a power mic, this model requires 1 9V alkaline battery in order to amplify audio before it gets to your radio. This makes it the ideal mic for users who usually struggle with weak signals or speak softly and need to boost their voice.
The basic mic fits nicely in your hands feels quite comfortable, thanks to its ergonomic hand contour design. It also has a decent heavy-duty cord, with strain relief, that will withstand the test of time. The blue LED operation indicator makes the mic easy to use.
As with most of the mics we have discussed above, this model too features a 4-pin connector, making it suitable for use with most 4-pin CB radios, including Cobra, Uniden, Galaxy, Connex, among others.
With its high-quality chrome-plated 4-pin connector and a textured ABS plastic casing and thumb lever, this mic has got what it takes you to run for an extended period of time without signs of wear.
Highlighted Features:
9. RoadKing RK564PCH 4-Pin Dynamic Noise Canceling CB Microphone
10. Pro Trucker DP56 Dynamic Noise Cancelling 4-Pin CB Microphone
What Makes a Perfect CB Microphone?
When looking for the perfect CB microphone that gives you better performance, here are the key considerations to keep in mind:
Compatibility
One of the top factors to consider is whether the new mic will work with your CB radio.
To determine this, you need to check the pin configuration of your radio and look for a mic with a matching configuration.
Most of the standard CB radios on the market today come with the 4-pin configuration (i.e., the Cobra/Uniden wiring). These radios will work with just about any 4pin mic jack on the market today.
Mind you; all the mics we have featured in our reviews section above come with 4-pin configuration and can work nearly all units from Cobra, Galaxy, Uniden, and Midland manufacturers.
Photo: 4pin Cobra/Uniden wiring
NOTE: Keep in mind that some radios, especially the older models, might have a different pin configuration. So, it's always essential to ensure you get the right mic for your radio.
Noise-canceling capability
The main reason you want to replace your stock mic with a new one could be that it has poor audio quality.
If that's the case, then you should ensure the microphone you buy comes equipped with a noise-canceling cartridge. This design helps filter the background noises that tend to disrupt your communication, ensuring other users hear your transmission crystal clearly.
Design
You should also examine the design of a CB mic before you purchase it to see if it will fit your needs.
What exactly to look for in a microphone design?
Firstly, you need to ensure the microphone has a small, lightweight, ergonomic design. This is helpful as it ensures the mic nicely fits and feels comfortable in your hands.
You should also check the placement pf PTT button; for right-handed users, this button should be on the left and vice versa.
Pro TIP: Still on the design, the CB radio mics usually come with two types of cartridges-dynamic and electret. Dynamic, which is the most common element and more expensive, is ceramic in nature. The electret element is smaller and more affordable.
Power capability
This one is closely related to the noise-canceling feature we have just discussed above.
A CB radio mic with power capability is a type that helps amplify audio before it gets to your radio. This further ensures that you make loud and clear transmissions, regardless of whether you receive a weak signal.
You can easily identify this type of microphone by a volume knob situated at the back of the mic. The power mic also requires batteries to amplify audio, so it should feature a battery compartment.
Check our CB power mic review list for some top-rated mics with power capability that help amplify your sound for clearer communications.
IMPORTANT: The power mic shouldn't be confused with an eco microphone. Though both features a volume knob and a battery compartment, the latter produces a sound effect and doesn't amplify the sound.
Check the cable
Don't forget to examine the cable that comes with the microphone before you can place an order for that mic.
Most of the mic cables measure around 7 to 9 inches. Ideally, you want a mic that has a longer, coiled cable to enable you to use it even when standing a significant distance from your radio.
Just a reminder...ensure the cable has a 4-pin connector at the end so that it wires into your radio hassle-freely.
Other features:
How To Wire a CB Microphone?
Now that you have finally gotten a good replacement mic for your CB radio, what's next? Obviously, the next step involves plugging it to your CB so that you can start using it.
Not too fast, though!
Depending on the wring of your new mic and whether it corresponds to that of your CB, it might or might not work. This is where you'll need to wire the mic to work with your CB.
Below is a quick guide on how you wire it correctly to your mic.
1. Study the function of the CB pin's sockets
This step is important because mics aren't wired the same way. Don't assume that just because all mic models are 4-pin have the same wiring. The wiring process tends to vary as you move from one manufacturer to the other.
That said, manufacturers tend to wire their mics similarly to make the interchangeable between their radios (though this might not always be the case).
If you bought a mic from a different brand than that of your CB radio, then you'll need to check the CB wiring first.
The easiest way to figure out the Transmitter, Receiver, Audio, and Ground pins in your VB us by using an ohmmeter. A ground pin will read zero on the meter while the audio will read 50 ohms.
2. Identify the new mic pins
Once you have studied the pins of your CB and noted them down (you might consider making a simple drawing for the various pins' functions), now it's time to study the corresponding pins on your mic. Again, you'll need to use an ohmmeter for the step.
3. Fix the wires to corresponding pins
The last process involves unscrewing apart the microphone connector to access the wires and fix them correctly.
Keep in mind that you'll be looking at the colors of the wires to understand their function. The shield represents the Ground, black is the Receive, red is the Transmit, and white is the Audio.
Comparing the mic wiring and the diagram you drew in step two to see which wires need re-fixing. A gun solder will help you easily re-wire your mic. And you're done!
Frequently Asked Questions
Q: Can I replace my stock CB radio microphone?
Yes. If your stock CB mic breaks or doesn't live up to your expectations, then you can easily replace it with a better performing mic. Check our reviews section for some of the best replacement options you can get on the market today.
Q: My CB microphone isn't working. What could be the issue?
If you have a correctly wired CB mic and it still won't work with your radio, you'd want to the perform the quick troubleshooting guide below:
Final Verdict
Though every brand new CB radio comes with equipped with a microphone, they (the stock mics) are frustrating most of the time both in terms of performance, build quality and even ergonomics. This is why you should look for a better replacement mic for your radio. We have outlined the best CB mic models on the market today. All these units are optimized for excellent sound quality, ergonomics, and durable, long-lasting construction.