Ever heard the phrase, "If you have a $200 CB radio and a $10 CB antenna, then it's safe to say you have a $10 CB radio system?" However ridiculous this might sound, it's true. The type of antenna you hook up your CB radio system directly affects its performance, regardless of whether you're using a high-end radio.
With this in mind, you should be mindful when choosing the best CB antenna for your unit. The different antennas you'll find out there have varying build qualities and performance. And you can easily get confused on which one to buy. This guide will lift all the confusion that comes with shopping for a CB antenna and act as your shortcut to the top-rated CB antennas available.
Types of CB Antenna
If it's your first time buying a CB antenna, you first need to understand that they come in various types. In this section, we'll give you a quick outline of the 5 most popular types of antennas you'll find on the market.
1. Fiberglass CB antenna
This antenna features a fiberglass antenna rod, hence its name. The antenna wire comes wounded along the outside of the rod, underneath a plastic wrap. And the coil is usually comes situated at the top of the antenna. These are the most durable type of CB antennas and will hold up to off-road rigors and abuse-making them the best choice for off-roading. Because they work with multiple types of mounts, you can mount them just anywhere on your vehicle.
2. Magnet mount CB antenna
A magnet antenna comes with a magnetic base that secures it to the metallic parts of your vehicle. These antennas usually come as an all-in-one package, with everything including the coax, whip, and magnet mount included in the box. These antennas are popular due to their straightforward installation process and the exceptional performance they deliver.
3. Center-load CB antenna
This type of antenna is usually referred to as a trucker antenna as it's more popularly used in semi-trucks. A typical center-load antenna has a stainless steel shaft going up to about a third from the bottom while the coil sits above the shaft, in a plastic housing. The rest of the antenna is a long, thin whip made from steel. These antennas offer excellent performance compared to other similarly mounted antennas. However, they tend to hang on the higher end of the price spectrum.
4. 102" whip CB antenna
This antenna sets itself apart from the other antennas in that it doesn't use a coil. This is simply because the 102" whip translates to a perfect ¼ CB wavelength. The coil you see in the other antennas is simply a 102-inch wire tightly wound up in an attempt to achieve a 102" whip. The antenna gives you incredibly top-notch performance while featuring an attractive price tag.
5. No-ground plane (NGP) CB antenna
A traditional CB antenna is designed such that it uses the metal chassis of your truck as a ground plane; lack of a proper ground causes it to perform poorly. What if your vehicle no metal chassis? This is where an NGP antenna comes into play. It performs without metal, enabling you to use it any vehicle without metallic chassis, e.g., a boat, RV, or any vehicle dominated with fiberglass.
10 Best CB Antenna Reviews:
1. K40 K-30 Magnet Mount CB Antenna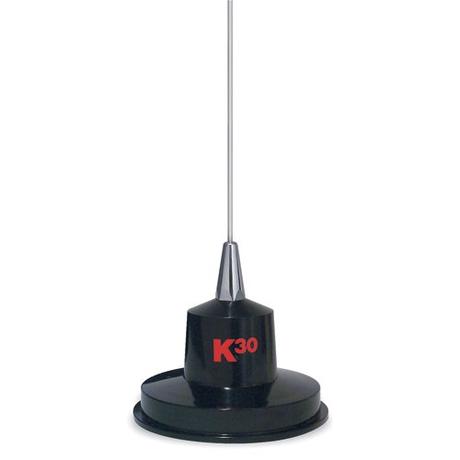 Our list kicks off with this great mag mount antenna, ideal for a simple magnetic CB antenna at a fair price. The all-in-one package comes with a 15-ft long, high-quality coax long included, enabling you to hassle-freely install in your truck or any larger vehicle.
The antenna means real performance. It comes with a great whip length of up to 35 inches to ensure it intercepts more reliable signals for your CB radio. Not to forget the excellent power handling capacity amount to 300 Watts for unmatched quality transmissions.
As it's the case with all the magnetic CB antennas, mounting this K40 K-30 on your vehicle is a breeze. It comes with a super-strong magnet that securely holds your antenna in place even when riding at high speeds or in strong winds.
Note that the included 15ft coax cable is made of quality and features additional shields to prevent potential breakage that can lead to poor antenna performance. The cable also comes pre-wired for quick connections. As a bonus, the cable also comes with aPL259 connector for easy assembly.
Highlighted Features:
2. Midland 18-2442 Mobile CB Antenna

If you're looking for the best mobile CB antenna, this Midland should appear on your list of top choices. Designed by the respected Midland brand, this antenna will work with all Midland mobile CB radios...and just about any mobile CB unit similar that's similar to the Midlands.
Featuring a center loaded coil design, this antenna will offer you higher efficiency. And this makes it the CB antenna for truckers who have CB radios in their trucks. It comes with a magnetic mount that translates to an easy and fast installation process.
It comes with a 30-inch stainless steel whip that's tall enough to capture strong signals while being able to withstand the rigorous off-road rides and harsh weather conditions.
You'll also notice a relief spring fixed along the whip length. This goes a long way in preventing possible damage to the whip, adding to the overall antenna durability.
Remember that this antenna comes with a quality 17-feet coax cable pre-wired to the antenna for easy assembly. A connector is also included in the cable end for easy assembly.
As for the installation, this antenna has a magnetic base for super-easy installation. The magnetic features plastic coating that prevents rusting and scratching of your vehicle paint.
Highlighted Features:
3. TRAM 703-HC Center Load CB Antenna Kit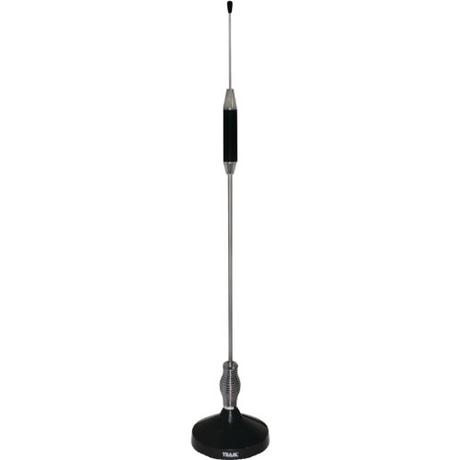 If you're looking for the best CB antenna for semi truck with magnetic mount, consider this TRAM antenna. Just like all the other magnetic mount antennas in this list, this model presents you with everything you need to install and use it right out of the box.
It comes with a 17-feet coax cable that's an excellent length for use in your truck, wheeler, and any larger vehicle that requires a longer coax cable. The antenna length is adjustable/tunable, enabling you to easily optimize your VB radio for your desired frequency.
The antenna itself measures 2-feet tall, which is an adequate length for enhancing quality signal reception for your mobile CB radio. Note that this antenna is designed to cover all the CB radios to ensure you don't miss a single station when driving your truck.
You'll be pleased with how strong a magnet mount this antenna comes with. It securely holds the antenna in place, making it feel like part of your car. The antenna will remain in place even when driving at high speeds of up to 120mph. Even the strong winds won't knock it down.
Highlighted Features:
4. Browning BR-28 High-Performance Broad Band 63-Inch CB Antenna
5. Wilson 305-492 T2000 Series Black Mobile CB Trucker Antenna
We also have this black CB Trucker Antenna from Wilson as one of the best mobile CB antennas. For beginners, Wilson is a top-rated brand that produces some of the best-performing CB antennas known by CBers all over.
The Wilson 305-492 CB Antenna is a center loaded antenna, and it's a popular choice among truckers. It comes with thick lower steel made from stainless steel. A larger coil housing sits right above this shaft. The larger house increases the power handling capacity of this antenna, resulting in increased clarity of the signals it captures.
Right above the coil housing is a lengthy 49-inch stainless whip that does a great job at intercepting strong signals to ensure you enjoy quality communication with your CB unit.
Most manufacturers don't bother to shield their antenna against weather, which leads to a lot of static affecting your communication. However, this Wilson features a static reducing weather cap the minimizes the statics for crystal-clear transmissions.
The build quality for this antenna is top-notch, which is no surprise for a "Made in USA" product. The coil housing boasts high-impact thermoplastic construction. The 10-gauge silver-plated coil wire and the stainless steel shaft and whip increase the durability of this antenna.
Highlighted Features:
6. TRAM 3-B-HC Fiberglass CB Antenna
7. Nagoya CB-72 28" CB Antenna
If you're still looking for a mag mount CB antenna for semi-truck, then this Nagoya is also a perfect choice. It can also be used with pickup trucks, tractors, and vans. And it works with all mobile CB radios with UHF (SO-239), including Unidens, Cobras, and more.
The antenna is made for easy installation. When you mount it vertically, it achieves an omnidirectional performance that enables it to receive signals for all the directions. It comes equipped with a heavy-duty rear earth magnet mount that assures you of secure mounting to your vehicle.
Since the antennas length of 28 inches, it has a low-profile nature-tall enough to capture strong signals but tiny enough to let you drive through areas with low clearance.
When you order this antenna, you'll also receive an extra-long (18ft.), premium coaxial cable. Such an extended-length cable gives you the flexibility you need to set up your antenna in just any vehicle application.
Unlike most of its competitors featuring a thickness of around 2.5mm, this Nagoya is 4mm thick for the ultimate durability and long-lasting service.
Highlighted Features:
8. ARIES 10819 4` Foot Fiberglass 500 Watt CB Radio Antenna
If looking for the best CB antenna for 18 wheeler, this is your part. The Aries 10819 CB radio antenna comes as a pair at the same affordable cost. This makes it suitable for use in your 18 wheeler or any other long trailer where installing dual antennas is recommend as using a single antenna tends to obstruct the signal.
The dual antennas come with an excellent length of up to 4 inches. This is good news because antennas with a longer whip tend to capture stronger signals and deliver a better performance.
The Aries boast a power handling capability of 500 Watts each. This translates to a combined power rating of 1000 Watts, which means a really good range.
After you install this antenna, you won't need to do any tuning since both antennas come already tuned. Using an SWR meter will display good SWR reading, confirming they're pre-tuned. Nonetheless, this antenna is field adjustable to allow you to optimize your radio for the best range.
Don't forget that this is a fiberglass CB antenna. Both rods are made using fiberglass materials to make the antenna last for many, many years when used in the harshest conditions.
Highlighted Features:
9. PRO TRUCKER Fiberglass CB Radio Antenna
10. LUITONCB 14 Inch Handheld CB Radio Antenna
What Makes The Right CB Antenna?
With all the brands and models of CB radio antennas out there, knowing the right one to choose for your CB system might not be an easy task. Below, we'll roll out the key factors that define the perfect antenna for your CB radio to help you make a more educative decision.
Antenna length
One of the most important factors to look for when shopping for a new CB antenna is its overall length.
As you might be already aware, how long the antenna goes up affects the range boost it gives your CB radio. The longer it goes, the farther you can get your messages out there. You'll also be able to receive messages from far away.
With that said, the ideal length for a CB radio antenna is 102 inches (or 8 ½ feet) since it translates to the ¼ wavelength for CB radios.
However, such a length might not be ideal for some users, especially if you wish to take your vehicle through low clearance entrances. It can also make it hard for you to park your vehicle. In this case, you might consider going for the shorter models of around 3ft. which are designed for high-performance.
Durability
Another crucial factor to keep in mind when purchasing a new CB antenna is the type of materials used to construct it. These will directly dictate its durability and longevity.
From our top antennas reviews above, you might have already noted that manufacturers employ different materials to manufacturer the antennas. Some products have shown the ability to stand the test of time better than the others.
All models made from heavy-duty fiberglass have proved their place as the most durable types of antennas you can get on the market today. They're able to withstand all sorts of punishment-including holding up to the off-road rigors. They're simply made to last.
Antennas with stainless steel shafts and whips also tend to hold up well to harsh weather conditions and abuse.
TIP: Antennas that have a stiff feel (less flexibility) can easily get broken when they get caught up in various obstacles. For this reason, you should make your antenna comes with a relief spring that helps minimize potential breakage.
Mounting method
We can divide the mounting techniques for CB antennas into two broad categories: permanent and temporary.
The permanent mounting style is where you need to screw your antenna onto your vehicle as opposed to the temporary (magnetic) mounting.
As you can easily guess, the temporary mounting method has more benefits compared to bolting it to your vehicle. For instance, you can easily remove the antenna when not in need, move it around to find a better reception, etc. You also won't need to drill any holes in your vehicle.
The permanent mounting method means maximum security of your antenna and the ability to withstand strong winds or high-speed driving.
Cable
Manufacturers are now including coaxial cables in their CB antenna packages, especially the magnetic type antennas.
If you go for such a package, then you should check that you're not just getting any cable but one made of quality. This is because a poorly made coax can easily affect the performance of your antenna and leave you frustrated. Since the cable will be exposed on your vehicle, it should also be sealed to prevent water, snow from interfering with it.
Besides quality, you should also check the length of the included cable. In most cases, the length stretches from 7 to 20-feet. And the ideal length for you will depend on the type of vehicle you wish to use it in. Bigger vehicles, such as trucks and 18-wheelers, will definitely require longer cables.
Frequently Asked Questions
Q: Do I really need an antenna for my CB radio?
Yes. You need to hook up your radio to an antenna if you want to have a better transceiver power and range. The maximum emission power of a CB radio legally allowed by FCC is 4 Watts, which means hooking it up with an antenna is your only option for determining its transmission power and range.
Q: Is it wise to install dual CB antennas?
It is a wise decision to install dual antennas in your vehicle if you wish to improve your range or want to prevent signal blockage associated with pulling large trailers such as the 18-wheelers.
However, keep in mind that dual antenna installation isn't recommended for off-roading.
Also, there are some factors to consider when installing them to ensure they yield the desired results. For instance, you'll need an absolute minimum of 5ft. between them. You'll also need a special co-phase CB coax to correctly wire them up.
Q: Where should I mount my CB antenna?
The mounting location can seriously affect the effectiveness of your CB radio antenna. Generally, experts recommend that the higher you mount the antenna, the better position it'll be to capture and transmit signals.
When mounting your antenna, you also want to ensure you place it vertically. The coil and most of your antenna should also clear the roofline of your vehicle to prevent possible interference or having too much of the signal reflected back into your antenna. The higher your antenna sits above the roofline, the better the reception/transmission.
Above all, ensure you mount your antenna where it can't break off easily. You don't want to keep spending on a new antenna every other month just because they keep breaking.
Q: What's the best CB antenna for 18 wheeler?
If you're looking for the perfect antenna for an 18-wheeler, then you need to look for the most powerful antenna you can get. This is crucial as it helps prevent potential signal blockage by your large trailer. In some cases, you might also consider dual antenna installation for your 18 wheeler to minimize signal blockage.
The ideal antenna for 18 wheeler should also be able to enhance the range of your CB radio. It should be able to boost the receive and transmit arrays. Look for omnidirectional antenna that receives and transmits signals in all directions-giving you an even greater range.
Q: Do I need to tune my CB antenna?
Tuning your new antenna is crucial as it helps optimize its performance and prevent potential damage to your radio due to high SWR readings. To correctly tune your CB antenna, you'll need an SWR meter (if your radio has one built into it, then you can use it).
Some antennas come factory pre-tuned, saving you from having to tune them on your own. These are your go-to choice if you're a starter in this field and want something easy to use right out of the box.
Q: Can I adjust my antenna physical length?
Sure! You can adjust the length of your antenna to make it shorter or longer to suit your unique needs. This process is usually easy if you purchase an adjustable model. This features a tunable tip that uses small screws to let you easily adjust its length to your desired frequency.
Final Verdict
Choosing the best CB radio antenna for your CB radio is easier when you know what to look for. Ultimately, you want to ensure you get a high-performance, easy to use, and durable antenna that will serve you for a really long time. We have included everything you need to know before buying your first CB antenna in the above guide. After reading this info, you'll have an easy time navigating through the multiple brands and models of CB antennas on the market to get the most suitable one for your needs.