New to little Indiana? Subscribe for free to my RSS feed. Thanks for stopping by!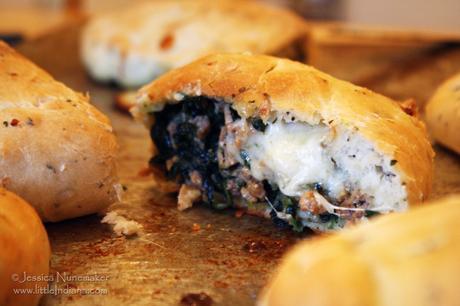 Best Calzone Recipes
recipe
Are you a fan of homemade pizza? Then you should have no trouble making the leap to whipping up your own calzones. Sometimes I find I have way more of the Sausage and Spinach filling than I need. In this case? I make omelets for breakfast the next day.
I found this Sausage calzone recipe on the blog Mommy Cooks. It is delicious–and makes the dinner rounds quite a bit!
Best Calzone Recipe: Sausage and Spinach Calzones
Print Best Calzone Recipe: Sausage and Spinach Calzones
Rating: 51
Prep Time: 20 minutes
Cook Time: 20 minutes
Total Time: 40 minutes
Yield: 8 Calzones (give or take a few)
Serving Size: 1 Calzone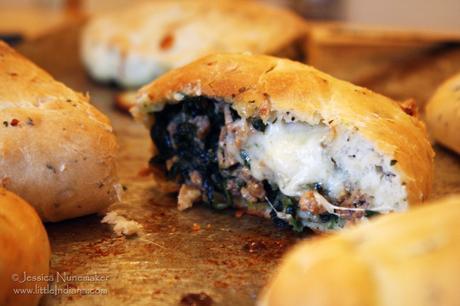 I love this recipe from Mommy Cooks!
I have tweaked the directions to fit my style--the original recipe calls for Spinach to be thrown in the pan frozen but in my experience, it makes it much harder to combine with the rest of the ingredients. I thaw mine first, then combine in small chunks, stirring often, and heating through until warm.
By preparing the sauce on the side, you control the amount of mess! Stuff the insides with the tomato sauce if you like, but if you leave it out there's lots more room for cheese, etc. without the filling sliding around.
These fit a lot of filling inside of them so don't be skimpy about it.
Ingredients
1 ball of your Favorite Homemade or Store Bought Pizza Dough
5 Oz of Pizza Cheese
1 Pd of Sausage
5 Oz of Pepperoni
1 Onion, Chopped
3 Cloves of Garlic
1 Tbsp of Fresh Basil (or 1 tsp Dry)
1 tsp of Oregano
11/2 Cup of Frozen Spinach
1 Jar of Pizza Sauce
OR
1 14 Oz Can of Crushed Tomatoes
1 tsp of Onion Powder
1 tsp of Oregano
1/2 tsp of Salt
1 Tbsp of Olive Oil
2 Garlic Cloves
1 Tbsp of Fresh Basil or (1 tsp Dry)
Instructions
Almost fully cook Sausage. Drain.
Add in Garlic, Basil, and Onion.
Add in Spinach until warmed.
Roll out dough to 1/4" thick.
Top with several Tablespoonfuls of Sausage mixture and cheese. It fits a lot more than you'd think!
Fold dough over, pinch together the edges, and brush with Egg White to get a beautiful golden color.
Bake 425* for 15-20 Minutes or until golden brown.
Meanwhile, stir together: Crushed Tomatoes, Onion Powder, Salt, Olive Oil, Oregano, Garlic, and Basil.
Heat through and serve with Calzones.
Schema/Recipe SEO Data Markup by ZipList Recipe Plugin2.0http://littleindiana.com/2012/04/best-calzone-recipe-sausage-and-spinach-calzones/Photos are the Property of little Indiana. Do Not Use Without Permission.
Don't miss a moment. Subscribe to little Indiana and receive instant updates to stay on top of everything "little."
little Indiana: Where to Stay, Play, and Eat in Small Towns in Indiana. Discovering Indiana's best small towns! Now get little Indiana on your Kindle.
Targeted. Relevant. Affordable! little Indiana advertising.