10 Flares
10 Flares
×
New to little Indiana? Subscribe for free to my RSS feed. Thanks for stopping by!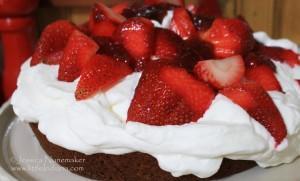 Best Strawberry Cake Recipe
The best cake recipes combine two things: Great presentation and awesome flavor. This Fresh Strawberry Cake recipe does just that!
While this recipe makes two layer cakes, the ingredients used to assemble the cake are only for one cake. It is recommended that you freeze the other layer for future use.
Here I thought cakes had to include chocolate to make them worth eating. This Fresh Strawberry Cake recipe has made me a believer! It is clipped from a 2004 magazine–maybe Country Living?
Best Cake Recipes: Fresh Strawberry Cake
Print Best Cake Recipes: Fresh Strawberry Cake
Rating: 51
Yield: 2 9" Layer Cakes
Serving Size: 1 Slice
I did not have Cake Flour on hand and substituted All-Purpose Flour with great results. I used Sour Milk (lemon added to milk) in place of Buttermilk.
Somehow, I was even out of Red Food Coloring! I used the gel food coloring and it worked just fine.
Ingredients
2 1/2 Cups Cake Flour
1 1/4 teaspoons Baking Powder
3/4 teaspoon Salt
1/2 teaspoon Baking Soda
3/4 Cup Butter, Softened
1 1/2 Cups Plus 2 Tablespoons Sugar
1 Cup Strawberry Preserves
4 Eggs
3/4 teaspoon Vanilla Extract
1/8 teaspoon Red Food Coloring
1/2 Cup Buttermilk
1 3/4 Cups Heavy Cream
1 1/2 Pints Strawberries, Hulled
Instructions
Make the Cake!
350* Oven.
Grease and Flour two 9" cake pans. Set aside.
Combine Flour, Baking Powder, Baking Soda, and Salt. Set aside.
Cream Butter and 1 1/2 Cups Sugar until fluffy.
Add 3/4 Cup Strawberry Preserves and each Egg one at a time. Blend well.
Beat in Vanilla Extract and the Red Food Coloring.
On low speed, add dry ingredients to Creamed Mixture while alternating with Buttermilk. End with last addition of dry ingredients.
Divide batter equally between prepared cake pans.
Bake on middle rack until tester comes clean, between 20 - 30 minutes.
Cool completely on wire rack.
Assemble the Fresh Strawberry Cake!
Beat Heavy Cream and remaining 2 Tablespoons Sugar to soft peaks.
Spread over top of one layer. (Save other layer--can be frozen)
Top with the Fresh Strawberries and "fill in the gaps" with the 1/4 Cup Strawberry Preserves.
Serve.
Notes
Excellent cake--and perfect for Summer!
Schema/Recipe SEO Data Markup by ZipList Recipe Plugin2.0
http://littleindiana.com/2012/06/best-cake-recipes-fresh-strawberry-cake/
Photos are the Property of little Indiana. Do Not Use Without Permission.