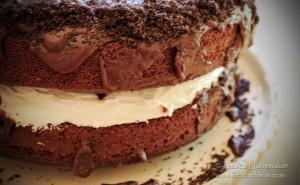 Best Cake Recipes: Chocolate Marshmallow Cake
For the best chocolate cake recipes, you can definitely rely on this monster of a show-stopper!
With a fluffy marshmallow filling and a chocolate glaze, which gives a lovely sheen on the top, it's the perfect ending to any meal–and particularly a great birthday cake choice, too.
I made this King Arthur Flour recipe from the KAF Baker's Companion cookbook. Get it, it is wonderful! I would recommend serving this with vanilla or chocolate chip ice cream.
Print Best Cake Recipes: Chocolate Cake with Marshmallow Filling
Rating: 51
Prep Time: 25 minutes
Cook Time: 35 minutes
Total Time: 1 hour
Yield: 16 Servings
Serving Size: 1 Slice
330
16 g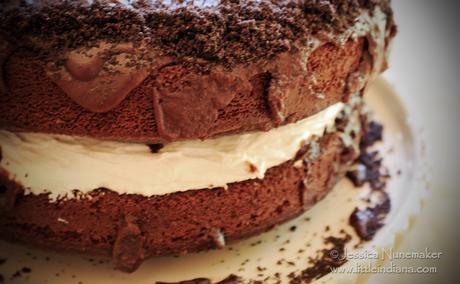 Another winner from the King Arthur Flour Baker's Companion Cookbook. I know a couple of small town bookstores where you can get it!
The Chocolate Glaze recipe is not from KAF.
Ingredients
Cake
1 3/4 Cups Sugar
2 1/4 Cups Flour
2 Tablespoons Cornstarch
3/4 Cup Dutch-Process Cocoa
1/4 Cup Buttermilk Powder
1 teaspoon Baking Powder
1 teaspoon Baking Soda
1 teaspoon Salt
2 Eggs
3/4 Cup Water
1/2 Cup Veggie Oil
2 teaspoons Vanilla Extract
1 Cup Hot Water
Marshmallow Filling
1/4 Cup Vegetable Shortening
1/4 Cup Butter
Pinch of Salt
1 teaspoon Vanilla Extract
1 Cup Powdered Sugar
1/4 Cup Corn Syrup
3/4 Cup Marshmallow Creme (optional, but GOOD)
Chocolate Glaze
3/4 Cup Semi-Sweet Chocolate Chips
3 Tablespoons Butter
1 Tablespoon Light Corn Syrup
1/4 teaspoon Vanilla Extract
Instructions
350* oven.
Grease and Flour two 9" round cake pans. Set aside.
Blend Sugar, Flour, Cornstarch, Cocoa, Buttermilk Powder, Baking Powder, Baking Soda, and Salt.
Beat in Eggs, 3/4 Cup Water, Oil, and Vanilla Extract for two minutes.
Stir in Hot Water.
Pour batter into pans (it will be go from thick to thin after the Hot Water addition).
Bake 30-35 minutes or until cake tester comes out clean.
Cool 10 minutes in pan and then invert onto wire rack to cool completely.
Assemble the Cake
Grab one layer and put if rounded (top side) down onto a serving platter.
Spread with filling. Top with remaining cake layer, also positioning top side down.
Pour glaze slowly over the top.
Marshmallow Filling!
Beat together Shortening, Butter, Salt, Vanilla Extract, and Powdered Sugar until fluffy. Beat in Corn Syrup a bit at a time until blended. Beat in Marshmallow Creme just until blended.
Chocolate Glaze!
Combine Chocolate Chips, Butter, and Corn Syrup in top of double boiler. Melt and add in Vanilla.
Cool so it thickens a bit but still pours.
Notes
Substitute Buttermilk Powder with 1/4 cup Buttermilk (or soured milk) thereby reducing Water amount from 3/4 cup to 1/4 cup.
Suggested garnish included crushed candy canes or mint chocolate cookies. I used crushed chocolate wafer cookies.
Schema/Recipe SEO Data Markup by ZipList Recipe Plugin2.0http://littleindiana.com/2012/06/best-cake-recipes-chocolate-cake-with-marshmallow-filling/Photos are the Property of little Indiana. Do Not Use Without Permission.
Find pictures in Indiana on my Flickr photostream or on the new little Indiana Tumblr blog.
Just don't forget to tell 'em that  little Indiana sent you!
Don't miss a moment. Subscribe to little Indiana and receive instant updates to stay on top of everything "little."
little Indiana: Where to Stay, Play, and Eat in Small Towns in Indiana. Discovering Indiana's best small towns! Now get little Indiana on your Kindle.
Targeted. Relevant. Affordable! little Indiana advertising.