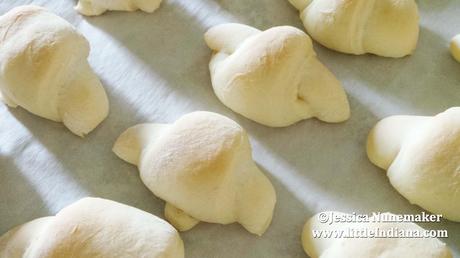 Homemade Butterhorns Recipe: The Softest Rolls Ever!
While combing through a stack of clippings, I stumbled onto this
Butterhorns Recipe
–and it is perfection! This will be my go to recipe for dinner rolls from now on. Wow!
These are so soft and buttery you will not believe it! I gave a few to a good friend who was taking our boys overnight and both she and her young, 20-something son agreed that they were awesome.
So, make these. One of these days we will have a break in the heat. When we do, come back to this page and try this Taste of Home recipe clipping. These Butterhorns are just fantastic!
Butterhorns Recipe
Print

Best Butterhorns Recipe
Rating: 51
Prep Time: 35 minutes
Cook Time: 12 minutes
Total Time: 2 hours
Yield: 2 Dozen Butterhorns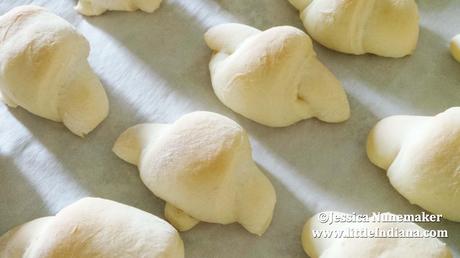 This wonderful Taste of Home recipe clipping makes the best roll! I used by stand mixer and dough hook attachment to make these rolls. They turned out beautiful.
Ingredients
1 Tablespoon Active Dry Yeast
1 Tablespoon Plus 1/3 Cup Sugar
1/2 Cup Warm Water
1/2 Cup Butter, Softened
1/2 Cup Warm Milk
1 Egg
3/4 teaspoon Salt
4 Cups Flour
Instructions
In a large bowl, combine yeast and 1 teaspoon Sugar in Warm Water.
Add Butter, milk, Egg, Salt, and remaining Sugar, and 2 Cups Flour.
Beat until smooth.
Stir in as much remaining Flour as needed until a soft dough forms.
Place onto Floured Surface, then knead until smooth, 6-8 minutes.
Cover and let rise in a warm place until doubled in size, roughly one hour.
Punch dough down. Place onto lightly Floured surface and divide in half.
Roll each portion into a 12" circle.
Cut each circle into 12 wedges.
Roll up wedges from the wide end and lay them point side down 2" apart on greased or parchment lined baking sheets.
Curve in the ends a bit to form the crescent shape.
Cover and let rise again until doubled for 30 minutes.
Bake 350* for 10 - 12 minutes or until golden brown.
Remove from pan to wire rack.
2.4
http://littleindiana.com/2014/06/best-butterhorns-recipe/
Photos are the Property of little Indiana. Do Not Use Without Permission.
Small Towns: Destinations, not Drive-Thrus! I'm Jessica Nunemaker and THIS is little Indiana!
Find pictures in Indiana on my Flickr photostream or on the new little Indiana Tumblr blog.
Just don't forget to tell 'em that  little Indiana sent you!
Don't miss a moment. Subscribe to little Indiana and receive instant updates to stay on top of everything "little."
little Indiana: Where to Stay, Play, and Eat in Small Towns in Indiana. Discovering Indiana's best small towns! Now get little Indiana on your Kindle.
Targeted. Relevant. Affordable! little Indiana advertising.