3 Flares
3 Flares
×
New to little Indiana? Subscribe for free to my RSS feed. Thanks for stopping by!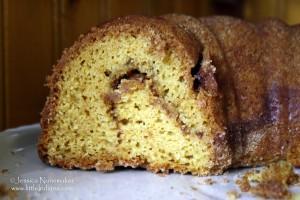 Snickerdoodle Bundt Cake Recipes
After the success of the Snickerdoodle Cookie Bars, I figured I should explore another variety of Snickerdoodle with this Snickerdoodle Bundt Cake recipe.
While it is completely different from the traditional Snickerdoodle Cookie recipe or bar, it holds its own as something memorable, tasty, and pleasantly old fashioned.
I shared a bit with the neighbor. The cinnamon swirl on the inside looked too pretty to keep to ourselves. I found this on the Dozen Flours blog.
Snickerdoodle Bundt Cake Recipe
Print Best Bundt Cakes: Snickerdoodle Bundt Cake Recipe
Rating: 51
Prep Time: 15 minutes
Cook Time: 1 hour
Total Time: 1 hour, 15 minutes
Yield: 1 Bundt Cake
Ingredients
2 teaspoons Cinnamon
1 Cup Sugar
2 1/2 Cups Flour
1 teaspoon Baking Powder
1/2 teaspoon Baking Soda
1/2 teaspoon Salt
1 Cup unsalted Butter, Softened
1 Cup Granulated Sugar
1 Cup Light Brown Sugar
3 Eggs
2 teaspoons Vanilla Extract
1 Cup Full-Fat Sour Cream
Instructions
325* oven.
Combine 1 Cup Sugar and 2 teaspoons Cinnamon.
Grease a 9" Bundt pan. Sprinkle the inside of the pan with somewhere between 1/4 Cup to 1/2 Cup of Cinnamon/Sugar evenly. Set aside remaining Cinnamon/Sugar.
Combine Flour, Baking Powder, Baking Soda, and Salt. Set aside.
Cream Butter and Sugars.
Add Eggs and Vanilla. Beat well.
Add Dry Ingredients alternately with Sour Cream. Beat well.
Pour half the batter into the greased and Cinnamon/Sugary Bundt pan.
Sprinkle roughly 1/3 Cup of the Cinnamon/Sugar mixture over the batter. Top with remaining batter. Then top with remaining Cinnamon/Sugar.
Bake 50 - 60 minutes or until toothpick inserted near center comes out clean.
Cool for 10 minutes in Bundt pan before inverting onto wire rack to cool completely. Serve warm or cool.
Schema/Recipe SEO Data Markup by ZipList Recipe Plugin2.0http://littleindiana.com/2012/11/best-bundt-cakes-snickerdoodle-bundt-cake-recipe/Photos are the Property of little Indiana. Do Not Use Without Permission.
Find pictures in Indiana on my Flickr photostream or on the new little Indiana Tumblr blog.
Just don't forget to tell 'em that  little Indiana sent you!
Don't miss a moment. Subscribe to little Indiana and receive instant updates to stay on top of everything "little."
little Indiana: Where to Stay, Play, and Eat in Small Towns in Indiana. Discovering Indiana's best small towns! Now get little Indiana on your Kindle.
Targeted. Relevant. Affordable! little Indiana advertising.