The holidays are approaching fast and it is time for the Black Friday sale! Each one of us wait for catching the best deals at this time of the year and just like every year, this year too, there are some spectacular deals to check out.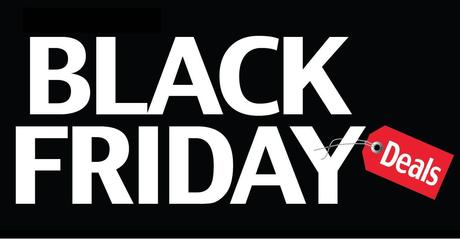 While there are numerous deals available, pet owners can gain immensely by getting some of the best products during the Black Friday 2017 sale at amazing rates. I have brought to you a list of the best Black Friday deals available that you should not miss if you happen to have any pet at home.
Let us check them out!
Black Friday 2017 deals every pet owner will love to get
If you are a pet owner these are the Black Friday deals that you will love to check out. Getting pet care products and supplies regularly can become quite a costly affair. Well, with the Black Friday deals you can take a sigh of relief. Make the most of it and do not miss the opportunity! I am surely not going to miss out on these fantastic deals.
Best Black Friday deals for pet owner available 2017
Tomkas Carrier Sling - Best deal for cat and small dog owners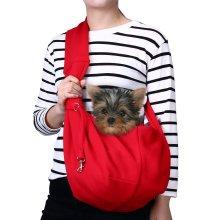 Do you have a small dog or a cat?
If you have one of these and have to take them out at times without car, then you must have faced the problem of carrying them. With small pets it is quite difficult to have them walk at all times. Especially with cats, you simply cannot take the chance of letting them down outside on the road and walk by your side. Now with this carrier sling, life will become so much easier. You can easily place your dog or cat in the sling and carry then without having to hold them all the time.
What I did not like?
What this carrier sling really needs is some adjustable belts. While a 10lb dog can seem like a bit too big, a 7lb one will probably have just too much space with the opening too big. Moreover, the sling itself is a bit uncomfortable and too small for those who have a large body.
For small pet owners like small dog and cat owners, this sling pet carrier is a great product for taking the pet out along with them. it is simple and easy to use and will fit your budget too.
Focuspet Pet Grooming Set - Best for cat and dog owners for slipping, shaving and pet grooming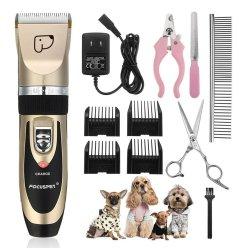 Every one of us has stumbled at times while paying for grooming our beloved pet at the pet grooming center. While it is true that they are professionals at this job, grooming the pet cat or dog isn't too tough if you have the right tools.
This pet grooming set will allow you to groom your pet cat and dog all by yourself and you will no longer have to run to the grooming salon every time your beloved pet needs some grooming. This grooming set contains variable length trimming comb as well as clippers, scissors, comb and a safe to use trimmer. It is a complete set that will allow you to take care of your pet and keep them looking beautiful.
What I did not like?
While they include everything, the battery life is not really that great. You will probably be charging the trimmer multiple times before you complete grooming of a large and hairy dog.
For giving your pet a complete grooming at home, this is the perfect product that you should get. It is among the most loved grooming sets among pet owners.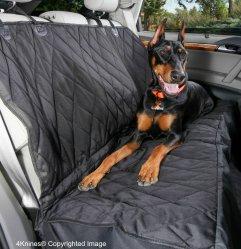 When it comes to travelling or going on a road trip we love to take our dogs with us. Having a car of our own allows it without any hassle. It is also really handy when you need to take your dog to the vet for the regular checkup.
However, there is one issue that every dog owner faces. It is the damage caused to the seat due to our hyperactive canine partner. Dog claws can cause extensive damage to the car seat as well as dust and other such things can take away the beauty of the seat.
But, that's not going to be the case anymore. 4Knines is one of the leaders and best dog seat cover manufacturers and this product here is all you need to prevent your seat from damage. Not only does it covers the entire seat and prevents damage to the seat material, the cover also comes with a hammock and will securely hold your dog with the back seat so that you can drive peacefully.
What I did not like?
While the cover material is extremely great and does a fantastic job of preventing any scratch or dust getting to the car seat, this is not completely waterproof. The material itself is waterproof but the stitching will allow some liquid to seep through and if you own a small dog that will peen on to the seat, then, you might be in quite a bit of trouble.
If you are looking for the best seat cover for your car then this is definitely the one that you need to check out. It is one of the highest selling products in the market for all the right reasons.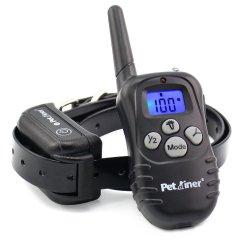 This rechargeable and waterproof dog training collar is the perfect wireless leash that you will want on your dog while training.
The remote control range is a decent 330 yards or 900 feet and thus you can train your dog in the park or in your backyard. There is up to 100 levels of the static simulation and you get to customize the static shock level as per your choice. It is perfect for advanced training as well as for professional trainer who might also have to deal with particularly aggressive behavior of the dogs.
The collar also had audio output and gives a distinct beep sound as warning which acts as a stimulating factor for the dog and keeps restraint over the action.
What I did not like?
The collar works perfect in every way as described, but the control is such that it will take you to press a button multiple times before you can select the desired mode of operation between beep, vibrate, and shock.
There are plenty of dog training collars available, but this is among the best wireless training collars available for all types of dogs. It is perfect for those who wish to train large dogs, especially those known to have aggressive behaviors if not trained well.
KQRNS Pet Carrier - Best for active and travelling pet owners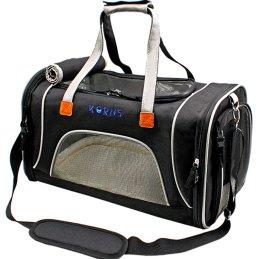 Not all of us have the intention or the means to keep the cat or dog or any pet that we have got with some pet care center while we are travelling.
This airline approved pet carrier is what you need to take your dog or cat or any other pet along with you on the trip. The carrier is easy to use and also does not cause any discomfort to the pet. The polyester material and the strong wire mesh make it easy to confine the pet within the bag while travelling. Adjustable straps help in carrying it with ease. There is dual opening and you can easily place your pet any way you feel comfortable.
What I did not like?
While there is the wire mesh and all, the carrier could have done with a little bit of more spaces for air flow. If you have a rather finicky pet that hates any enclosed space, it can become quite tough to get the little one into the bag for the entire duration of the journey.
If you were looking for a pet carrier that will be allowed on board a flight, this is the best one you got. It is both easy to use as well as great value for money.
There are numerous products available on deal and it is a great time to find the best Black Friday 2017 deal for your pet. I picked up some of the best products that are available right now for which you will not have to pay for the shipping cost as well as will get additional discounts.