Bringing a new pup is equal to welcoming a bundle of joy to your home. Puppies are boundless bliss, aren't they? If you just bought a puppy home, congratulation on it. However, a pup needs great care, love and attention. You are going to be a parent of that cute pooch. So, surround it with love.
For the first few months, you will be facing a lot of nauseating behaviors of your puppy. It is going to whine, bite, jump, chew, poop on the carpet. Thus, it will need some training. These tricks will come handy during the first few months. During the initial months, you need to focus mainly on its growth and development. Thus, here are some well-researched and fairly predictable tips to handle your pup's development.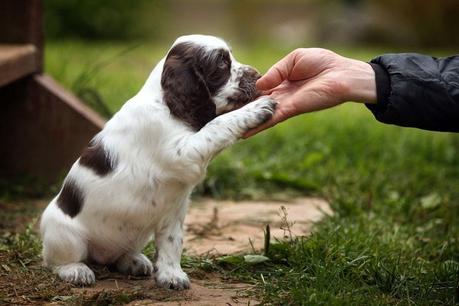 Usually, in the first month, your puppy will start opening its eyes and ears. At the end of the first month it will be able to walk. It will also growfrom its cute puppy stage to looking like an adult dog. As you bring it home, make sure you have everything that it will need, things like a comfortable dog carrier, blanket, food etc. Take utmost care of your pet as it will be little bit shy because it has been taken away from its mama for the first time. Try to avoid things that will scare your new friend and make it feel safe and comfortable in. Also, let it get used to the surrounding of your home. Moreover don't forget to give your puppy a cute name.
In the second month, your pet will be able to bark and roam around. As your pup turns 5 weeks old, it will need some basic potty training. It might take some time because it is still a little one. So, be patient with it while you are training your dog. You can start by using baby gates to protect the puppy from going to harmful places or step on something which can hurt it. Remember, never let your puppy left unsupervised. At the end of the second month of your pooch, you can get it vaccinated but make sure to talk with your vet first.
Your three months old puppy is now ready for some bonding and training with you. You can get it spayed if it weights at least two pounds. However, it would be great to wait until the end of 5 months because dog's bones and muscles are developed during this time. It times to take your puppy to training classes now. These classes do help dogs to build confidence and improve their skills too.However, a pet's comfort should be kept in mind while its initial stage of training. Make sure your acts don't scare it out.
In the fourth month, you will now be well aware of your dog's persona. Let the people who are nice to your doggy be around it. Play with your dog as much as possible to develop its daily routine. Teeth will be growing at this age which can be unsettling for you and your pup. Thus, providing it with the right kind of chewing toys can help a lot. The pup might also get addicted to the toys it as such chewing will make them feel good. So, limit the champing habit of your puppy.
Dog training will be much more fun in the initial stage if your beloved pet is being rewarded for it. You can prepare while giving it something to look forward to. Set a daily routine for your dog and it will be ready to oblige. Praise it and give your darling a treat when it completes a task. Keep it under control during its initial stage of training. Talk with it so that it gets to know your voice and touch properly. Play with its paws, rub its stomach and groom it. This will definitely create a good aura. Furthermore, don't forget to give him/her your love and pampering too.
Your pup will be looking like a grown-up dog during the sixth month. Like an adult, your dog can be moody and at the same time be unpredictable. It will be hard for you to manage it for the entire period of your pup's six month age. That being said, your puppy is still on its way to adulthood and the sixth month is just the start of it.
So, you will now observe the heat if it hasn't been spayed yet. You can now get it spayed and don't be nervous as such spaying will decrease chances of certain diseases like cancer and other reproductive aliments. Thus, it overall helps your pet to stay healthy and fit.
At some stage, your puppy needs to be left alone for a short period of time. Thus, leave it alone at every short interval and try to reward it with a good food. Slowly increase the length of time and it will make your pup relish some time alone. Leave some toys for it when you are away from your dog so that it does not gets bored. Also, take your dog for a walk every day.
By the end of a year, your pup should be well-trained. It will be an adolescent which can be left outdoors too. Also, you can notice that not only it acts like an adult but also looks like as a grown-up dog now. Both of yours bonding will be inseparable enough that your dog will turned out to be your new best friend. Above anything else, have fun with it. Puppies of all age love to have a good time with their master. Finally, you too will definitely enjoy up to the fullest!
Christopher Meloni is a Content Manager at CouponsMonk a fastest growing Online Coupon Industry. Apart from his profession, he also has a passion of blogging and he likes to explore new and innovative methods of marketing within his field. Connect with Christopher on Twitter at @tweetmeloni.