Our pets love to be petted and cared. Don't they? No matter how much busy you are all through the day, if you have a cat or a dog you will simply have to take out time from your schedule and give them the care and affection. And who can resist these adorable little ones anyway.
Then there are those that are over-enthusiastic and will jump and scratch and bite simply out of excitement while playing. However, the scratches or bites are not limited to playing alone. You will probably find similar reaction when you try to bathe them. There are many other animals like various reptiles or birds or rodents that have the habit of biting or scratching when you try to hold them.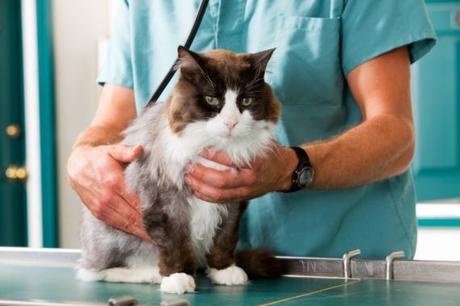 Animal Handling for Pet Owners
Be it taking care of the grooming of your beloved dog or cat or any other pet or handling them without getting scratched or bitten or injured in any way, there is a variety of gloves that will suit different needs.
Why should I buy animal handling gloves?
There are a variety of animal handling gloves. However, most of them double up as grooming gloves as well. These animal handling and grooming gloves serve the important purpose of giving your furry pet the much needed massage and brushing of their fur, all the while petting them. Thus, you need not take out time from your busy schedule to give your pets the personal care and affection and can do so while grooming them.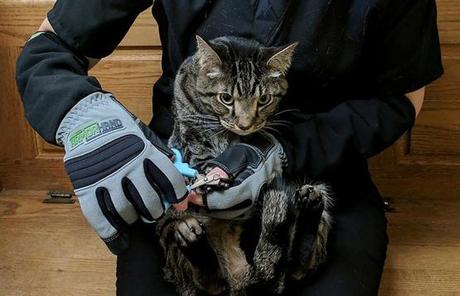 These gloves are extremely useful in reducing shedding and collect the loose fur as well. Thus, you can easily ensure that your place remains clean and free from stray furs all across your home. It is also a better solution as compared to the de-shedding tools and rakes since these items can cause irritation and damage to the skin if you are not careful while using them.
There is a different set of animal handling gloves which are meant for the wild and stray animals. These are more to give your hand the necessary protection while handling these animals without causing any stress to the animal being handled or compromising your gripping ability. These gloves are used by professionals who handle animals such as vets, animal trainers, animal groomers, and others. If you are dealing with animals where there is a risk of being scratched or bitten, these professional gloves will be of great help in keeping your hands safe from any injury.
So, if you are a person who works with animals or animal owner, animal handling gloves are among the most important items that you need to own. I have prepared a list of the best animal handling gloves available. Take a look at the features and their pros and cons. Each one comes with its own set of usages and pros and cons and there is no one product that will solve all needs.
How to stop or reduce excessive shedding in dogs, cats and other pets?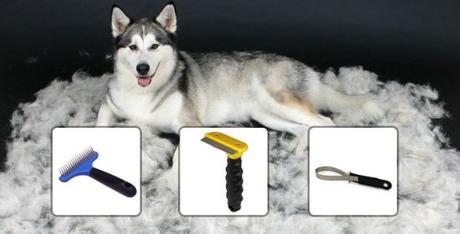 Here is some bonus information for every pet owner. Most pet owners face a common problem with their cats, dogs and other furry pets. It is the issue of too much shedding of their fur. While it is impossible to completely stop shedding, much like our hair fall, it is easy to control shedding to a large extent. You can make sure that your pet does not lose too much fur and thus ensure that your place remains clean and free from fur as well. One of the best and most effective ways to reduce shedding is through continuous. So, what can you do to reduce shedding? Here are a few easy things to remember.
Brush the coat regularly. This improves the health of the fur by redistributing the oil across the coat and ensuring that the hairs remain in place. Brushing is also helpful in removing the loose fur.
Use some de-shedding tool to control shedding of the fur. This is convenient for those who spend a lot of time behind grooming their pet. De-shedding tools available in various types and they can be useful for heavy shedders.
Control lice, tick and other such infestation. These can cause serious skin problem and shedding in your pets. Make sure your beloved pet is not suffering from ticks or lice or other such issues.
Give your pet a bath regularly. Bathing your pet on a daily basis is a problem and also not suggested, but you must bathe your pet on a regular basis to keep their fur clean and healthy.
Maintain a healthy diet. Healthy diet is as much important for your pet as much for you. It ensures that your pet remains healthy and reduces fur shedding.
Keep your pets hydrated. Make them drink plenty of water. It is important in controlling shedding. Also, the water must always be clean and fresh.
Best animal handling gloves comparison chart 2018
Before moving on with the reviews, let us check in brief the products listed below.
Product Material Scratch Resistant Heat Resistant Reviews Pricing
Cowhide leather, Kevlar stitch
Yes
Yes

5+ customer reviews
Best animal handling gloves list 2017-2018
Handmaz TX Grip - Best animal handling gloves for dogs, cats and small animals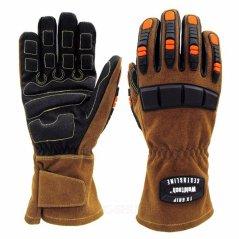 If you own a really aggressive pet and needs the best animal handling gloves that you pet will not be able to tear through, there is probably no better product than this in the market. This is a professional grade product that is used by veterinarians, animal handlers, kennel keepers, groomers, breeders, various types of professional animal handlers, and other such professionals who work under extreme condition and are in constant risk of getting their hands slashed or brutally injured.
The gloves are made of cowhide leather and offer the best protection to the hands against scratches, slashes, bites, and other major injury. It even comes with Hexagonal Memory Gel that is great for vibration absorption. The thermo plastic rubber on the upper side of the gloves give great protection to the knuckles and the fingers while the Kevlar Grip ensures that you do not have any trouble while working wearing the gloves.
The glove is amply large to prevent any spark or debris from entering the inside. This is among the most robust and well protected gloves available for almost all types of cats, dogs, birds, reptiles and other small animal handling.
What I did not like?
It is understood that professional high grade products are costlier than the average ones. However, this one has a bit too high price tag and is meant for serious business only. Though if you have been unsuccessfully investing in other types of cheaper animal handling gloves, this one will turn out to be a good buy since you will not have to change it any time soon and is worth the money.
If you are tired of trying and testing all the various animal handling gloves available and still getting your hand injured while handling them, then this one is the perfect product for you. The animal handling gloves come with a host of safety features and are extremely durable and helps keep your hands safe, even while handling the most aggressive small animals. However, remember, a professional grade product will not come really cheap.
HandsOn - Best wide array multiple animal handling and grooming gloves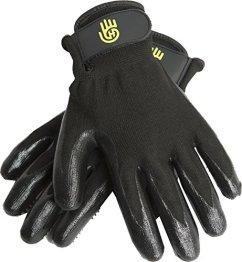 When it comes to animal handling gloves, this is, hands down, among the best products available. It fits the hand securely and will not restrict the normal movement of the hand and the fingers. It is one of the most versatile animal handling gloves you will find. Whether you need to bathe your pet or simply groom or need shedding done, this glove is the perfect choice for it all.
The glove comes with soft and small protruding nodules placed on the palm side of the glove. You can use it for scrubbing while giving your pet a bath.
These nodules also allow deep massaging as well as assists with shedding the loose fur without making a mess. The loose fur will stick to the glove and can be removed later on. The nodules on the palm and fingers allow you to gently massage your pet and ensure that natural oils get distributed all over the skin and the fur coat, thereby reducing shedding to a large extent. The best part is that you can groom your pet and give them love care and affection while also taking care of their health without investing extra time for each job.
Animals love the touch of their owner more than any other grooming tool. The glove will allow you to give them that pleasure without any inconvenience. Use it for extensive grooming and bathing without worrying about the glove coming off your hand or cracking or tearing. The natural hand like design means you can even handle all the products without having to open the gloves. And it comes in multiple sizes too. There is simply nothing more a person can ask from an animal handling glove.
What I did not like?
There's hardly anything not to like about this glove, unless your beloved pet does not like it. Well, then you got no other option anyway. And there was this one more issue that might give you a hard time. It can be quite difficult to get the hairs off the gloves. It is best to use some old brush for that purpose if you are not a big fan of using your bare hand to do the job.
The HandsOn animal handling and grooming, bathing and shedding gloves is among the best ones you will find in this category. There is virtually no problem with this product and you can use it as you deem fit. This is certainly a top choice for those who have pets that need grooming, caring and bathing.
Hestia Handmax - Best animal handling gloves for money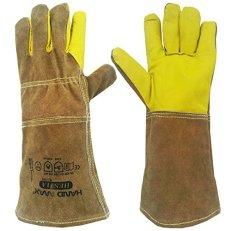 It is not always feasible to get the best professional animal handling gloves for regular use. This one from Handmax is definitely one of the best affordable animal handling gloves that you can use while handling dogs, cats, reptiles, birds, rodents, and many other small animals.
The cowhide leather body protects your skin from cuts and wounds caused by animal claws, teeth and beaks. The material is virtually impenetrable and thus among the favorites among professionals such as veterinarians, zoo keepers, animal trainers, and others. The long 35cm gloves will protect not just your wrist but also a large part of your hands. The Kevlar thread makes the glove extremely secure and there is almost no chance that the threading will come undone while being used. Even if you need to work on something that will emit heat and sparks or debris, rest assured the gloves will keep your hands safe.
What I did not like?
Universal hand size isn't universal for all human beings and there are those among us who have small hands as well. These gloves come in only one size and that can be a bit of a problem for many users.
If you want to have professional grade safe to use animal handling gloves that will also come within your budget, then this is the one that you have been looking for. It might not look fancy, but does the job it is meant for, which is protecting your hand from major injury, bites, scratches, while handling dogs, cats, reptiles, rodents, birds and other small animals.
WOMUL - Best budget high-grade professional animal handling gloves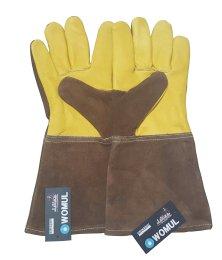 Whether you are a professional who deals with various types of animals on a daily basis or simply have some pets that are over-enthusiastic or have a habit of scratching and biting, it is important that you take care of your safety first.
Animals are adorable, but they do not know whether or not they are causing any harm. We often get scratched or bitten even while playing with our pets. So, if you are handling dogs, cats, birds, reptiles, or any other small animal that can give you a nasty bite or scratch, it is best to get a pair of professional animal handling gloves for the purpose.
The WOMUL gloves are among the best ones and trusted by numerous professional animal trainers, vets, zoo keepers and other who deal with various wild creatures. The glove provides protection from your fingertips to a part of your forearm. Made from cowhide, the material is near impossible to scratch or bite or slash or tear. Kevlar threads make it even more secured. The interior has a soft cotton lining that not only gives comfort to the one wearing it but also provides insulation from and thus makes the glove heat resistant too. So, you can even use it for some other purposes that need you to touch hot surfaces.
What I did not like?
While the gloves are really great, there is no option available to choose the desired size. An absence of strapping at the wrist makes it a bit difficult for those with small hands to use the gloves.
Professional grade animal handling gloves are not easy to get and that too within a reasonable budget. This pair of gloves is perfect for those who need to deal with cats, dogs, reptiles, rodents, birds and other such small animals that might bite or scratch. It will keep the wearer safe while allow complete mobility of the hand. No wonder, this is among the most preferred animal handling gloves by the professionals who deal with various feral and wild animals too.
SINNAYEO - High grade and durable animal handling gloves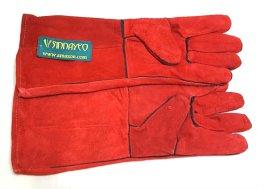 The gloves are pretty strong and heavy duty and are able to protect your hand from painful bites or scratches while handling different types of animals. You can use this for the purpose of handling dogs, cats, birds, various reptiles, rodents and other small animals that you might encounter.
This one is heat resistant as well and thus allows you multiple uses. Mostly professionals such as groomers, kennel owners, zoo keepers, veterinarians, and other similar professionals, who need to deal with animals that can potentially bite or scratch, use this pair of gloves to do the job without letting their hands come in harm's way.
If you have a really active pet, one that can scratch and bite even while playing or while you are giving your pet the much needed shower, wear these gloves and save yourself the painful process of recovering from various scratches and bites. Not to mention, some can turn out to be infectious or poisonous too, if you are not careful enough or dealing with such creatures.
What I did not like?
The gloves are quite good and professional grade, but the strong odor associated with the gloves can really scare away animals who are much more sensitive to such things. Also, choosing such a bright red color might not have been the best idea when you are making something that is intended to be used to handle animals. Some animals react to such bright red colors and this can cause them to panic and attack or run away.
Those who wanted a decently high grade professional animal handling gloves for a lesser amount, this one is a great choice. It serves the purpose, comes in two different sizes and is not exorbitantly priced.
Olive & Suds - Best for handling, grooming, bathing small cats, small dogs and small animals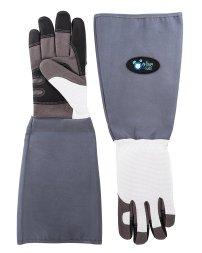 It can be quite difficult to handle small stray or untrained animals and birds with bare hands. Even though we pet many animals and birds, they are not naturally friendly towards human beings. A stray or injured or a small animal or bird will be scared and if you try handling the scared little creature it is more likely to get bitten or at least scratched as they try to defend themselves. If you need to handle such animals on a regular basis then you will need this scratch and bite resistant gloves.
The gloves can be also used at home to bathe your beloved pet. Not everyone likes going into the water and bathing sessions can turn bloody for you pretty soon. With these wonderful gloves on your hand you will not have to worry about getting hurt yourself. It is particularly helpful for those who have really active pets and bathing session is similar to a wrestling match, only that your pet might be using all the claws and teeth. You can also use it handle birds. Though they do not look much, the claws and beaks of the birds can give nasty injury and you will not wish to have one.
The gloves come in three different size variations - small, medium and large. Thus you can get the one that will suit your hand perfectly. Also, the material used is extremely light and durable while being robust too. The microfiber is naturally mold and bacteria resistant and thus one of the favorites among professional animal handlers and vets.
What I did not like?
While there have been situations where the material almost gave way because the bite or scratch was simply too strong, but my main complaint isn't the quality. The main issue is the design of the glove. It is well built for most cases; however, the design makes it difficult for the person to work with these on. A slimmer and more flexible design might have made these gloves a real winner.
Whether you are a pet owner or a vet or an animal handler, if you are looking to protect your hand from accidental scratches and bites from the animals and birds you handle all day long this glove will be the perfect choice. You will simply have to decide which size fits you.
Bonve - Dog grooming and de-shedding gloves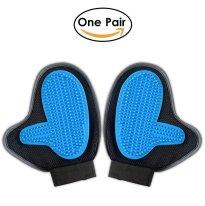 Shedding can be major problem for dog owners. Whether you own a long haired or a short haired dog shedding can occur and you have probably already tried various de-shedding tools to control it.
This pair of dog grooming and de-shedding gloves is far better than anything you have come across till date. It has soft nodules on the palm side of the gloves that allows you to massage your dog while petting and thus improving blood circulation while also distributing the natural oil through the fur coat and assisting in healthy growth of fur. The nodules also collect the loose fur and thus you can say goodbye to furs flying across all over your place.
The glove has a second side as well. it can be worn in reverse pattern and the woven velour will then be on the palm side. You can use this to easily clean your furniture as the stray furs stick to the glove leaving your furniture clean. It is a much better and hassle free means to remove the otherwise sticky furs.
The glove design has been made keeping in mind the shape of the human hand. The adjustable wrist strap will allow you to fix the gloves securely to the palm. The rubber is eco-friendly and BPA free and will have no negative effect on your pet.
What I did not like?
If you have a really active pet and you need to keep the leash close to your hand while giving a bath, this glove is certainly not going to help you grab the leash fast and securely when needed. The glove design impairs free use of the hand to a large extent.
If you were looking for a grooming and de-shedding gloves for dogs within a small budget, this is the perfect pair of gloves to fulfill all your needs and some more. It is easy and safe to use and quite affordable as well as durable.
Wisepet - Budget friendly single hand grooming glove with fur removing mitt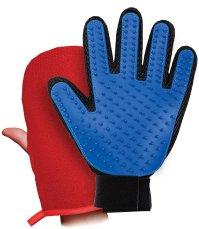 This one is a unique product that you will find comes for one hand only. The rubber made surface is securely stitched to a regular shaped glove. Thus, you will be able to give your pet a good massage while bathing and you will not have to take off the gloves to do any work such as opening the bottle or hold the shower head. There is an adjustable strap at the wrist that allows you to tighten the glove to your hand so that it does not come off while bathing or grooming your pet.
This set contains one glove for one hand (either left or right) and a mitt. The rubber made nodules not just provides much needed massage, but also removes loose fur from the coat and helps reduce shedding of the fur all over the home. The mitt can take care of the loose furs on the surface of your furniture and other place at your place. The price is quite low and affordable and the product comes with money back guarantee if you are unsatisfied. This ensures that you do not take a major risk while trying this out.
What I did not like?
The idea to include only on hand glove might not be liked by many, especially those who have both right handed and left handed people in the same family. Also, they need to understand that the wrist strap will be able to secure different sized hands only up to a certain extent. The ones with too large or too small hands will probably have issues fitting the gloves properly.
If you do not have problem with this product having glove for just one hand, then this one will be a smart choice. The additional mitt will allow you to keep the rest of your home clean. The glove itself is extremely good in terms of effectiveness and durability.
Pet Thunder - High quality animal handling glove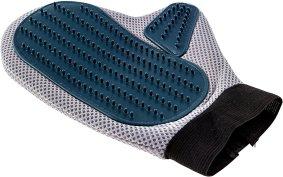 Animal handling is a critical job and they need a lot of care and affection. However, that's not all. You will have to groom your pet properly. Those who are dog and cat owners will know that one major issue is shedding of the fur. It can happen due to a number of reasons as already stated above. But, you can help controlling it through proper massage.
This pet shedding glove is an excellent de-shedding tool that provides the much needed massage to your dogs and cats as the soft rubber bristles run through the fur coat and facilitates blood circulation. It is a great way to give your pets the much needed massage, ensure that the natural oil spread evenly all across the body and help healthy fur growth, while also removing all the excess and loose fur from the body without making a mess. You will no longer be scaring the poor soul away by the large de-shedding brushes. The mitt like design makes it easy to wear and use. The Velcro adjustable wrist strap allows you to secure the glove tightly to your hand. You get lifetime guarantee on this and no more there will be flying fur across your place.
What I did not like?
The product is great and works wonderful, but the grooming mitt is made only for right handed ones. This can be a bit of a disappointment for those who prefer using their left hand for the purpose. Also, even with the adjustable strap, it is better to have a few size options available since not everyone has the same size of hand.
If you have been looking for the perfect de-shedding tool, here it is, in the form of a mitt. This is a great product and comes really cheap along with a lifetime warranty. The soft rubber bristles gives a really wonderful massage that your pet loves. So, grooming and de-shedding can be done at the same time without investing extra time for any job.
Doopa - Perfect pet grooming, de-shedding and massaging glove for short and medium haired pets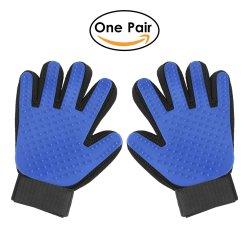 Gloves in the shape of the hands are always easier to use while grooming. This one comes with silicone tipped surface attached to a hand shaped glove with all five fingers present in each glove. You can give your pet the needed massage while petting them. It will also remove the loose furs from the coat and control shedding to a large extent by improving blood circulation, distributing the natural oil across the fur coat and keeping the skin healthy and breathing. You can get the furs off the glove after grooming is done.
The gloves are available in pairs or you caneven order both right hand gloves if you feel like you need it. The adjustable strap securely attaches the glove to the wrist of the user.
What I did not like?
The glove has short bristles and is not meant for pets with really long hair. Also, once the furs come off, it can become tangled and stuck to the gloves and you will have to find a way to get them off your gloves.
If you wanted a low price de-shedding glove that will allow you to groom your pet as well, this is a good product. It is best suited for short and medium haired pets. There will be much less mess around your place as the glove will catch all the excess fur.
Conclusion
There are plenty of animal care, handling and grooming products available. It is quite difficult to choose the ones that will be really good. Every company is out there trying to prove that their product is the best. This is why honest reviews are important. The animal handling and grooming gloves listed above are among the best ones available. They will allow you to take better care of your pets or any other stray animal or bird. It is always a great feeling to be able to help these innocent creatures. And, by using the gloves you can ensure that you remain safe even while having fun with the little ones.