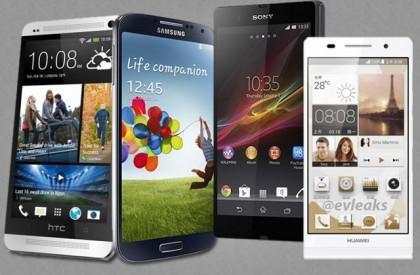 As the year 2012 witnessed some of the best Android smartphones, there was an indication that smartphones technology will even be better in the year 2013. So far so good, 2013 has witnessed the introduction of some of the awesome smartphones ever released.
Last year witnessed the rise in the popularity of Android smartphones as well as tablets, and while year 2012 has been a successful year within mobile technology industry, year 2013 has offered even better, faster, more technologically advanced Android smartphones handsets.
Best Android Smartphones To Buy Now
The popularity of android-powered devices continues to grow as Google recently revealed that it is activating over 1.5 million Android devices every day, meaning that the company is on track to activate over a billion devices in the very near future.
Smartphones such as the Samsung Galaxy S4, HTC One, Sony Xperia Z have really taken the fight to Apple and its popular iPhone.
As every major players continues to introduce advanced smartphones in 2013, here are the best Android smartphones to buy right now.
 
---
1).
HTC One
---
HTC OneAndroid smartphone
With its flawless design and gorgeous 469ppi display – the highest pixel per inch count on a mobile, HTC One fashionably feels great in the hand. The Ultrapixel camera, with its deliberate avoidance of the megapixel race, works tremendously. The 4-megapixel sensor is highly effective in low light and works best without resorting to flash. The BlinkFeed interface for quick snacking on Facebook, Twitter and many news sources is highly enjoyable and fun to use.
 
---
2).
Samsung Galaxy S4
---
Samsung Galaxy S4
Since it was released by Samsung, Samsung Galaxy S4 smartphone has helped Samsung to continue its domination in mobile market while others like HTC, LG, Motorola continues to play catchup.
The Galaxy S4 is a close relation of last year's S III, sporting a similar but definitely improved styling, with fewer whimsical curves and a more business-like feel. The full HD screen is quite the eye-catcher thanks to its super-sharp resolution, eye-searing colours and rich detail.
Read more…
 
---
3).
Sony Xperia Z
---
Sony Xperia Z
It's not only the most powerful smartphone Sony has made but a sign that it desperately wants to make a proper dent in the smartphone market in 2013 against a lacklustre performance in 2012. As a surprise, it also packs twice as much RAM (2GB) as many of its rivals. The Xperia Z is waterproof too – Sony claim the smartphone has the "highest levels of dust and water resistance on a smartphone".
 
---
4).
Huawei Ascend P6
---
Huawei Ascend P6
Huawei Ascend P6's 'Emotion UI' features innovations like the 'Me Widget', which collects your friends, music player, photos weather and local time all into one useful screen.
The phone comes with a decent camera on the back that takes good shots with minimal fuss. And the front camera is designed for self-portraits so it's higher-resolution than rivals and has a beauty level slider to improve shots while they're still on the phone.
Read more…
 
---
5).
Samsung Galaxy Note II
---
It's this stylus that sets it apart; the S Pen powers innovative Air View navigation as well as note-taking, drawing and photo editing. The user interface on the Note II has other surprises, with PopUp Web windows and Easy Clip lending a casual cut 'n' paste feel to web and media. Running on Android 4.1.2 OS using a 1.6 GHz quad-core processor, the 180g Note II is sold in three sizes – 16GB, 32GB and 64GB – and includes 8-megapixel rear and 1.9 megapixel front cameras
 
---
6).
HTC One mini
---
Ingredients such as a fantastic display, great sound quality and decent performance for everyday mobile tasks. It features a 1.4GHz Qualcomm Snapgragon dual-core CPU and 1GB of RAM. For the market HTC is aiming the mini at, it's still a decent setup. And there's hardly anything available in Google Play that should make the One mini stutter.