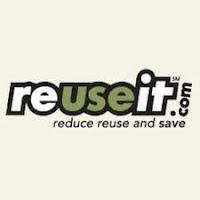 Reuseit.com : is a place where you will find our family of "best of the best" reusables available in many categories so you can eliminate disposables from every part of your life -- from bags and bottles to lunch, household items and beyond. By casting a critical eye and delivering facts & solutions, we continue to help guide consumers to the truth and take action on these issues as they evolve.
For most of our existence, people have known us as ReusableBags.com® - the site that spawned the reusable shopping bag movement & raised awareness of the plastic bag problem. However, through our vision and actions we've always been much more. To embody what we're all about, our store and proprietary line of innovative products are now named reuseit.com® (reuse it). The name captures the essence of our proactive spirit to adopting a reusables lifestyle. Of course, ReusableBags.com® still exists as part of our information hub with more sites to come - each one designed to raise awareness and educate on a variety of specific consumption issues. (Read More).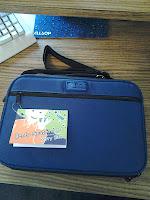 Liz at Reuseit.com offered me to take part of a product review, and of course I couldn't refuse! I have been checking out reuseit.com's product's and have been admiring the products for quite awhile. They have tons of amazing products that everyone should have at least 10 things from their website for every day use. From Environmentally Friendly Reusable Snack and Sandwich Bags, Eco-Friendly Reusable Travel Mugs, Cups, Bottles & Flasks, to Smart Kitchen Gadgets For Food and Beverage Preparation. I was lucky enough to review one of the Bento Boxes on Reuseit.com I had a hard time deciding on which one I wanted. There was so many to choose from, with great colors, and designs. I finally went with Laptop Lunch Bento Box 2.0 (Berry Blue) . I decided on the blue one because it's a really pretty blue berry color, and it's very uni-sex. I can use it when I need it for work, long trips, or when my husband uses it for work. The Bento Box is just the right size for his lunch. And with the outter zipper, he is able to stash his keys, wallet, or spare money, and Misc. items.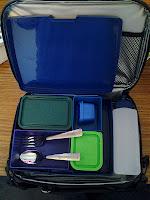 I honestly wish I discovered the Bento Box sooner! I love this lunch box! It's more durable than my lunch sacks that I used to take and less messy also. The Bento Box comes as shown. 3 lid containers, 2 box containers, a bottle container for juices, milks, or soda's, and 1 sterling silver fork, and spoon. These are not regular fork's or spoons. They are tough eating utinsiles. I tried to bend them and they wouldn't bend in my hands. The containers are removeable so you can move them around for your convience. You can even go to the website and buy accessories and replacement parts. You can buy other containers so you can have all containers with lids, half lids, or all open containers, the possiblites are endless. The great thing about these containers (not lids)  are microwave safe,  the containers (and) lids are microwave safe. (Top rack only, no heat boosters).  If you are intrested in buying a Bento Box for your child for school lunches, and your child find's it dificult to open the dip container, apply a small amount of cooking oil to the inside of the container lid. Rest assured that this product contains NO lead, phthalates, bisphenol A (BPA) or PVC.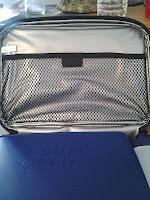 I love the lining of the Bento Box, it's insulated so it will keep your colds, cold, and you're hot's, hot. I put it through the test, I left my food in the bento box for the regular 8 hour work hours, my juice was still nice and cold and drinkable, and my hot's wasn't cold and mushy. I have had other lunch boxes that disapointed me to the point I tossed them into the trash, and went hungry at work because my food was spoiled. That's not a great feeling. I also love the mesh pocket on the Bento Box. Being at work, my Husband and I are both able to keep private belongings in it, such as money. Or you can keep thing's such as sliced bread, or a banana in the mesh pocket. The velcro snap shut keeps your belongings nice and safe without spill.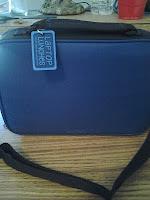 The outer Bento Box is super easy to clean (I put it through lots of test and spill's) and I was able to clean it with just soap and water. The bento box is soft but durable, perfect for every day life. Or (chilren) The bento box is easy to carry with the durable padded hand handle, not the kind that have the hard plastic that cut's into your hands. so if you prefer to carry it that way if you have empty hands, or the Bento Box also comes with a adjustable nylon shoulder strap, for the days when you have your hands full. The strap doesn't cut into your shoulders either. It's ease of use makes it perfect for long hikes for picnic's or a long walk to work. You're Husband, son, or even daughter will love the Bento Box, and will wish they had one sooner. The Bento box comes with a 94 page Laptop Lunch User's Guide that is packed full of intresting information and lunch idea's. It's a yummy read.
♥ You can find Reuseit on Facebook : HERE
♥  You can find Reuseit on Twitter : HERE
♥ You can find Reuseit on Youtube : HERE
♥ I receive no monetary compensation for this review. I was provided a Bento Box to try and give my honest opinion.