Leveraging The Benefits Of An Integrated CRM System
Customer Relationship Management (CRM) is being extensively used in all kinds of businesses, for the growth and development of the company. Talking of CRM, it has now become important to understand how an integrated system can help your business. Without learning the nuances of customer management, it is difficult to work towards the growth of the company.
How CRM Is Important For The Business?
CRM plays an important and well-defined role in a company's sales process. Here are some areas where the CRM is simply ideal:
Managing and maintaining relationship with customer
Integrated CRM software can greatly improve customer relations. With efficient CRM Integration services it is possible to have all data and relevant information of the customer right at your fingertips. There is no need to go to other departments for seeking information about the customers. With all information in hand, providing customer service becomes convenient and less time-consuming.
Managing new sales projects and opportunities
Managing running and new sales projects and opportunities becomes easy with CRM. The system helps in accurately predicting the buying needs of the customers, as there is stored data about opportunities that are running and opportunities that might come. As the chance progresses with the sales cycle, the CRM helps in making plans for the future. It is also possible to assess lost sales opportunities.
Minimizing duplication for increased efficiency
With an integrated CRM system, there is simply no need to re-enter information from one workstation to another. All the information has a single location, which means the data is centralized and can be accessed from any computer in the network. The automated workflow helps in minimizing mundane and repetitive works so that one can concentrate on other important jobs.
Better decision making regarding marketing and customers
Better decisions can be made regarding a particular customer or regarding marketing plans with integrated CRM system. This is because a holistic view is available regarding a project or a customer across all departments. It is definitely easy to take better marketing decisions with uniform data and information available.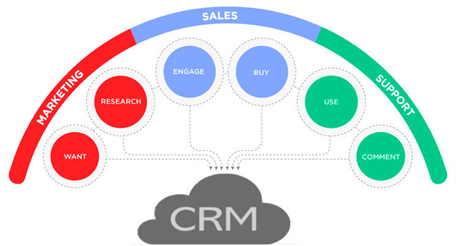 How To Get Started With Integrated CRM System?
If you are endowed with the responsibility of finding the right CRM for your company, you have to consider the benefits that you can achieve from the system. With this you have to calculate the ROI factor as well.
Begin with creating a core team
Select people from different departments in the same organization to understand the workflow and how the CRM would be working in the company. A competent sales representative can draw the best picture of existing sales process while a marketing manager can explain the practical details of marketing workflow better than anyone else can. And this will help in choosing the best CRM.
Setting the base line – This is important to ascertain the progress you made after the CRM integration. You should have a fair idea regarding the existing processes and the way in which customer complaints and sales opportunities are handled. Proper documentation of the process is important to understand the progress made.
Choose a reliable CRM integration services provider for implementing CRM in your organization and see how it takes your business to a new height.
Check your Website Traffic & Domain Ranking
Did you like this article?
1. Please share it with your network, we'd really appreciate it!
2. Would you like to write for Computer Geek Blog?
3. Keep subscribe us and follow us on Facebook and twitter for more tips & ideas about new technology.
Was this article helpful? 
      Yes                    No