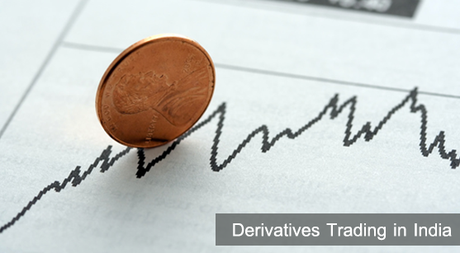 Trading in the Indian stock or forex market could be performed through different ways. Some might choose to purchase and sell shares/stocks while there are others who might be interested in derivatives trading in India. 
What are derivatives all about?
These are regarded to be contracts or financial instruments which tend to base value on the performance of the spot market price (commonly known as underlying variable conditions of the market like currency, stock or bond). Such underlying market conditions might be market indexes, interest rates, currency exchange rates, equity prices, and credit and market securities. The transactions could be of various types like options, futures, swaps, collars, caps, deposits, structured debt obligations, forwards or just any other combination. Usually, derivative trading is said to take place on individual / separate derivate exchange, which is termed to be a different segment of existing stock exchange. 
Derivative instruments and its types
There are generally two kinds of derivative instruments that are traded at NSE, which are as follows:
Futures: It is an agreement that is moved between two parties, for buying or selling a particular asset at a specific time at the certain price in the future. Future contracts are usually settled  in cash. They are used particularly in the commodities market. These are always denominated  in a specific currency, where buy a speculation for the commodity's value as well as currency, where a contract is prepared.
Options: A contract where the investor has an option and not an obligation for selling or buying underlying at future stated the date and at the pre-determined price. These could be of two types:
Puts: They provide buyers with the right and not an obligation to sell a specific quantity of underlying assets at a particular price, either before or on the pre-determined date.

Calls: They provide the buyer with the right and not an obligation towards purchasing a particular quantity of 'underlying asset' at a specific price, either before or on the pre-decided date.
All option related contracts are said to be settled in cash. 
Categories
Basically, two derivative contract categories exist:
Over-the-counter derivatives: Such derivative types do not trade on future or stock exchanges or via centralized counterparty.
Exchange-traded derivatives: Such derivative types are traded via any exchange or specialized derivative exchanges.
A Foreign current market that is regarded to be the world's largest trading market is called Forex or 'FX'. The market is said to be based on trading in currencies. The market trades on currency derivatives, financial instruments that are foreign currency based.
About currency derivative
They are regarded to be the contract types, where currencies get traded in the form of contracts or futures and could be traded as assets within their own rights. Investors, who select to buy future contracts mainly in currencies, would be buying the right for exchanging a definite amount of particular commodity at the future date.
Currencies that are used in the currency future trading tend to include USDINR, EURINR, JPYINR, and GBPINR.
Exchanges like SX, MCX-SX, and USE offer currency trading in the country.
Knowing them in details will help the individual to be a smart investor.
Author's Bio:
The author is a professional writer having immense knowledge on the Indian stock market. He writes a lot of articles on the subject for his client vikson.in.