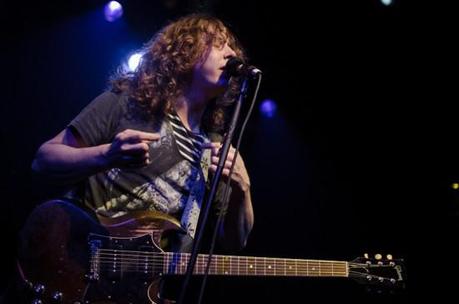 Saturday's show at Irving Plaza felt like a bit of a homecoming to me — the location was actually where I had attended my first concert as a photographer, and it was good to be back (particularly for such a stellar set of bands)! First up was The Dig (@thedigisup), playing tracks off their 2010 album Electric Toys (which by the way was being sold on cassette). Their sound was very quiet and mellow, but the nice tempo and beat had me going as I photographed the dimly lit performance. Not to mention, at times the vocals actually reminded me of Sean Lennon with a slightly Interpol vibe.
"We are Sleeper Agent (@_sleeperagent), and we are from the south," lead guitarist and vocalist Tony Smith repeated randomly at times between songs. The Kentucky-born band, fresh off their TV debut on Late Night with Jimmy Fallon a few nights ago, were excited and animated on stage, sporting a grungy, garage rock sound. Lead vocalist Alex Kandel puts on a helluva show, and by the last song, she was in the crowd with Tony Smith while they ended their performance to the sold out crowd. This band is definitely still new to the "live" show game, but it was nice to see some fresh faces on the New York City stage.
The crowd seemed to wake up after Sleeper Agent's performance, as Ben Kweller (@benkweller) took to the stage with his tight ripped jeans, big hair and guitar. Playing songs off Go Fly A Kite, Ben Kweller and his band performed with a truly seasoned tone. While it may be easy to think that Kweller is just another guy playing a guitar with a nice voice (which essentially is pretty true), he continues to embody what rock music is all about — playing what's on your mind and filtering it through some stellar guitar work!