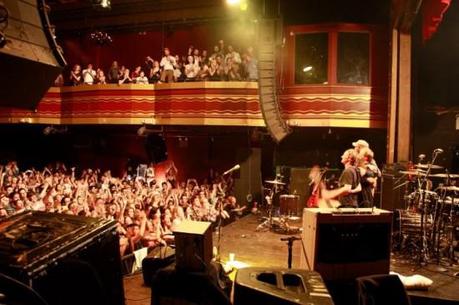 Photo Credit: Ben Howard
Ben Howard's (@benhowardmusic) stage presence isn't particularly jovial. He doesn't woo the audience with one-liners or tales from the road, and his banter between songs is kept to a minimum — a few thank yous to his traveling members and an offhand remark to the crowd that, "Every time you shout, the color changes" (referencing the lighting). What he did let seep into the audience at Webster Hall, though, was much more important. With each note, word, breath and beat, he and the other performers forged a unique connection with each person watching and brought us together as a collective.
Howard's vocals are perhaps the strongest link in that connection. Emotive and earnest at their very core, he perfectly blends the whisper of a heart-wrenching moment with the powerful wail of a song's climax. In addition to his obviously rich voice, volume control seems to be one of Howard's greatest strengths. With tiny bends and fluctuations, he can control the mood of the room, forcing everyone to listen intently or fall back from the force (certainly not an easy task at a venue like Webster Hall). When all's said and done, you believe Ben Howard when he sings — there's no pretention or farce.
Backing him was a group of extremely talented, multi-instrumentalists. In addition to providing harmonies, the bassist picked up a cello and drums, while the drummer sometimes played both percussion and bass simultaneously. Howard was certainly no slouch either. With acoustic guitar work that was forceful, raw and intricate, his melodies and rhythms were woven together beautifully. Particularly during his opening song, which he played solo, the audience regularly cheered during some of his more complicated patterns and tapped notes.
Performing favorites from Every Kingdom like "Old Pine", "Only Love" and "Keep Your Head Up" the buoyancy of the room was palpable. As these songs grew into jaunty romps, you could feel the floor shake from the force of the audience's collective foot-stompin'. Just as strong, though, was the quiet reverie during his slower numbers, particularly "Promises", the encore "to send us off to bed" as Howard put it. The more upbeat performances may be a good time, but Ben Howard truly shines when he's lulling the audience into silence with something contemplative.
Towards the end of the set during "Keep Your Head Up", I heard someone say "This one's a life changer" to which his friend replied "They all are." While I found the exchange pretty amusing at the time, the longer I can't get this concert out of my head, the more I understand what they meant.