When you fly with discount airlines you often end up with late night flights or early morning flights. You may also end up with massive stopovers. After living it up in Boracay for five days, it was time to leave and we took a flight from Caticlan Airport to Cebu Airport. It was there that our adventure of being mall rats for a day began.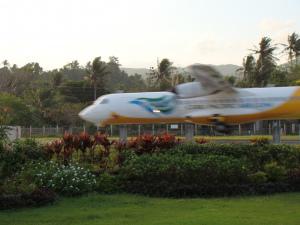 An airplane coming in for a landing at Caticlan Airport
There are probably other sights we could have checked out in Cebu and there were nearby beaches, but we decided to save our money and spend a day at Ayala Center Cebu. We also were missing the Western mall experience (something we don't really experience in Seoul) and wanted to feel a little at home in the middle of the Philippines.
This mall was like western malls in many ways. It had ample walking space that brought you to store-to-store-to-store. Each store had window displays that beckoned you in to spend your cash or swipe your credit card. We actually only made one purchase and it was at a Starbucks. We bought a Cebu mug there to add to our Starbucks collection.
The mall also had a variety of restaurants that you could grab a meal or a snack in. We had breakfast at the Pancake House and lunch at Gerry's Grill.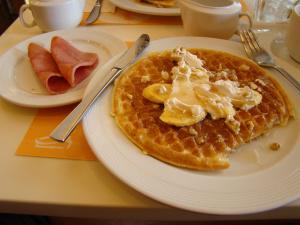 Breakfast at the Pancake House
The mall was a little different from the western malls I'm accustomed to in the fact that it had beautiful terraces, gardens, trees and fountains just outside. A very relaxing place that you could wander around and take a break from your shopping and dining. We spent some time out there before we took a cab back to the airport to catch our flight back to Korea.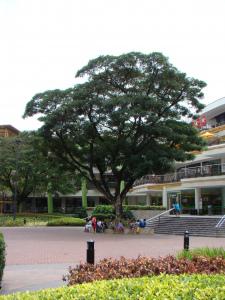 Ayala Center Cebu
Sometimes you have to endure a long stop over on your travels. Sometimes you want to get out and explore the city, take pictures and make it a part of your trip. Other times you might be like us and just want to spend it wandering around a mall. We didn't mind being mall rats for a day.
Check out more photos here.