From a young age I enjoyed being in the limelight. We, local children, devised back garden concerts and I recall singing "Tulips from Amsterdam" aged about 6, wearing a rather too small flower girl dress. Finally after many years of pleading I was taken to Donald's ice rink in Aberdeen. I had to have an outfit just like Sonja Henie's, as I'd seen her wearing in a movie. Full of confidence, and thinking I'd glide effortlessly across the ice, I launched myself. It didn't work like I'd seen in the film! A couple of years later and I was competing. My mother remained a nervous wreck, whilst I took it all in my stride. So it was that entering competitions or taking tests became second nature.
Failing my 11 plus I went to a Junior Secondary School. However the education I received there was superb. Encouraged to sing, I had lessons and was an active member of the school choir. Gleefully taking part in operettas and once singing solo in St Machar's Cathedral. The English teacher encouraged us to debate, and I took part in inter school debating. She also involved me in plays, giving me major roles. The Duke Of Edinburgh Award scheme was in full swing in this school and I was asked to attend a first aid course where the Duke of Edinburgh himself was to attend. I was elected to tell him what was taking place. I left that school with 5 "O" grades and 1 "0" level...that being in oral English (an actual 'English' qualification, as there was no equivalent ).
At college I was elected as class representative , taking any issues to the rector and staff.
As a teacher I thought of my work as rather like acting...giving tuition, encouragement and maintaining discipline. Front of house...so to say. I was not averse  to taking part in many extra curricular activities, and displaying interests other than those of being 'teacher'.
I returned to ice skating and took up ice dance with a partner and we competed for Oxford in the Southern league. So this was a form of being in the spotlight once more.
Giving up teaching after 20 years and moving house, with a new husband. I was suddenly propelled into more limelight as he was such an exuberant and outgoing person. Together we formed an ice skating club in Elgin, giving tuition and organising shows...taking part ourselves too, thus encouraging youngsters and adults to take up skating.
It was then that I took up dancing. My husband was very keen on ballroom dancing and rock and roll. We liked to join in 1940's and 50's events...dressing in the era and letting our hair down. Never phased at being the first on the floor, trying to get people to join in and have fun. Fancy dress events were looked forward too and eagerly planned for and organised. Yes. We had a good life together.
After his death I returned to skating after two years absence taking care of him. Two weeks in, at Blackpool Arena, I was invited to do a solo programme in a charity show to raise funds for "Help for Heroes". So aged 60 I was the oldest participant and I featured in a figure skating magazine.
Those early days paved the way and made me a confident, energetic person, willing to embrace life ...be a participant and not an audience member. It's not for all, but it's stood me in good stead. I don't mind being in the spotlight....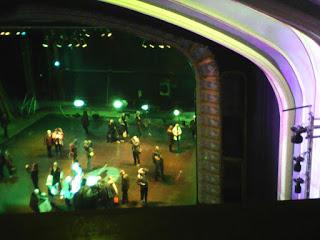 This morning I sat down and quickly drafted this piece....                  
  Places, Lights, Action
              Places, lights, action.
              No camera required, yet.
              This dear child, is life.
              The cameras come later
              When you're cleaned and wrapped.
              You are in the spotlight -
              On the stage for life.
              No shying away.
              No return for you.
              Face the world, little mite.
              Places, lights, action.
              First day at school.
              Be a leader or be led.
              It's up to you -
              In the spotlight, or the shadows ?
              Take part, or sit back -
              That's your only option.
              Follow your dream,
              Stand in the beam,
              Or fall by the wayside.
              Places, lights, action.
              First day of work.
              Climb the ladder or stay at the foot.
              You're here for the duration.
              Shine in your work - your choice.
              The spotlight dims- the audience silent.
              Curtain slowly falls.
              You've taken a bow - a final exit.
              So how did you do ?
              Places, darkness, stillness.......CUT !        
Thanks for reading, Kath
Email This
BlogThis!
Share to Twitter
Share to Facebook
Reactions: